Disclosure: This post may contain affiliate links, meaning we get a commission if you decide to make a purchase through our links, at no cost to you. Please read our disclosure for more info.
Last Updated on June 18, 2022 by Steal the Style
You've planned and rehearsed the perfect romantic, foolproof proposal ever, and she said "Yes!" at the magical moment. Job done, right? Actually, the most challenging task is up ahead, and that's choosing the perfect bespoke wedding suit for the groom.
While it may seem like the bride takes center stage during the big day (and rightly so), the groom deserves just as much attention. You might not be able to outshine your bride's wedding dress (and you shouldn't), but you can surely carve yourself a strong presence with the right groomswear.
Here's the only advice you'll need to look your sartorial best when you say "I do."
1. Buy (Don't Rent) Your Wedding Suit
There's no denying that the rent-a-tux option is an affordable choice for the big day, but is this really the time to be penny-pinching? Remember, you've got the perfect woman and the perfect ring. The last thing you want is to have a less-than-perfect wedding suit.
Your fiancée spent time painstakingly poring through catalogs and wedding suit boutiques to say "Yes" to the perfect wedding dress, so shouldn't you put the same effort into your wedding suit?
Your wedding is a momentous occasion. For some grooms, it's one of the biggest days of their lives. You don't want to spoil it with an ill-fitting, boxy oversized rental suit. A bespoke wedding suit will help you look and feel your best during your big day.
2. Get Your Suit Tailored
Now that you've said "Yes" to the suit, the only way to make it impeccably eye-catching is by visiting a tailor.
The beauty of a bespoke wedding suit is that it is tailor-made just for you. A tailored suit is individualized to fit both your physique and personal style. No other grooms will have a suit like yours. And that's bragging rights by any standard.
Perhaps the best thing about having a tailored three-piece wedding suit is that it can be worn for future formal occasions that require you to suit up. Those can be a day at the races, a night at the opera, or a romantic anniversary dinner with your newly minted wife.
The same type of return on investment can't be said about the wedding dress.
3. Choose the Right Fabric for the Right Season
Perhaps just as important as the fit of your wedding suit is its fabric. Certain suit fabrics work best with certain seasons. A breezy, summer seersucker suit won't help keep you warm when autumn's chill catches you off guard during your outdoor photoshoot.
Work with your tailor to find a fabric that works with the season of your wedding.
Pick heavier materials for your autumn or winter wedding (read: 100% wool, cashmere, or tweed). Likewise, you can never go wrong with breathable materials like cotton, linen, or the aforementioned seersucker for a spring or summer wedding.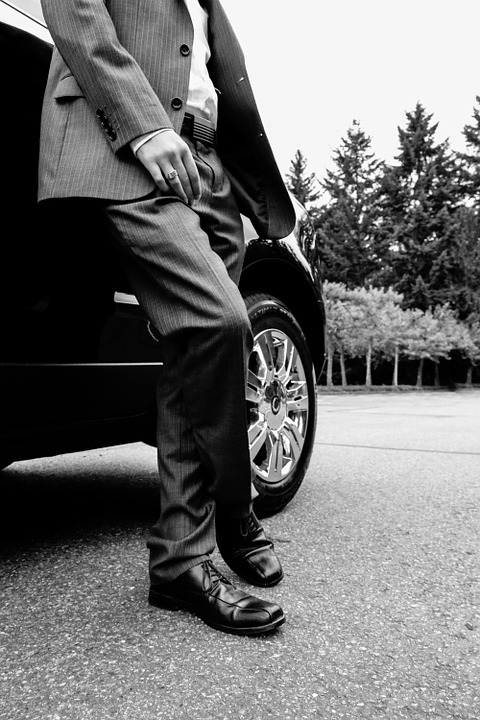 4. Add the Right Finishing Touches
While your bespoke wedding suit may help you channel your inner James Bond, don't stop with just the suit. Even James Bond dons certain accessories to look his dapper best. So should you.
When it comes to accessorizing for the big day, remember the KISS principle and keep it simple.
For your shoes, go with the classic tones of black or medium-to-dark brown. These elevate your formal wear, enhancing its sophistication.
When it comes to styling with a pocket square or boutonnière, choose both. They add the perfect pop of color and personality to your groomswear.
While tie selection comes down to personal preference, take into consideration certain factors. The color theme of your wedding, the event setting, location, formality, and season should help inform your choice.
Decorative cufflinks and a tiepin are also welcome little touches.
5. Take Your Time
Finding the right wedding suit is a lot like planning a wedding. It takes time to hash out all the details.
Leaving things at the last minute can spell disaster on the big day. Suit alterations take time. The expected turnaround time for a tailored suit can span anywhere from two weeks to a solid month, especially if additional fittings are required.
Remember, you can't rush perfection. Plan ahead so that when the big day comes, looking like a million bucks feels like a breeze.
The Must-Know Suit Etiquette
When sporting your dashing tailored suit, don't forget the "sometimes, always, never" rule.
Sometimes button the top button, always button up the middle button, and never button the bottom button. If you're wearing a two-piece suit, always button the top button. When you sit down, unbutton your buttons. Button them back up when you stand.
By following the tips and guide above, you may just win the "Best Groom Ever!" award.