Disclosure: This post may contain affiliate links, meaning we get a commission if you decide to make a purchase through our links, at no cost to you. Please read our disclosure for more info.
Last Updated on August 19, 2022 by Steal the Style
Do you like being trendy and do you feel that by going to the gym you lose some glamour? Calm down! We invite you to check out these great tips to be cool at the gym and shine fabulous.
The gym in fact, is no reason to forget about looking beautiful. Although it is logical that we can't exaggerate as if we were going to a party, but we can still help ourselves with several tips to be able to mark our style and feel more motivated!
Change of Shoes
You can see many celebrities going to the gym with their well-coordinated sports shoes combined with some eye-catching sports shoes. Bring your exercise shoes to fashion and give a nice touch to your look.
Nice Sports Bra
A lot more movement. The chest is not squeezed with the use of a sports bra, so you can make any movement without fear that your breasts move without any control.
Gym Pants: High Waist!
High waist training pants can help you make certain that everything is well hidden, tucked in and clean, with nothing hanging out from the hips of your pants. They have a slimming effect and a figure flattering. Plus, another good characteristic of Freddy's high-waist gym pants is that it is a perfect match to sports bras and cropped tops, which means that you can rock a super hot look without feeling overexposed
A Nice Bag for Your Look
Not only because you go to the gym you have to go alone with your bottle and towel in your hand. You can change your bag during the week and go out and show off. Use a large and eye-catching bag. A good attitude won't hurt.
Don't Forget a Sweatshirt
You can wear an eye-catching jacket over your tights and sports top that you'll obviously take off when you start exercising so you don't ruin it. The kind of jacket to look chic on a cold day could be a hoodie oversize.
Dress in Layers
A great way not to wear a boring look to the gym is to dress in layers. You can do this by putting on your exercise top first and then a loose blouse on the outside, or make a colour contrast with your top in pink, for example, and your blouse in a grey colour, so you would see the two colours and the effect in layers would give you that extra touch.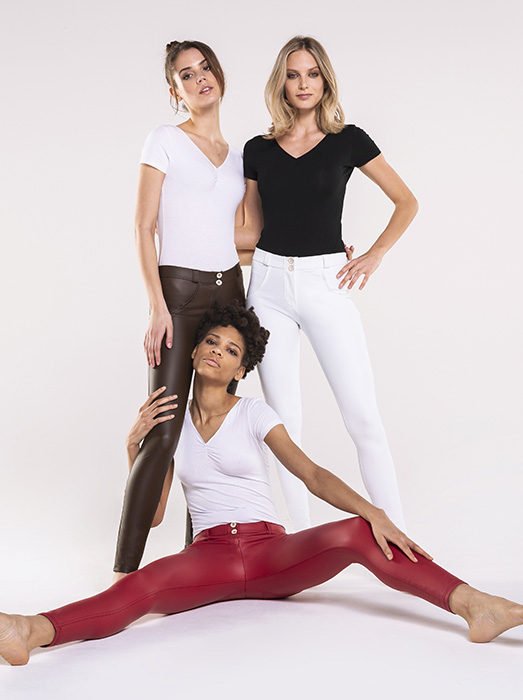 And Don't Forget the Accessories!
As in any look what will make your outfit something different will be the accessories, so don't forget:
Wearing sunglasses: In addition to protecting yourself from the sun if you go in the morning or afternoon, they will give you a chic touch that will conceal your dark circles.
Wearing a scarf: You don't have to turn it around your whole neck; wearing a scarf hanging from your shoulders will give you the effect you're looking for, especially if it's a more striking colour than your outfit.
Wearing hats: Knitted hats, hats and caps will be a good way to adorn your head and keep your hair under control.
After knowing these incredible fashion tips to go to the gym that will help you look pretty and trendy when it comes to exercise, also know how to makeup to go to the gym and some tips to keep a clean face especially after training.