Disclosure: This post may contain affiliate links, meaning we get a commission if you decide to make a purchase through our links, at no cost to you. Please read our disclosure for more info.
Last Updated on November 30, 2022 by Steal the Style
Matching sets are such a smart and stylish way to level up how you dress. They're perfect for wearing in a cool and coordinated way, or for separating out, switching up and bringing a new lease of life to the other best-loved elements of your wardrobe. This means that they're a great investment both for dressier, more formal occasions and events, and for everyday wear, too. Here are a few chic matching set ideas to spark your inspiration on your next shop…
Wrap Cropped Styles
A wrap waist detail is one of the easiest ways to take a cropped matching set style and amp it's impact up ten-fold. Look for a fitted skirt matched with a cropped up top that has wrap tie up details around your waist for a perfect party option that you'll reach for time and time again. Choosing a reflective sheeny material will let the movement of this style really shine.
Floral Print Two Piece
The floral two piece set is such a favourite. A small and dainty flower print gets played up when it's separated out. Look for sweeping wide leg pants and a bandeau strapless crop top style for an ensemble that will see you through the whole of the summer. You can also unlock this set for cooler months with some clever layering – think chunky knits, jackets or a long wool coat.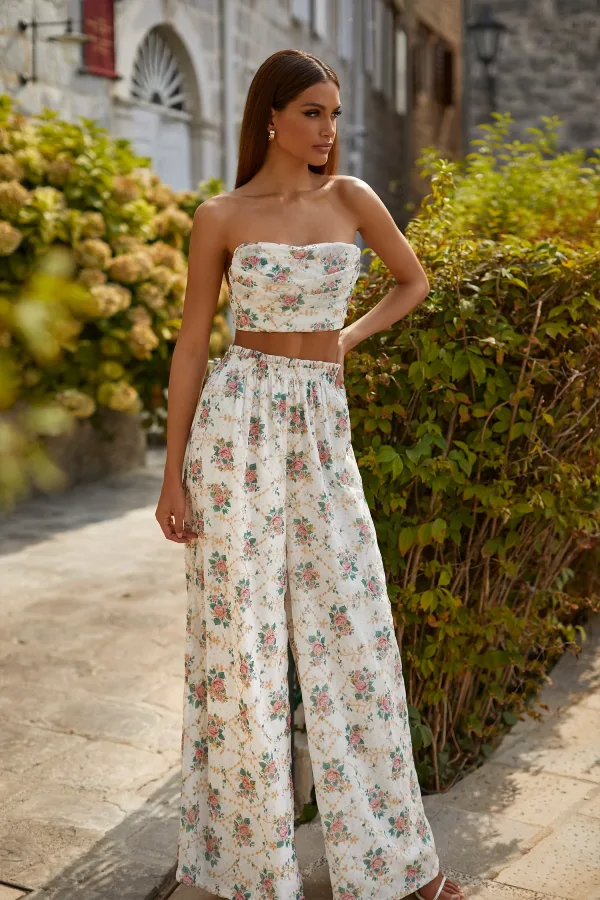 Off the Shoulder
The off the shoulder silhouette is so feminine and timeless, and choosing a matching set with a Bardot feature is amazing if you're looking for something that's the perfect mix between edgy and classic. Look for an eye-catching warm red tone for your off the shoulder shirt and matching pants or skirt for a slight twist on the timeless dressing style.
Cocktail Co-ord
Yes, you can wear your matching set to cocktail hour! Hunt for a statement style top with feather, beaded or embroidered detail and more toned down pants or a maxi skirt in a paired tone and material to take a creative approach to cocktail dressing that's sure to leave you feeling incredible.
Timeless Lace
Lace is another great way to bring more of a timeless feel into your trendy two piece ensemble. Look for a delicate white lace set with a long skirt, lace trim details and short shirt style for a floaty, feminine take on the two piece set that is going to play perfectly with all the other essentials in your wardrobe like leather, denim and even your more dressed up tailoring, too.
The Modern Three Piece
Why not add yet another matching piece to your set collection? A three piece set with pants, a cropped top and a matching jacket is a strong look that's sure to stand out from the crowd. Lean into the statement feel and choose a pastel pink tweed style for an effortlessly cool look that you'll love to wear time and time again. Plus, you get a bonus piece to add into your mix and match wardrobe rotation.
Image Sources: Alamour The Label