Disclosure: This post may contain affiliate links, meaning we get a commission if you decide to make a purchase through our links, at no cost to you. Please read our disclosure for more info.
Last Updated on November 18, 2019 by
If you're an avid fashionista, then dressing well is a must for you. There's no way you'd step out the house without dressing to the nines.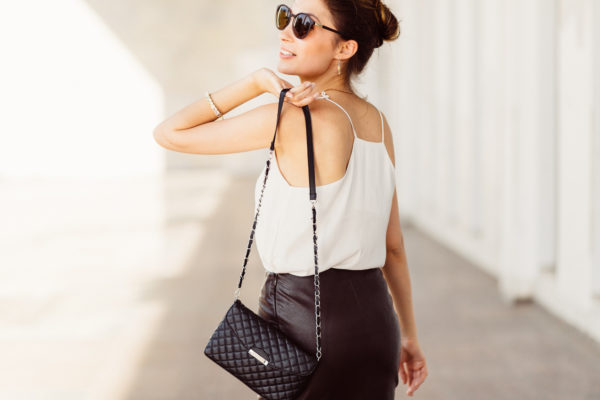 But for the people who don't really care about style and fashion? You'd be surprised to learn that dressing nicely is vital for you too.
In this article, we'll discuss why dressing well is important not only for business reasons, but also personal ones.
Express Yourself
It doesn't matter if you're artistic or not. Clothing can be a good way to express how you're feeling and what type of personality you have.
If you're adventurous, you can wear outrageous pieces, like a ripped up shirt with neon pants. Or if you're more prim and proper, you can wear a blouse with slacks in muted colors.
When you use clothing as a way to paint on the canvas that's your body, it can be an excellent way to express not only your artistic side, but also your identity. Clothing can be strongly tied to our identities, which makes it a good medium to broadcast yourself to the world.
How you dress can have a huge impact on how people see you, so it's all up to you how you want their perspectives to be like. It may be useful to have a varied wardrobe so you have the appropriate garments for various situations.
Feel More Confident
How you display body can play a huge role in how confident you feel about yourself. If you don't feel very good about your looks and hide in large sweaters and baggy pants, you may feel out of place and even more self-conscious if you're in a setting where everyone else is dressed sharply.
But if you accept your body as it is and wear something to accentuate it, such as a bandage dress from this collection, you'll find some confidence. As a result, you'll feel fearless when in a room full of other people in suits and cocktail dresses.
By allowing yourself to explore garments that highlight what you have, you'll find a lot more choices when it comes to dressing up. You may even find yourself enjoying fashion a bit more now that you don't have to stick to baggy sweaters and pants.
Increase Your Attractiveness
If you feel like you're a 7 on a good day, wearing sharp clothes can easily bump you up to an 8 or a 9. Your clothes say a lot about you, plus they add to your overall aesthetics.
Think about a celebrity that you may have noticed before. But then, they played a role as an international spy and had to dress up in a sharp suit. All of a sudden, they were the hottest person alive to you.
This is the same concept. When you find the right items for your wardrobe, you can increase your attractiveness significantly.
So if you've had your eye on that cute neighbor right around the corner but haven't been successful in catching their eye, perhaps ditch the ratty bathrobe whenever you're outside. Switch to some smarter clothes and maybe you'll finally snag their attention.
Make Good First Impressions
When you meet someone for the first time, you have seven seconds to completely make a first impression. While it's unfortunate that first impressions stick strongly, this may be because our ancestors needed to make quick assessments of people to determine if they're threats or not.
Nowadays, first impressions are only used as a means of assessing someone as a potential friend, lover, or employee. No matter what situation you're in, make sure you nail that first impression by dressing right.
As we said before, dressing well can improve your attractiveness, plus it can make you feel more confident. Whether you're meeting your mother-in-law for the first time or you're meeting the CEO of the company you're interviewing for, dressing for the part will make a world of difference.
In general, if your outfit is well put-together and neat, you're sure to make a good first impression. This can have a lasting effect and make things easier and smoother in the future.
You Create a Better Mentality
You might not think it matters much, but sitting around in your sweatpants when you're trying to work can be detrimental, especially if you work from home.
Your mind associates sweatpants (or PJs) with relaxing, which can cause you to fall into a rut when trying to work. Or if you're struggling with depression, your mind associates your sweatpants and pajamas with lying in bed, moping about with no energy to do anything else.
When you throw on an outfit that you usually wear for work, your brain will automatically kick itself into gear to be productive and get work done. The same goes for if you put on an outfit you've worn in happier times. Just having on different pieces of clothing can change your mindset.
Command Respect from Others
If you're the CEO of a company, chances are, you won't be very well respected if you show up in sweatpants and a dirty, untucked shirt. At work, if you don't dress the part, you won't get the respect that you want.
When you look composed, this gives people the impression that you're responsible, respectable, and that you know what you're doing. It'll make it easier for them to trust what you have to say.
Dressing Well Is Important
When looking at multiple aspects of your life, dressing well is very important. Not only can it make you feel more confident about yourself, but it can also help you be more productive and make better first impressions on people.
So go ahead, treat yourself to a shopping spree to ensure you have what you need to make a vast improvement in your life. This small investment will prove to be rewarding for years to come.
Ready for some retail therapy to improve your wardrobe? Then shop now!