Disclosure: This post may contain affiliate links, meaning we get a commission if you decide to make a purchase through our links, at no cost to you. Please read our disclosure for more info.
Last Updated on November 18, 2022 by Steal the Style
Flowers are always the best gift that siblings can give to each other. All the blooming buds are best to cherish every moment together. Never lose any moment to express your love toward your siblings. Siblings share a very special bond and this bond gets stronger with time. You always remember all the memories that you shared with your siblings.
At the time in childhood, your brothers were naughty and playful; they always used to tease you sisters. But it doesn't mean that brothers don't love their sisters. With time brother gets more loving and caring.
All the elder sisters are always very protective toward their younger brothers. They care about them like mothers. They always do little things to show love for their brothers. Every sibling has the best memories and they have spent the best time of their childhood together. To celebrate your love and bond you should always try to express it by sharing gifts. When you will express your heartfelt emotion to your siblings with beautiful flowers then this will add charm and delight to that moment.
There are many different ranges of flowers that you can gift to your loving siblings on different occasions. If you are confused which flower you should choose then you can check list of flowers for siblings here.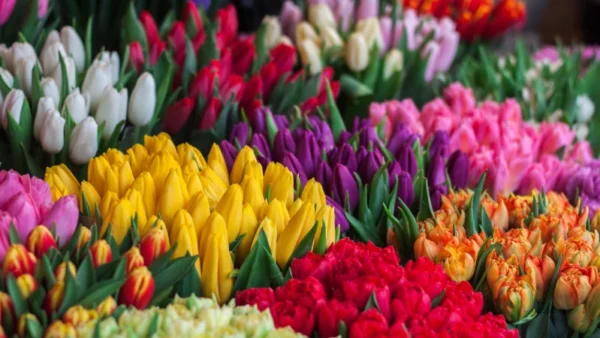 Chrysanthemums 
Chrysanthemums  are beautiful flowers. These flowers are perfect to gift to your loving siblings. You can surprise you siblings on different occasions with these stunning flowers! If they are away from you then you can send flowers to their place. They would love to receive this gift from your side.
Best Choice for Siblings & Sisters: White Chrysanthemum
Chrysanthemums are a symbol of happiness, love and longevity. They can be found in many cultures all around the world because they have been used for centuries to celebrate joyous occasions like weddings or birthdays and therefore make excellent sibling gifts!
The colors also have specific meanings;
Red Chrysanthemums symbolize LOVE
Yellow chrysanthemum symbolizes lost love or sadness
White chrysanthemum is a symbol of loyalty,  love and devotion
Hydrangeas
Hydrangeas are one of the most popular flowers for symbolizing heartfelt emotions. They make great gifts because they can also represent unity and togetherness. 
Best Choice for Siblings & Sisters:  Any Color Hydrangea 
Blue Hydrangeas symbolize gratitude & understanding 
White Hydrangeas symbolize purity and grace 
Pink Hydrangea is a symbol of love and sincere emotion
Purple Hydrangeas symbolize understanding & gratefulness
Roses
You can't go wrong with the beautiful love of a rose. Your sibling will feel your deep affection and warmth when they receive this gift, so give them one to remember you by!
Best Choice for Siblings & Sisters:  Yellow or White Roses
Yellow Roses symbolize friendship and joy, and new beginnings
Red Roses symbolizes romance, love, beauty, and courage
White rose stands for innocence and purity; but also silence, secrecy, and reverence
Tulips
The tulip is a symbol of unconditional love, sweetness and family. It's best to surprise your siblings with this flower in spring when in season. 
Best Choice for Siblings & Sisters:  Yellow & White Tulips 
Red Tulips symbolize true love
Purple Tulips symbolize royalty
Yellow Tulips symbolize joy and happiness 
White tulips symbolize worthiness or to send a message of forgiveness
Sunflowers
 Sunflowers look very beautiful and you can give this flower to your siblings to say that they have great importance in your life. Sunflowers are a symbol of joy and happiness. This flower can be given to your siblings as an expression that they have great importance in your life, but only if you know what kind of personality it has!
Best Choice for Siblings & Sisters:  Yellow Sunflowers
Sunflower symbolizes joy and happiness 
Lilac
Lilac is a unique flower that can be used as an individual or when combined with other flowers. These all come in different colors, making them perfect for any occasion.
Best Choice for Siblings & Sisters:  White & Purple Lilacs
White lilacs represent purity and innocence
Purple lilacs symbolize spirituality
Hyacinth
Hyacinth flowers are the perfect way to show your love for siblings. The individual beauty of each flower makes them stand out, but when you use these stunning blooms with other types or colors in their arrangements they will look even more elegant!
Best Choice for Siblings & Sisters:  White & Purple Hyacinth 
White Hyacinth represents  innocence and purity giving a white hyacinth also can  mean that you are praying for them.
Purple Hyacinth represent sorry, sadness and apology 
Gardenia
Best Choice for Siblings & Sisters:  White Gardenia
White Gardenia symbolizes joy, love and gentleness
Carnations
Carnations come in many colors each with their own distinctive meaning, be sure the pick the right combination for your sibling message of love and appreciation! 
Best Choice for Siblings & Sisters:  White, Red and Orange Carnations
White Carnations symbolize innocence, good luck, and purity
Pink Carnations are often associated with Mother's Day and represent a mother's pure and never-ending love
Red Carnations symbolize appreciation, affection and admiration, and family love
Orange Carnations represent joy, warmth, success, and good health
Queen Anne's Lace
This flower is our pick for a filler to any sibling bouqet filled with the above sisterly love representational flowers. 
Queen Anne's Lace symbolizes safety, sanctuary, and refuge