Disclosure: This post may contain affiliate links, meaning we get a commission if you decide to make a purchase through our links, at no cost to you. Please read our disclosure for more info.
Last Updated on December 31, 2019 by
The absolutely perfect complexions of Korean women are the envy of women across the globe. It seems like their skin glows from within and stays incredibly youthful as they age. If you're anything like the rest of us, you're probably dying to know their secret!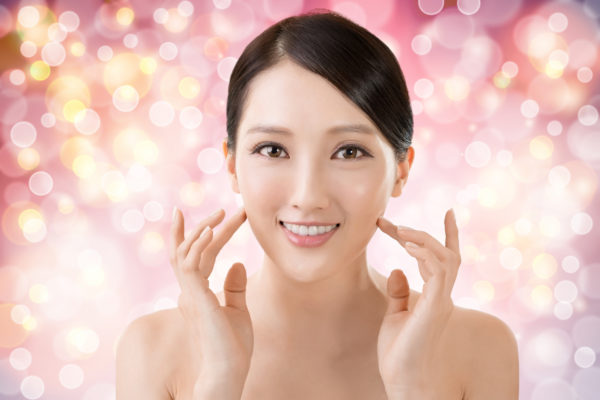 Here are 11 Korean Beauty (K-Beauty) trends that will help you get that dewy, glass-smooth complexion you've always wanted.
1. Establish a Consistent Skincare Routine
This one may seem obvious, but the fact is, establishing a consistent skincare routine is the first step to having great skin. In Korean culture, it's never too early to start caring for your skin. Even as children, Korean boys and girls are taught how to cleanse their skin properly and follow a consistent daily skincare regimen.
Most Korean skincare routines involve a 10-step process that is designed to prevent common skin problems before they actually become a visible issue. Preventing acne, premature aging, and sun damage makes a lot more sense than trying to correct them after the fact. Korean women make a habit of assessing their skin every morning and evening, adding or taking away products depending on what their skin needs that day.
2. Give Your Face a Daily Workout
Korean women swear by doing mouth stretches every day to improve circulation in the face and brighten the skin tone. You might feel a little silly doing them at first, so head for the bathroom where no one can see you! The technique involves saying the vowel sounds, A-E-I-O-U, in an extremely exaggerated way. Be sure to really get into it and stretch your face with every sound. Repeat the process at least three times each day.
3. Go the Extra Mile When Your Skin Needs It Most
There are always going to be those days when your regular skincare routine just doesn't cut it. On days when you just can't seem to get your glow on, go the extra mile by using an ampoule. Ampoules are very similar to serums, but they're far more concentrated. They contain active ingredients that are specially formulated to repair, rebalance, recharge, and pamper the skin. Ampoules are super concentrated, so you only need a few drops, but the results will be visible immediately.
4. Drink Barley Tea
If you eat at Korean restaurants, you've probably been served a nutty-tasting tea that was made from roasted barley. In Korea, they give barley tea to infants starting at birth because it is believed to boost overall health and invigorate the skin. Does it really work? Well, science shows that it's full of potent antioxidants that prevent premature aging, help the cells regenerate, and prevent sun damage. It may even improve blood flow to the surface of the skin. Some people even swear by drinking barley tea to help you lose weight.
5. Pamper Your Skin While You Sleep
If you haven't tried a Korean sleep mask yet, you are really missing out! If you wear makeup each day, your skin can become dull and clogged over time. Sleep masks are specially formulated with active ingredients that encourage cell recovery and provide intense hydration as you sleep. Who wouldn't want to wake up with glowing, moisturized skin? Sleep masks should be every girl's secret weapon for looking amazing even after a few late nights.
6. Brighten Up Your Whole Face with a Tinted Lip Oil
Lipstick often leaves your lips feeling dried out or even worse, sticky. Korean beauty brands have created some amazing lip oils that contain provide intense hydration and nutrients without leaving your lips feeling sticky. Tinted lip oils are amazing because they give your lips a sheer tint of color that can brighten up your whole face. Best of all, these products are formulated with natural ingredients like camellia, avocado, and rosehip oils.
7. Try an Essence
You may not have heard of essences before. These products are extremely lightweight and unique to Korean skincare. Their job is to add moisture back into the skin after cleansing. Essences are loaded with nutrients that plump up the skin, while providing hydration and nutrients. They give the skin that youthful, smooth look we all want. Try incorporating an essence into your routine right before you apply your serum to provide moisture and elasticity without clogging your pores.
8. Prevent Acne with Charcoal
Korean women love sheet masks, and they generally have a variety of them on hand to target skin issues as needed. One of the most popular sheet mask ingredients is charcoal because it exfoliates and detoxifies the skin, which is super important for preventing breakouts. After just 10 minutes with a charcoal sheet mask on your face, you'll be rewarded with clearer, smoother skin.
9. Steer Clear of Heavy Foundations
Heavy foundations clog the pores, often causing acne and other skin issues. Cushion foundations are very popular among Korean women because they blur away imperfections without clogging pores. The coverage is ultra-sheer and never looks mask-like, cakey, or heavy.
10. Avoid Harsh, Physical Exfoliators
Harsh, physical exfoliators can be very damaging to the skin. For day to day exfoliating, try using a warm, wet washcloth with a nubby texture instead. Use it to massage the face in circular upward motions. This will improve blood flow while removing dead skin cells on the skin's surface. You'll be amazed at how much brighter and more radiant your skin looks with this one simple hack.
 11. Massage Your Face
You can find a skincare shop on just about every corner in Korea, and the most popular treatment is facial massage. The great news is, you can give yourself a facial massage and get all the benefits without spending a penny! To give yourself a facial massage, start by massaging your skin in a circular motion using the tips of your fingers, then add in tapping motions. To reduce friction and add hydration, use an oil cleanser as you massage. The result is improved blood flow to the skin's surface and that dewy complexion we all crave.
So, it turns out that you don't have to drop a ton of money on expensive skincare products to achieve perfect skin. Dedication and consistency are most important. Incorporating these 11 Korean skincare trends into your routine can help you get that glass smooth, radiant complexion you've always wanted.