Disclosure: This post may contain affiliate links, meaning we get a commission if you decide to make a purchase through our links, at no cost to you. Please read our disclosure for more info.
Last Updated on August 28, 2022 by Steal the Style
Picking the perfect wedding dress isn't simple at all. You need to think about your body type, your preferred styles, what's in your budget, and so much more before you finally settle on the perfect option. It's always a nasty surprise when you realize the hard decisions aren't over yet – you need to pick out the bouquet and the accessories too.
From an orchids bouquet to something made out of roses and lilies, there's no shortage of options to choose from. Then when that's done, you need to pick out everything else to match. This can seem overwhelming to anyone, which is why sometimes it's a good idea to get some outside help or advice.
In this article, we're going to talk about all the different ways you accessorize your bridal look in a way that it revolves around your bouquet. Keep reading!
Picking the Bouquet Itself
The most important step is to pick the bouquet itself first – it's supposed to anchor your whole look and tie it together, which is why you need to carefully consider what kinds of flowers go into it, what arrangement style it needs to be, and what budget you have.
You don't always have to go the more expensive route to have the best bouquet. With some smart thinking and some bridal bouquet hacks, you can both save money and make sure yours is the talk of the town when the big day rolls around the corner.
The most important thing to consider is the color – this color is what most of your accessories are going to be. Then you need to consider your body type and your dress style – big and dramatic bouquets might be a good idea, but they may end up looking unflattering in your outfit. On the other hand, you can't make your bouquet too small either. If you can, talk to an expert before you decide.
Patels and Classics
Colors like baby pink and light blue are always going to be a classic go-to for brides, which is why a light bouquet of pastels and white flowers would be a perfect option. You can pair it with some heels straight out of a Barbie movie, a glittery clutch, and some really delicate but elegant jewelry.
This look is great if you're going for a feminine aesthetic, and most brides love to pair their pink bouquets with golden jewelry and pink shoes and a clutch.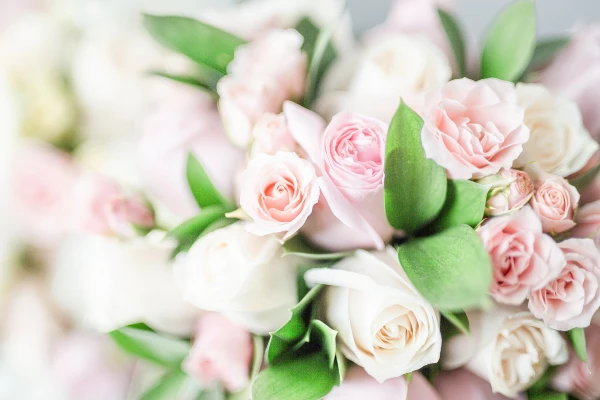 Beware though. We're not sure this look will be as awesome if you choose dark and bold colors like deep purple or royal blue! Stick to pastels.
Deep Colors that Leave an Impression
If you think pastels aren't your thing, go for something a bit darker. Colors like red, purple, royal blue, and maroon will look great if the theme of your wedding is a bit darker, or if you're trying to feel more badass than blushing damsel.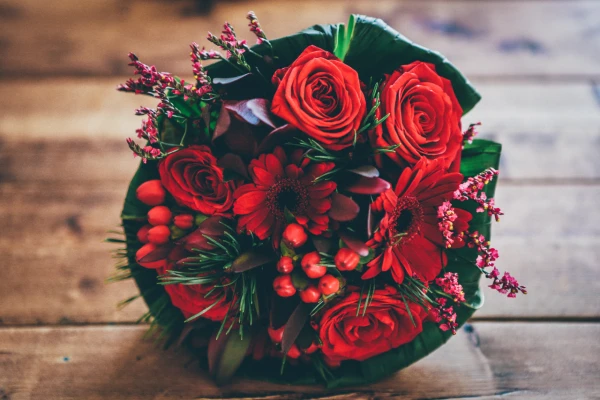 You can pair your dress with accessories that scream boldness and confidence – we're talking a belt or sash with your dress, some bright shoes that peek from under your dress, and statement earrings that people can't take their eyes off. Don't go for any more jewelry than that, and maybe put your hair up with some intense makeup for a real lasting impression.
With more and more women opting to wear pants at their wedding, we feel like this option is one they should really consider. Not to mention how perfect this bold look is going to be for a winter wedding!
Cheery Summer Vibes
Grab some sunflowers and put a flower crown on your head for this theme. We recommend picking a cheerful bouquet for sundress style wedding dresses, and even short wedding dresses in the summer. You can get a bouquet made of sunflowers or tropical flowers, all decorated with leaves and cheerful green elements.
You can add a flower crown on your head and opt out of wearing the classic veil, and you can accessorize with some cute bracelets or bangles to go with your look.
When you're planning your wedding outfit, make sure to stick to what you know – if you don't usually wear a lot of jewelry there's no point in loading up on diamonds for the wedding either!