Disclosure: This post may contain affiliate links, meaning we get a commission if you decide to make a purchase through our links, at no cost to you. Please read our disclosure for more info.
Last Updated on May 28, 2020 by
Some people have a true knack for wedding planning. The thought of organizing a menu and coordinating a seating chart really appeals to them. Some people love wedding planning so much, in fact, that they chose to be wedding planners as their career. Most people, though, probably feel like planning their wedding was an experience that they are happy to only have to undergo once in a lifetime.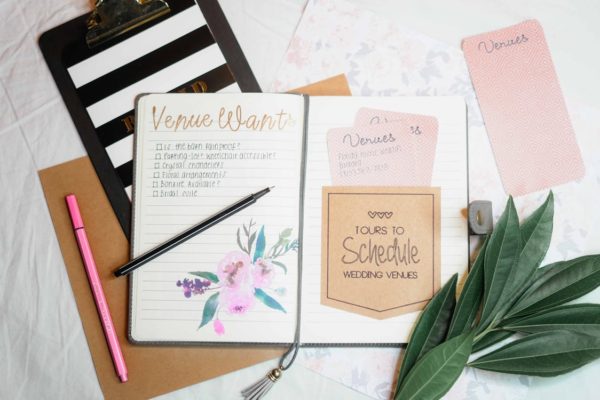 Just the sheer magnitude of things that need to be completed before your big day is enough to send anyone's head spinning, so for that very reason alone, it is worth taking a step back and trying to find ways to refocus and enjoy the process.
If you are looking to get a bit more enjoyment out of planning your wedding, here are a few things you can do that will make the process far more fun.
Start With the Big-Ticket Items
Typically, the most enjoyable parts of planning your wedding are the little details that you implement in order to put a personal touch on the event. The colors, decorations, and flowers are just a few of the finer details that will reflect the personalities of you and your fiancé. 
Because they tend to be more fun to plan, it can be tempting to start your wedding planning by addressing such things first. It is far better, though, to start with the big-ticket items before you get to the more fun aspects of the day. For instance, take the time now to look into various bar packages, like the ones at eventbartenders.com, so that you can spend more time coming up with a signature cocktail for those bartenders to serve.
By starting your wedding planning by booking big-ticket items first, you improve the process by ticking the more stressful things on your checklist off early. It will take a lot of time to research and contact all the major vendors that you will need to hire. Take the opportunity at the start to get these things nailed down so that you and your husband-to-be can have fun planning out the things that make the day all about the two of you.
Avoid Multitasking
One of the reasons that wedding planning gets so stressful is that you never feel like you have enough time to accomplish everything that needs to be done. While the amount of organizing that you will be doing will get overwhelming at times, it is important to avoid trying to multitask during the planning process. Attempting to review a potential photographer's portfolio when you only have five minutes left on your break at work, for example, will only result in an oversight because you were unable to focus properly.
Try planning to have one or two nights each week where you and your fiancé get together to plan your wedding together. Share a bottle of wine while you look through reviews and samples together. This way, you can not only focus on the planning but on each other as well.