Disclosure: This post may contain affiliate links, meaning we get a commission if you decide to make a purchase through our links, at no cost to you. Please read our disclosure for more info.
Last Updated on June 23, 2022 by Steal the Style
All about that rugged pink hat we're seeing everywhere!
If you're interested in fashion trends or you're a spotter of up and coming street style, you've likely seen women sporting Bass Pro Shop hat outfits this season. A Bass Pro Shop hat is becoming the "it" accessory for women in 2021. Bass Pro Shop is an established brand with high-quality goods and clothing. Founded in 1972, Bass Pro Shops is North America's premier outdoor and conservation company having an awesome reputation for offering a wide selection of high-quality outdoor apparel and supplies for even your day-to-day. From adults to kids, their helpful buying guides, exceptional customer service, and collections are unmatched. If you're curious about Bass Pro Shop hats, where to buy them, how to style them, and more, read on.
About the Bass Pro Shop Hat Aesthetic
Bass Pro Shop hats provide a wealth of options in terms of outfit aesthetic. Typically, when thinking about the Bass Pro Shop brand, one may picture outdoor-exclusive fashion, technical gear, and an overall "rugged" lifestyle. Bass Pro Shop hats are great because they are not only for those individuals who hunt, fish, farm, and camp—they are also for those who live urban or suburban lifestyles with little outdoor activities. They can add a subtle edge to any women's outfit.
How to Style a Bass Pro Shop Hat for Women
If you are curious about Bass Pro Shop hat outfit style, you should know it's a very versatile piece. You can wear these hats with athletic clothing or athleisure clothing for a casual, active look. You could also sport a pink Bass Pro Shop hat to add feminine energy to any casual outfit. A method that many fashionable women on Pinterest are taking when it comes to styling the Bass Pro Shop hat is to couple this edgy cap with softer feminine fabrics and ensembles. For instance, you could wear a Bass Pro Shop hat with a soft, satin cowl neck dress or tank top to balance the girly look with a bit of edge or go more weekend casual with your favorite jeans and an oversized flannel.
How to Decorate Your Bass Pro Shop Hat?
In addition to the special elements and styles of the hat itself, you can also choose to customize different hat custom pins to be pinned on your hat, which can show your trendy hat matching style and unique temperament. These hat pins are very suitable for purchases hat customers as giveaways.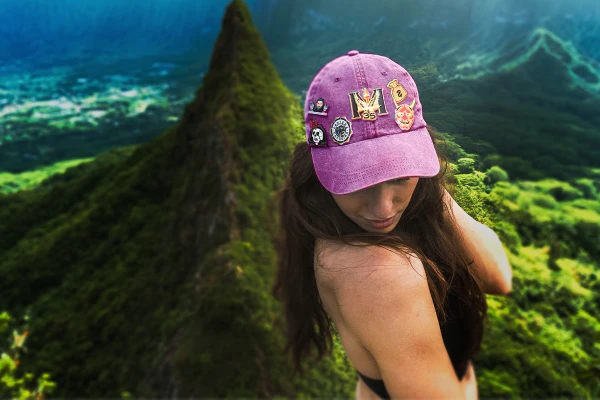 Where to Find Pink Bass Pro Shop Hat
If you're inspired to style up this cute new trend for the season, you're likely wondering where you can buy a pink Bass Pro Shop hat or a Bass Pro Shop hat in general. While you can always find them on the Bass Pro Shops website for a low price, they are available at other retailers, as well. You may be able to find different styles of the iconic Bass Pro Shops hat at Walmart, online at Amazon, and at Bass Pro's partner retailer, Cabela's.
With so much versatility, it's not a surprise that many women are looking to style Bass Pro Shop hats this season. They are not only functional as a billed trucker cap, but they are also stylish and can add a bit of edge to any outfit, no matter how flirty or feminine it is. Pick up a pink Bass Pro Shop hat today to look on-trend and cute this upcoming season!