Disclosure: This post may contain affiliate links, meaning we get a commission if you decide to make a purchase through our links, at no cost to you. Please read our disclosure for more info.
Last Updated on November 27, 2021 by Steal the Style
Looking to wear saree for the first time on your bestie's wedding? Want something feminine, something that is corporate and chic at the same time for your workwear Indian raw silk sarees? If you can't resist trying your mother's saree and waltzing through the hallway, this is high time, you buy a six-yard stunner already!
A woman's love for the saree is an enduring one. However, this love affair with the saree can only be started with you willing to make a commitment. So, take the first step towards buying a saree that you can call your own! No mademoiselle, not borrowed from your mother or a friend but something that is your own and has its own place in your wardrobe. You need to work on this relationship, ladies!
So, here we are with a few buying tips for the saree virgins to build a long-lasting camaraderie between you two!  Whether you are buying a saree for yourself or you are a man looking for the perfect drape as a Raksha Bandhan gift, these tips will help you win some brownie points and buy the best saree there is!
Let There Be Light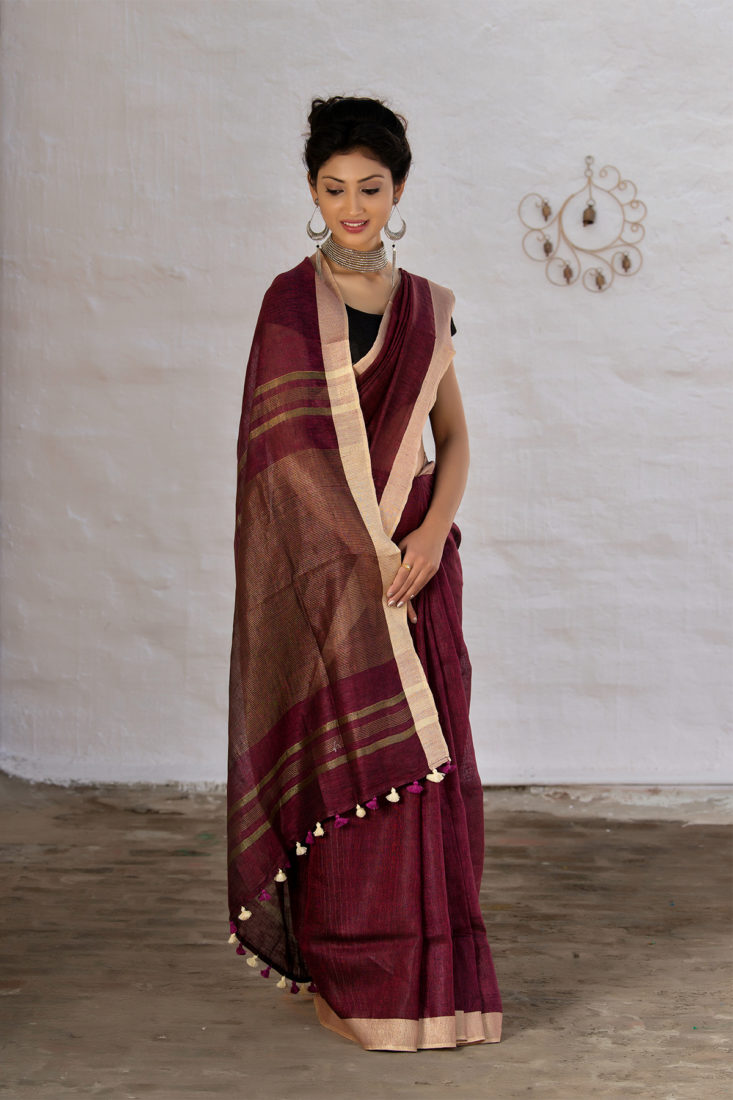 A lightweight fabric like chiffon, Georgette and linen are the perfect fabric for the first-time wearers. These are easy to pull off and the pleats fold easily. A linen silk or cotton saree is an elegant option for workwear as well.
Where to Buy a Saree?
If only you could solve this equation and the secret behind the crackling smile of the salesmen who thinks that every saree looks absolutely great on you.   Anyway, who has time to go from a shop to another after slogging 9 to 6 at work? So, what do you do? How do you chance upon your made- for- each -another saree? Like your LBDs and summer dresses, you shop for sarees online too! Besides, shopping from the comforts of your home or office, you can avail 'no questions asked' returns and discount on select products.
Love It So That It Loves You Back
The art of saree draping requires patience and effort.  So, if you don't get the pleats to fold right, do it again. Rest assured, good things are to follow.
Give Attention to the Company
Yes, if only you could manage to take your eyes off your date. A matching petticoat and properly-fitted blouse are more than important to create a sexier silhouette.
Lingerie Matters
You may think it doesn't matter but the importance of a fitted bra with proper coverage and an underwear can't be stressed enough. A good bra implies good fitting of the blouse. Choose hipster-style panties and proper coverage panties over thongs. If your thighs are prone to chafing and rashes, wear tights and apply Vaseline to prevent it. Pay attention to the cup size and underwire if you are wearing a padded blouse.
You are all set ladies! Make the most of these expert tips and get the best bang for your buck as well as perfect ethnic diva makeover!