Disclosure: This post may contain affiliate links, meaning we get a commission if you decide to make a purchase through our links, at no cost to you. Please read our disclosure for more info.
Last Updated on August 10, 2021 by Shopping Kim
Denim is every man's wardrobe staple and obviously it's a versatile piece of fashion that has the ability to boost up a look. In order to make your denim jeans do the job right you need to know how to style them in the right manner. Sometimes the jeans end up looking horrendous on you and the reason being is you didn't pair it up well.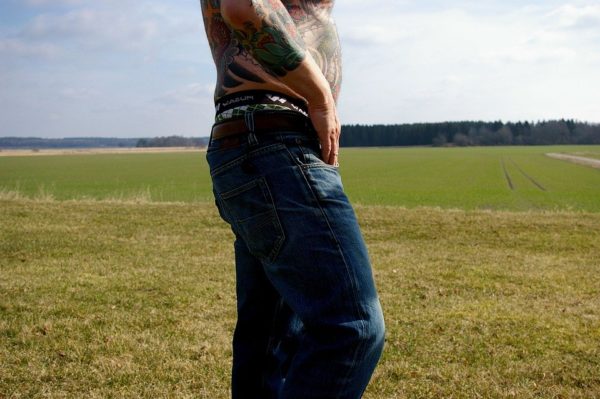 Well, we understand what will look good on you and for your ever evolving personal style; here are some dos and don'ts every man must follow when it comes to jeans. You won't ever commit a faux pas with this guide.
Dont's
Don't opt for patterned style
Do not opt for jeans that have designs on them. They appear quite flashy and are a big no no in the fashion world.
Don't choose bright colors
The bright colored jeans will definitely give a circus look. Not kidding.
Don't wear snazzy belts
Yeah you are a fan of some huge brand but nobody is really willing to see the jazzy belt hence you should keep it low when it comes to styling the belt with jeans.
Don't wear jeans like a low waist
Pull those pants up that are so below. This way you would get a perfect fit and it won't be hard for you to walk.
Don't choose blingy jeans
Sparkle is not for men. Try to keep the attire as simple as possible.
Don't go for heavy prints and logos
Let's not promote the brands so much. Keep the design subtle and not overboard.
Don't wear tight jeans
Some men love doing this and god knows why? Skinny jeans are designed to accentuate women's legs and not men's.
Don't be laundry freak always
Yes taking the jeans for laundry all the time will only fade the color of the jeans. When you wash them don't throw them in a dryer rather flat dry them inside out.
Don't always tuck the shirt
Depending upon the length and the sleeve of the shirt you should take a call of tucking it in or not.
Don't pair colored jeans with bold colors
Pairing colored jeans with contrasting and bright colors appears too out of trend and hence you should stick subtle colors.
Do's
Do wear subtle colors
Choose the colors that go for a men's style like olive and mint. Keep the shirt color subtle and the attire should look neutral and definitely not too much for the eyes.
Do wear a leather and a classy belt
Stick to the rule of wearing the belt and you would never go wrong with it. Go for brown and black. Black majorly goes for formal while brown is for casual depending upon its shade.
Do wear comfortable pant
The slouchy pants look quite vague and that's why you need to choose the lower rise pants. Look for pants that have a stretch as it adds comfort to the style.
Do add variety with pockets
Try spicing your jeans up. Pocket styles and some stitching can add a little class. With this look for zig zag style or side seam with button and rivets.
Do try rolling the jeans
Rolling the jeans is a fantastic way to style them up. They should be half inch above ankle. You can also do this with your different colored pants. Don't like rolling the jeans? Hem it instead.
Do opt for well fitted pair of jeans
Many brands offer proper fit jeans and you should try them on. They are flattering and look great. You can't afford to compromise on it.
Do wear ankle length pants
Choose the right length and buy the ones that end at the ankle rather than opting for anything that is baggy.
Do pay attention to slim fit jeans
Don't be blind behind the tight pants rather choose the ones that let your genitals breathe. Sport the trend with a comfortable fit.
Do wear jeans on casual occasions
Choose this style for night times and when you are heading out as they are quite eye catchy. When teamed up with the right shirt, it can appear quite elegant.
Do focus on your body type
Especially when you are skinny, you don't have to go for baggy pants rather choose the right fit according to your shape. Go for the pants that are neither tight nor too loose.
Apply these basic rules and catch great ways to style your jeans up. These small changes can change your way of dressing in a fashionable way and we are sure you wouldn't want to miss out on this one. These few steps can turn your fashion sense. Take them as they are your best bets and those fewer problems will never occur again.