Disclosure: This post may contain affiliate links, meaning we get a commission if you decide to make a purchase through our links, at no cost to you. Please read our disclosure for more info.
Last Updated on May 15, 2021 by Steal the Style
As any interior decorator will say, curtains can make or break a room. You should consider your needs and choose the ones that will fit them.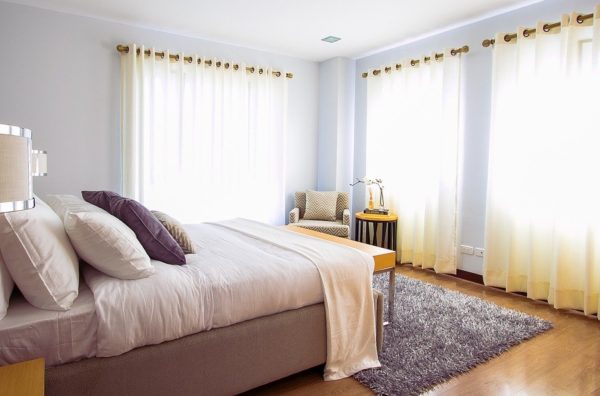 Some people may move to a new home only to find out that the windows are too bright. They hurriedly and mistakenly bought a light curtain that is ineffective in blocking the sunlight. As a result, they are always being wakened up by sunshine, and for those who are working night shifts, they might not be able to sleep through the day because they can't make their space darker.
This is what happened to Anna. Luckily, she has chosen to replace the ones that she initially bought with blackout curtains. This made everyone felt comfortable because their activities inside the house are now hidden, and they can block sunlight in the mornings.
Curtains and Noise Cancellations
Believe it or not, your window hangings are not just there to block excess sunlight. They can also serve as noise blockers without you needing to shut your window. It is always in your interest to best soundproof curtains to use them in an area. You know more information about velvets and the most popular choices of consumers who are looking to have a peaceful home when you go to the right site.
Investing in a soundproofing window hanging is an excellent idea since kids are crying non-stop, dogs barking, cars starting, and a lot of other noises. This is the case when you are living in an apartment where your neighbors' doors are just a few feet away from yours.
How to Choose the Right Wall and Window Hangings
Pick the Fabric Which Suits Your Home Best
There are lots of fabrics to consider, such as brocades, chintzes, silks, velvets, cotton, and more. Some of the things that you should know include not choosing unlined silks because they are prone to sun rots. If possible, avoid the ones that were made of bold fabric because they fade over time. There are custom-made fabrics where the thread count is higher. If you find one of these, you should consider investing because it is more durable.
If you are going to hang the curtains in a sunroom, you might want to choose sheer fabrics. This is because the material can let natural lighting penetrate through. Your room will be well-ventilated, and you can have natural light, which is an ideal choice if your hobbies include reading and writing.
Heavy fabrics with lots of coverage are ideal if you are located in a state with long winters. The materials such as velvet, tapestry, cotton, and suede will retain more heat, which makes electric bills lower in the process. Read more about velvets here.
Choose the Colors Well
The existing color scheme of the room should be a factor when you are buying window hangings. The colors of the fabric should complement the overall design. Consider your wallpaper's layout, furniture, and the palette of the room.
You don't need to get a red velvet curtain when your walls are already pink. It will help if you consult an interior designer or research about great palettes that complement each other. There are sofa covers that you can get to match the texture of your furniture to the overall design of the curtains, so you might want to get those too.
Lively patterns help in transforming the room. They create texture and color that will make the room more energizing. These types of designs go well in living rooms and kitchen spaces where most of the activities are present. If you prefer more of a casual vibe, choose the ones that have delicate patterns printed on them.
Consider the Length
If you have a window that is elevated, you can select long lengths that can create intensity. You can consider installing drapes that are six inches above the frames of your windows. If you have a small room, you should avoid using thicker or blackout curtains. This will create an uncomfortable and stuffy feeling in the long run. Lighter materials are more ideal choices, and they can create a sense of open space.
If you are into a more contemporary feel, you can install window hangings that touch the floor. These create a modern vibe and will suit the décor of your home. The puddle effect is very classy, but make sure that you won't install them on a place that gets dusty quickly.
Consider your Budget
Most people think that draperies will blow a hole in their finances. However, this is not the case at all. Choosing the right curtains that will maximize the look of your room will save you lots in the long run. If you have large windows or tall ceilings, you might want to get custom wall hangings. Instead of spending on a few that won't look too good on a function room or a large hall, investing in custom-made ones will make you a smarter investor, and you can save lots in the process as well.
A Final Word
Curtains are available in many colors, textures, patterns, and more. You can openly explore all the available options out there and choose what personally gets your interest. Some consumers love white curtains because they are cleaner and more comfortable on the eyes. However, more maintenance may be required. If you are one of them, you can try to go out of your comfort zone and try some different patterns and see how the room will make you feel.