Disclosure: This post may contain affiliate links, meaning we get a commission if you decide to make a purchase through our links, at no cost to you. Please read our disclosure for more info.
Last Updated on August 1, 2023 by Steal the Style
A beautiful dressing room to put all the treasures in is every woman's dream, and we mean EVERY WOMAN'S. Tell us that you have not ever envisioned yourself walking inside of a closet similar to the one Mr. Big gifted to his fiancée Carrie Bradshaw in a 2010's Sex and the City movie or even the one the protagonist had in her small downtown apartment. You cannot, because you would be lying. Sure, besides the charming aspect a dressing room has its functional perks too – you can have your stuff perfectly organized and the rest of your rooms will be free of fashion clutter. Since we have established that having a dressing room is a good thing (well duh), now we can move on to how to design your own.
Have a Plan
Yes, we are starting with this boring part, but it is necessary. Sure, your plan will change and adapt as the work progress, but you need to have a basic idea about the storage size and needs. You can go for redesigning an entire room into a walk-in closet, if you have a spare room. Otherwise, you can expand your old wardrobe, or simply organize it better.
Now assess how much clothes, shoes, bags and jewelry you have. Which of that you want to keep exposed and which hidden? Do you need drawers or long hangings, etc.? No matter if you are repurposing a room or your regular boring wardrobe, you will have to get rid of the stuff currently inhabiting it – including shelves, hangers, etc.
Organize Storage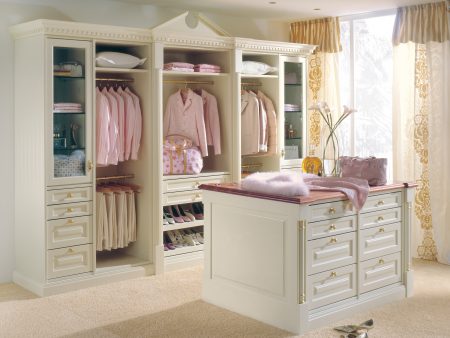 This is the most important part of your dressing room so you must think it through thoroughly. You will probably need two sets of hangings – one within your arm reach, other not lower than your waist. Shelving is a must, but you do not have to waste time and money on closed, instead build open shelving and use labeled storage boxes for some items, while others can be exposed. The best options for storing shoes are bins. As for the jewelry organizers, you can get away with a lot of simple yet chic DIY solutions, such as picture frame, table antlers, cutlery tray, or cork board panel.
Do Not Forget the Walls
Sure, most of the walls will be so covered in shelving and later clothes that you will not be able to see them, but the ones that you do see should not be monotonous and let alone dirty and neglected. The most common way to go is to paint the walls white so that they do not create additional distraction, but you can take the road less traveled, and paint a single wall bright pink or even gold. Another stylish way to add some pizzazz to the space is by adding elegant wallcoverings.
Make Room for Furniture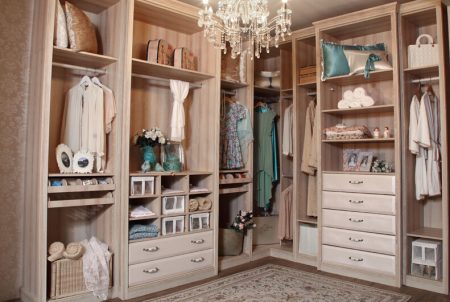 What good is the dressing room if you cannot sit and enjoy the view? If you have enough room you can put a fancy armchair (you can buy an antique chair for a bargain at a flea market and then re-upholster it). A dressing table can be a nice stylish addition, but it can also provide more storage space underneath for accessories, perfumes and jewelry.
A Sparkle of Luxury for the End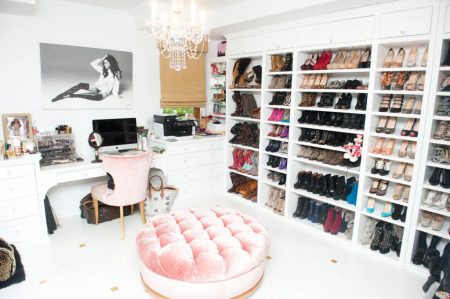 We know what you are thinking "All of the previous tips are useful and all, but where is the luxury every girl wants in her dressing room". Do not worry, we are getting there. Some additional tricks for the extra dose of luxury would be to install a chandelier or a pendant light instead of the regular light (just as the armchair you can find amazing chandeliers at the flea market). Use padded hangers to display your clothes elegantly. Add a large mirror on the wall that is left bare (or with coverings on it), and some fashionable artwork (even design sketches) is also recommended. Finish up with a shaggy rug and a vase with fresh flowers.
What do you say girl, is this a dream come true or what? Once you are done and you take a look at your little room of wonders, you will see that all the effort invested is worthwhile.