Disclosure: This post may contain affiliate links, meaning we get a commission if you decide to make a purchase through our links, at no cost to you. Please read our disclosure for more info.
Last Updated on March 24, 2023 by Steal the Style
Did you know there are blogs out there totally dedicated to mens underwear? I found these pics of teenage heart throb Zac Efron on this Men's Underwear Blog. Mr. Efron was spotted at the Sunset Gower Studios in Hollywood sporting low rise jeans to reveal Fruit of the Loom white briefs! Yes, whitey tighties at their finest.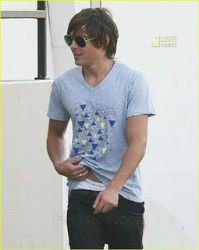 I didn't know teenage boys even wore briefs anymore.  I thought boxers (or even boxer briefs) was the the underwear choice among young men. Shows you what I know.
My guess is that Zac was doing a promotional stint with Fruit of the Loom?  Because even if he really wanted to wear whitey tighties, with his cash flow, he could surely afford a nicer (more expensive) brand like 2xist underwear or Hanro underwear.
We all know celebrities do a lot of product placement, and if you want to see a larger size of the images (check out the original picture source at Just Jared), you can clearly see the "Fruit of the Loom" label.  I bet as soon as that picture was released, teenage boys everywhere flocked to Wal-mart stores to steal Zac's underwear style to try to impress the girls. I'm just glad he wasn't wearing a man thong!