Disclosure: This post may contain affiliate links, meaning we get a commission if you decide to make a purchase through our links, at no cost to you. Please read our disclosure for more info.
Last Updated on May 19, 2019 by
A home library should be a mandatory part of any home. Home libraries are the best and perfect ways to represent the variety of books and lead to a habit of reading. when you think of setting a home library they need not always be of big size or budget.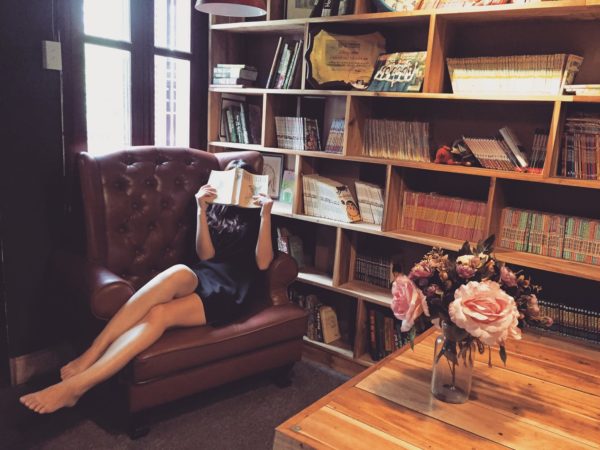 Irrespective of your space, if its an apartment, house etc. you can set your own home library. To highlight your home library, you can plan for interior décor and set up an amazing library. Let's gather up few points about how to set up a library.
   Concentrate on display
A home library needs perfect storage that's trendy. This main element could have a built-in look, sleek in design with a closed cabinet along with storage facilities, drawers, and doors. There are more latest trendy design patterns available in the market today.
   Bright colors
In case you have a built-in bookshelf, or cupboard for arranging a library it would be great if you could color it with colors. This is a good interior décor idea for bookshelves. You can also try shading bright color outside bookshelf and light colors inside. By this way, a fresh charm would be added to your bookshelves.
   Lighting
To provide a high-end look for your home library, remember to fix the best lighting for different purposes. It is important that your home library has a reading lamp. Accent lighting is also essential as they highlight the shelves and also adds illumination. You can opt for battery opted LED light strips and lights for a chic look.
   Décor your walls
Make your home library look exclusive by adding custom felt wall panel. These interesting wall panels are surface solutions that provide a detailed trendy look to your walls. If your home library has such wall panels, it would be inspiring and interesting to read.
   Seating facility
Seating facility is an important parameter in a home library. The basic home library idea is to fetch a flawless reading chair. Pick a chair that is comfy and cozy to sit and read. Make sure your foot has a footrest, hand rests and that the chair inspires you to sit and read.
   Adding ladder
If your bookshelves extend beyond the ceiling, it would be best to install a ladder. This is a beautiful as well as an inspiring idea to add a trendy ladder to fetch your desired books. It would be good advice paint the ladder with a bright color to highlight your library.
   Accessories
There are many accessories that can be installed in your home library. Décor your floor with a Persian rug and place it under the main area. You can also décor your wall with artwork that represents antique artwork. Give your library a refreshing look by placing a Boston fern in one corner.
   Customized Walls
There are varieties of options that can be used to décor your walls. Felt acoustic panels are one such variety that can be used for wall décor. They are sturdy to look at and soft to touch. For the purpose of ceiling and wall covering these acoustic panels can be used. These panels can be customized and can be ordered as per one's choice.
   Ceiling décor
There are plenty of design options when you consider ceiling décor. In that manner, there are plenty of felt ceiling tiles available. The acoustic felt ceiling is another main parameter that transforms your interior home library into a trendy one. These felt for walls are durable and offer long life. An added advantage is that maintenance and installation are simple.
   Study table can be used
Your home library can use the great idea of using a study table in your area. The advantages of a study table are that the reader can read from many sources at the same time. Heavy or big books can be placed on the table and used for reading.
Other unique plans
Your libraries can be planned and designed in a perfect way. You're reading room should be installed with bookshelves in a diagonal pattern. These patterns are unique and different from the usual shelve pattern. Such patterns add a contemporary style to your living room. In case your home does not have enough space for a home library, make sure to plan and design bookshelves in the walls. You can make such areas into a library by placing a couch or a chair nearby.
The library can accommodate other things
Storage is mandatory in every home. If in case your books collections aren't enough and you have additional space, you can plan to store other things for a unique look. You can keep things and provide a clear vision between the things. You can place a stack of plates or bowls that are unique amongst the books. Allocate place for all things and keep your library neat and clean.
Wall décor detailing
Amongst all décor ideas, using felted wall panels and tiles are a great way to highlight your library interiors. These services are available online at ease. These services have talented designers and installers for installing permanent panel designs and tiles for a chic look. There are loads of collection such as baffle ceiling, latest wall tiles, suspended ceiling, acoustic sound panels, 3D wall panels and lot more. These designs and wall panels grab others attention and provide an aesthetic look, comfort, luxury etc.
Conclusion
Gather the above-mentioned tips and plan for a perfect library interior. There are loads of ideas that can be added to the above to make your library look awesome. Run through the sites and gather more ideas to make your unique library. Many accessories and services are available online that can be used for interior decors for any purposes.
You just need to plan and pen down the detailing for an awesome and perfect output. Remember to concentrate on walls, ceilings, colors and other factors for your interiors. Take initiatives to turn your library into a perfect one with interior décor designs.