Disclosure: This post may contain affiliate links, meaning we get a commission if you decide to make a purchase through our links, at no cost to you. Please read our disclosure for more info.
Last Updated on September 15, 2019 by
You did it. You have the perfect place for you. Great rooms, a nice bathroom, and huge, amazing closets. Well, that's the dream anyway, right? Even for the smallest of spaces, there are ways to improve the closets and use the space you have to make your closets perfect for you. See how these five tips can help.
Check the Space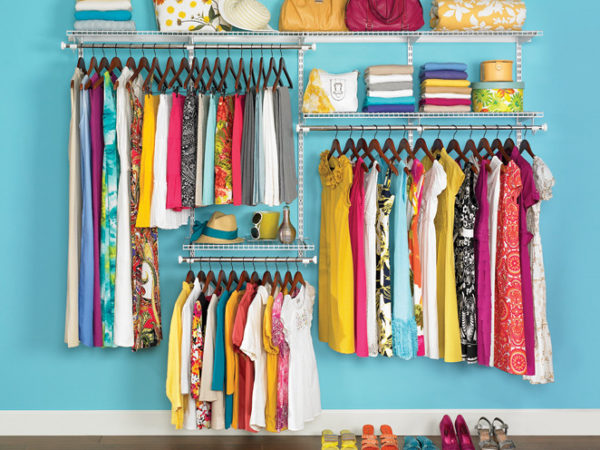 Image Via Flickr By Rubbermaid Products
Take note of where the closet is placed. Is it on a wall that shares a bathroom? Check the area thoroughly for mildew or discoloration. This could be the result of an interior leak and could lead to some sadly ruined clothes or, heaven forbid shoes. Try to de-clutter, and spread things out, to make sure there is good airflow, and the installed HVAC system is running well, to avoid moisture in the air, and have it serviced regularly for any repairs that might arise. This is especially important if your closet shares space with your bathroom or kitchen, where water regularly accumulates. 
Light It Well
Everyone wants to look as flattering as possible when trying on clothes in the comfort of their own home. The right lighting will ensure that you are at your most comfortable and look your best. The right temperature of light will show the clothes at their proper colors and can even make things look bright and clean. Any sort of yellow light in a small space can make the room and items in it look dingy, so that's something to keep in mind. 
When In Doubt, Go Up
Closets are more than just a place to hang clothes, so a single rod just won't do. In order to make the most of a small space, some storage is necessary. Look high when considering storage options. Hooks will be your best friends, and the space above the door can be used for seldom-used items like suitcases. Hanging things on the inside of the door, like shoes or purses, gets them off the ground, and using an extender rod can almost double your hanging space. If there are shelves available, you can keep things tidy with shelf dividers, and under shelf baskets for smaller items that need a home. 
Add Some Tension
Rods, that is. If you happen to have odd little unused corners of your closet, tension rids are amazing to create more hanging options. Hooks with clips for hanging boots and hooks for belts and scarves are great items to place in the corners that are often wasted spaces. 
Know When to Call In a Pro
Having a professional come and assess your space is one of the best ways to ensure maximum storage availability, with minimum stress. There are a number of major stores out there that offer this service. 
Getting the most use out of your space and creating your dream closet can be daunting, but with these tips, it should be a little easier to do. When in doubt, the more storage, the better, and lighting is key.