Disclosure: This post may contain affiliate links, meaning we get a commission if you decide to make a purchase through our links, at no cost to you. Please read our disclosure for more info.
Last Updated on September 26, 2017 by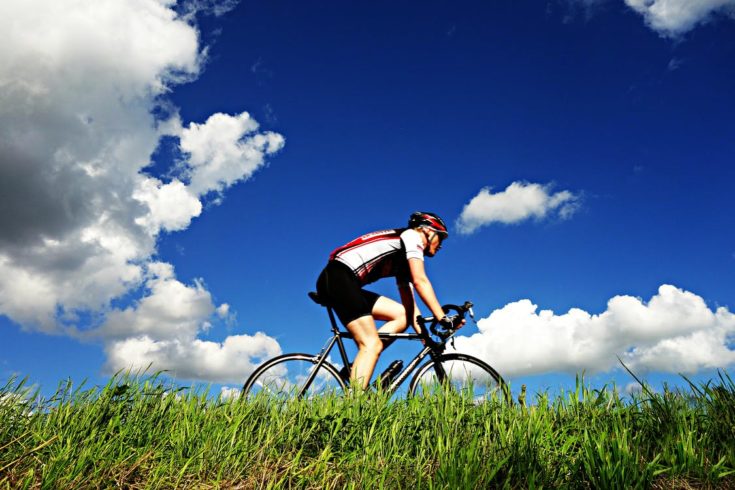 Bikers that are looking for gear to match their lifestyle should look into the specialty clothes and accessories specifically made for bikers. These customized clothes enhance your bike ride as you travel to work, taking on new trails or just going for a leisurely ride. With the right gear, you can take your biking to the next level.
The science behind bike clothing and accessories allow bikers to ride better, safer and longer, with the added benefit of a stylish flair. As you shop around for items to add to complement your biking gear, keep an eye out for these essentials.
Cycling Jerseys
Bike jerseys are typically made of spandex or alternative formfitting materials. This allows the jerseys to keep the sweat of your body as you bike around town. These jerseys typically come with a standup collar that works to shield your neck from the hot sun while the front zipper allows for easier ventilation. Jerseys are made with wider shoulders, enabling riders to lean forward more easily. Standard jerseys are equipped with highlights and reflective trim to keep riders safe during night rides. You can also show your enthusiasm for biking by buying biking T-shirts from businesses like DHDWear for when you're on casual rides.
[amazon_link asins='B01FVT0FAE,B01M7MP6PH' template='CopyOf-ProductGrid' store='stealthestylewp-20′ marketplace='US' link_id='0c7b6ddf-a30c-11e7-b91a-ed0e06a4fdf4′]
Bike Shorts
Bike shorts are a little different than typical shorts. Bike shorts are made with stretchy material to allow legs a fuller range of motion when biking. The padded crotch in these shorts helps to keep moisture wicked and friction reduced. Due to the build of the bike shorts, it is best to try on a few before making a final purchase.
[amazon_link asins='B01GMCSFO2,B01I8JM7U0′ template='CopyOf-ProductGrid' store='stealthestylewp-20′ marketplace='US' link_id='f3c82fb5-a30b-11e7-915e-4b28580f1083′]
Cycling Jackets
Cycling jackets are great for keeping warm on a long bike ride in the colder months. Depending on the temperature and weather conditions, you may have varying styles of cycling jackets. It is important to plan for the heat you will feel due to exertion on a bike ride. With a cycling jacket, you will have extra warmth and insulation to keep you warm.
[amazon_link asins='B015H1SPK8,B01N95C83V' template='CopyOf-ProductGrid' store='stealthestylewp-20′ marketplace='US' link_id='e7a41f3f-a30b-11e7-a8ca-ebf0ee25ee22′]
Bike Shoes
Bike shoes really vary depending on the type of biking you do. Road cyclists will want to choose a lighter, more aerodynamic shoe that is built with a slick sole. Mountain bikers will need shoes that are made for cleats and come with durable soles.
Bike Socks
Socks are truly a biker's best friend. When pedaling often and hard, the feet will sweat a lot. Cotton socks are fine for lighter workouts, but when it comes to regular cyclists, specialty bike socks are needed. A popular sock choice is wool—it works to keep the feet dry throughout the ride.
[amazon_link asins='B003E44Y9W,B0100LF9MM' template='CopyOf-ProductGrid' store='stealthestylewp-20′ marketplace='US' link_id='ccc48c16-a30b-11e7-baea-7b254557b815′]
Whatever your style or biking frequency, you can benefit from trying out specialty bike clothing.
You can find Biker Clothing for the best price on Amazon.