Disclosure: This post may contain affiliate links, meaning we get a commission if you decide to make a purchase through our links, at no cost to you. Please read our disclosure for more info.
Last Updated on August 25, 2022 by Steal the Style
We understand that picking the right jewelry for casual environments can be challenging. Women, in particular, have been associated with having a high affinity to jewelry, not necessarily diamonds. Jewelry helps us build more confidence in ourselves and have something to flaunt with. Unfortunately, serious business and work settings don't allow us to shine out with some types of jewelry.
So, what jewelry is appropriate for work, and which ones should be left out for weddings and outings? You are starting to have a headache thinking about it, right? Don't worry; this piece will guide you through eight examples to get you started.
1. Diamond Earrings
You may also refer them to crystal stud earrings well known for their versatility. They will sync in with almost every business outfit in your wardrobe. Don't worry about flashing it out. The business outfits tone down the flashy features giving you the perfect simple and classy look. Select them in a variety of shapes, including circular, spherical, and squares.
2. Long-Chain Necklaces
You've probably pictured it in your head. They are perfect add-ons that you can wrap twice around your neck to get two spectacular chains. Consider incorporating these long-chain necklaces into your business look, changing the variations to suit your style and needs.
3. Necklaces With Pendants
Do you still have the family heirloom pendant with a crystal finishing that you thought you couldn't bring to work? You might want to reconsider. Shop for a necklace that you can hang your pendant and let it blend with your silk blouses. But there's a catch; the look gets better with small but unique pendants. Large pendants tend to outshine your outfit, and you don't want that.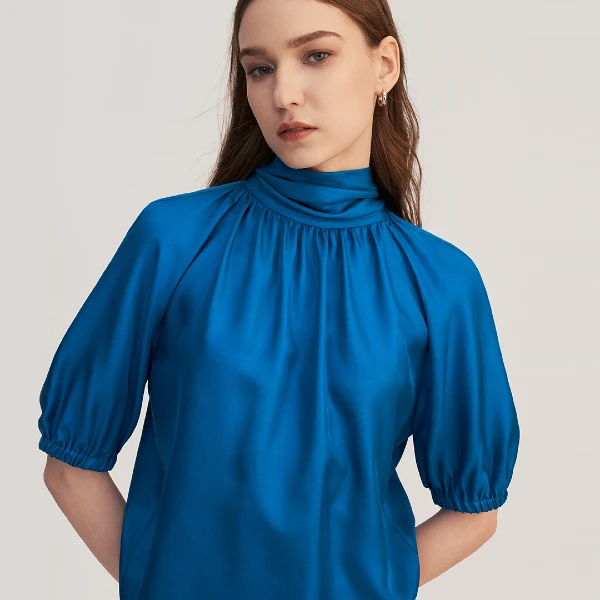 4. Don't Ditch the Gold Hoop Earrings
We all know what gold stands for in the business world. Why not bring some of it into your casual look to boost your image and self-confidence. Professional designers recommend pairing the huge gold hoop earrings with tied up hair to let them stand out.
5. Pearl Earrings Are Timeless
For centuries, pearls have been associated with royalty. What's a business look without some touch of royalty? You also don't have to change them if you have a romantic date after work. For business pieces, choose pearl stud earrings that sit perfectly on your ears without looking too small or too big.
6. Bangle Bracelets
You don't want to overdo the bangle bracelets that might make you look like a retired simp. The trick here is to shop for bangle bracelets that augur well with other bangles and can still look good all alone. Wear all matching bangles on one arm to polish your casual look.
7. Rings
One ring might not pull an adequate look for your office meetings and days. Try the minimal stackable rings. If matched incorrectly, the look will be catastrophic. Ensure that the rings fit your fingers, aren't placed too close too each other, have minimal designs and don't turn your fingers into a metal rod.
8. Pearl Necklaces and Bracelets
Like the pearl stud earrings, pearl necklaces and bracelets do a fine job in accentuating your office look. Explore other colors if you feel that white pearls are a little too bold for you.
There is always a solution to everything. With these insightful tips, you should set out some of your jewelry to compliment your office outfits and looks. Feel free to explore other pieces; you never know!