Disclosure: This post may contain affiliate links, meaning we get a commission if you decide to make a purchase through our links, at no cost to you. Please read our disclosure for more info.
Last Updated on March 14, 2023 by Steal the Style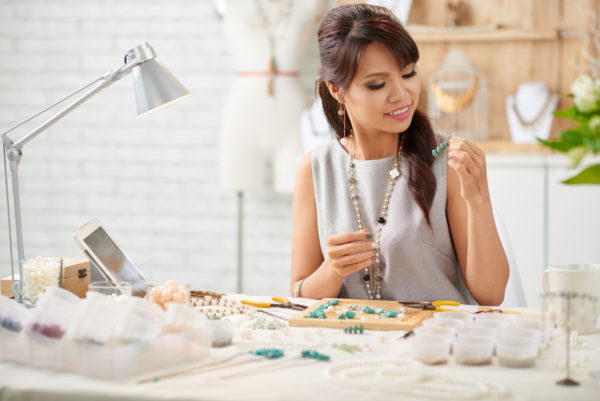 According to one study, about 51% of millennial women buy jewelry for themselves.
So if you're interested in making a little extra money, you might want to consider making jewelry! However, you'll need some jewelry making supplies first.
But what kind of supplies do you need? Keep reading to find out!
Wire Cutters
Wire cutters are an important tool that you'll need regardless of what type of jewelry you're going to be making. This is a tool that can cut all kinds of things, including:
Eye pins
Headpins
Stringing wire
One thing that these wires don't cut is memory wire. If you're going to be making jewelry with a lot of memory wire, you should get memory wire cutters instead.
If you use this type of wire cutter on memory wire, it'll just dent the cutter.
If you want to save some money, you can check the toolbox that you keep at home. A lot of tool kits already come with a wire cutter, but if you don't have them, you can often find them at craft stores for not that much money. You can also check out CousinDIY for a nice pair!
Pliers
When it comes to making jewelry, there are three different types of pliers that are regularly used.
Those include chain nose pliers, flat nose pliers, and round nose pliers.
Chain Nose Pliers

Chain nose pliers are pliers that have a shorter jaw than a regular plier. This makes these ones easier to work with, especially for more detailed work. The tips are also tapered at the end, which makes it great for getting into small or tight places.

You can use these to close and open different jumping rings.

 

Flat Nose Pliers

A flat nose plier isn't a tool that you absolutely have to have in your kit, but it definitely can help!

The tip of this one is not tapered, and the plier is a flat, wide surface area. While the chain nose pliers are great for grabbing beads, this one is better for holding onto the wire.

With the wire in the pliers, you'll be able to bend it or manipulate it to do what you need it to.

Round Nose Pliers

Unlike the wire cutters, you probably won't be able to find these in your toolbox.

These have round edges like the name suggests, and it's great for using them for other round things, like beads or loops.

If you have a large loop, you can put the wire near the handle of these pliers, but if you have a loop that is smaller, you can handle it easier towards the tip of the pliers.

Because these pliers are rounded and tapered toward the point, this will let you hold your wire to get the perfect size loop.
Bead Stopper
If you're a beginner, you might think it's easy enough to just string all of your beads onto the wire. But you'll soon find that it gets very difficult at times.
This is when it's useful to have a bead stopper in your kit. This little thing will hold all of your beads exactly where you want it on your wire. It can save you hours of having to redo your work if they end up moving.
To use it, squeeze the loops on either end of the stopper, which will make the springs go apart. After that, put the beading wire in and release the loops.
This way, you can start working with your beads without having to worry about them sliding off.
Crimping Tool
A crimping tool also isn't really necessary for making jewelry because you can crimp it with some pliers and a little bit of extra effort.
However, to avoid smashing beads and making rough edges on your jewelry, use a crimping plier to make nice, neat edges in the wire.
Side Cutters
Side cutters are one thing that you'll need to use over and over again.
This is technically a small shear, and you can use it to cut all kinds of metal wire. It has a sharp and flat blade that cuts right into the metal wire.
Wire and Beads
Lastly, you should also make sure that you buy some wire and beads so that you can actually make the jewelry.
There are all kinds of wires out there that you can choose from, but you're just starting out, you may want to experiment with all different kinds. This way you can figure out what works best for you and what style you like.
As for beads, there are all kinds of different styles, colors, and sizes. If you aren't sure what style you want to go for yet, you can look on Pinterest for inspiration. Or, you can just go with whatever feels natural.
Beads aren't the only material you can make jewelry out of, however. You can also try using gold, silver, bronze, or other metal jewelry making supplies!
Discover What Other Jewelry Making Supplies You Need
These are only a few of the jewelry making supplies you'll need, but there are many more that can make your jewelry making go more smoothly!
We know that starting a new hobby (or a job) can be overwhelming and stressful at times, but we're here to help you out!
If you enjoyed this article, make sure that you explore our website to find more articles just like this one!