Disclosure: This post may contain affiliate links, meaning we get a commission if you decide to make a purchase through our links, at no cost to you. Please read our disclosure for more info.
Last Updated on August 16, 2016 by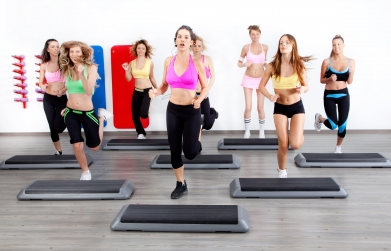 One of the most common reasons people fail to stay in shape is when they find going to the gym extremely boring. Running on a treadmill makes a lot of us feel like a hamster on a wheel. Even people who do like going to the gym can get burnt out after a while. Using the same machines and doing old routines gets boring for anyone. If you are sick of the same old exercises, try using these fun alternative ideas that will still give you a great workout and inspire you to get up and going.

Hula Hoop Your Way to a Toned Body
If you are like most people, you probably haven't picked up a hula hoop since you were a kid. This is a shame because hula hooping is actually a great way to stay in shape. Lots of fitness centers are adding hula hoops classes to their offerings and you can also get DVDs that will lead you through hula hoop workout routines at home.

Walk Every Chance You Get
A development in modern life is how often people avoid walking. We tend to drive everywhere. Just think about how ridiculous it is that most people drive to the gym. If you want to immediately start getting in better shape, take the opportunity to walk whenever you can. Walking will make your whole body more toned and boost your mood. The best walks are hikes through nature that will burn tons of calories and soothe your soul.

Try Bowling
Bowling is not nearly as popular as it once was, and you might not realize that this fun pastime is actually a pretty good workout. Bowling gives you a chance to engage arm and abdominal muscles in a way you don't even realize. Try getting a personalized Bowler X bowling ball and your own shoes to save money if you make it a weekly event. Just make sure that you avoid eating junk food or drinking when you bowl to ensure you don't undo the fitness benefits.

Pick up Your Sword
Fencing is a sport most people don't even think about if the Olympics aren't on. However, it has become more and more popular in recent years. Fencing is a great cardio workout, enhances flexibility, and improves strength. You'll be surprised how challenging it is for both mind and body as you train.

Don't let boredom of the gym keep your from staying fit. Next time you are getting sick of your exercise routine, try one of these alternatives to spice up your workout. Trying something new is one of the best ways to motivate yourself to work out more and get in shape.
Image courtesy of photostock at FreeDigitalPhotos.net