Disclosure: This post may contain affiliate links, meaning we get a commission if you decide to make a purchase through our links, at no cost to you. Please read our disclosure for more info.
Last Updated on November 30, 2022 by Steal the Style
Our Favorite Refillable Make-up Palette!
Everyone knows how fun buying new makeup can be. Experimenting with new shades and products can be thrilling, but by buying so many new products, you can contribute to unnecessary makeup waste.
Luckily for you, a new brand called Billion Dollar Beauty has come up with the perfect solution: refillable makeup! 
With its sustainable design and beautiful products, this brand has already been talked about in Good Morning America, Glamour Magazine, and Vogue Magazine.
Keep reading to learn more about our new favorite refillable make-up palette: Billion Dollar Box!
Why Refillable Makeup is the Future
With new makeup being bought every second, there has been more wasted makeup packaging than ever. For instance, it has become a common practice for someone to finish a few eyeshadows and then throw away their whole perfectly good palette. This is not good for the environment and can cause unnecessary wasted makeup packaging.
As we move toward a more sustainable future, it's important that we all make more environmentally conscious choices in every aspect of our life. So, to help lessen wasted makeup packing, Billion Dollar Beauty has taken matters into its own hands.
This brand has created its own sustainable makeup palette, so you can still receive the makeup you want in a more eco-friendly way. With just a one-time affordable purchase, you will receive a customizable and refillable makeup palette. If you are indecisive or just want more help, you can even take a fun quiz to help you choose your products!
To make it even more sustainable, its cosmetic pans are sold without excess packaging and its box is made with only 30% PCR packaging. With its eco-friendly design and stunning products, we can see why so many people have been drawn to Billion Dollar Beauty!
How Does It Work?
No matter how you use your makeup, Billion Dollar Beauty is here to help! So, your first step is to choose your makeup products. Just pick your favorite brow pomade, brow powder, matte eyeshadow, shimmer eyeshadow, concealer, blush, highlighter, lip balm, tweezer, and brushes. After you are done, just simply purchase your Billion Dollar Beauty Box!
Once you finish a product, instead of throwing away the whole palette, simply order a small refill of your product. You can order the same item again or try out a new shade; it's up to you!
About the Make-up
Another benefit of buying makeup from Billion Dollar Beauty is that you can receive great products without sacrificing your morals. From their eyeshadows to lip gloss, all of their products (even its magnetic palette!) are vegan, paraben free, and cruelty-free.
By buying your makeup from Billion Dollar Beauty, you are supporting a brand that will make you look and feel good with its products. And who does not love that?
Billion Dollar Brows founded by Natalie Plain to provide high-quality, easy-to-use brow products to help everyone feel good about the way they look.  Beauty Box is the latest innovation from Billion Dollar Brows. We wanted to design an all-in-one makeup palette that was versatile, durable, and entirely customizable for you.
The box comes with a super-strong magnet lining the inside. You get to choose your favorite products with corresponding magnets on the back of the pans. Fill your box with whatever pans you want and take it with you wherever you go.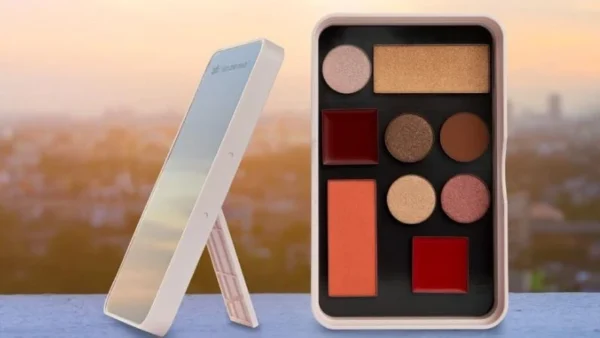 How to Use It
Mix and match or keep it the same every day; it's up to you! If you're obsessed with eyeshadow, fill it with all your favorite colors. Can't get enough blush? Highlight those cheekbones with all of your go-to shades. Have more lip colors than you can count? Toss them in there and change up your look at the drop of a hat.
Or, start with your favorite brow color, match it with your daily eyeshadow, blend it with subtle blush, and finish with a pop of lip. However you use your makeup, this box will hold it all.
Eco-Friendly Design
The purpose behind Beauty Box is to reduce waste in the beauty industry. We all know there's way too much wasted makeup packaging. With this box, you simply purchase the box one time and order small refills of your favorite makeups.
Plus, like all of their products, the magnetic palettes are vegan, cruelty-free, and paraben-free. So you can feel good about what you're storing in your box.
Where to Buy?
Want to try out Billion Dollar Beauty for yourself? Well, you can try it today at the Billion Dollar Beauty website. You can also find the product exclusively in stores at Target.