Disclosure: This post may contain affiliate links, meaning we get a commission if you decide to make a purchase through our links, at no cost to you. Please read our disclosure for more info.
Last Updated on November 22, 2022 by Steal the Style
In the United States, we don't have royalty, but celebrities fulfill a similar role for many star-struck fans. We buy pop culture magazines to follow their lives and admire their trendsetting fashions. We can't seem to get enough of celebrity couple news, either – especially when they get engaged or hold a secret wedding.
Maybe part of the fascination with Hollywood romances is just the splendor of it all – from custom-made Vera Wang gowns to engagement rings we couldn't afford in a lifetime. Luckily, you can wear an engagement ring that looks like a million bucks, for a reasonable amount of money.
1. Hilary Duff
Singer/actress Hilary Duff sports a gorgeous 14-carat radiant-cut diamond ring that's worth an estimated $1 million. And while it's certainly dazzling, Duff told entertainment magazine Us Weekly that after wearing it to bed one night, she woke up with scratches on her face. You can get similar sparkle – without the facial damage – for around $160.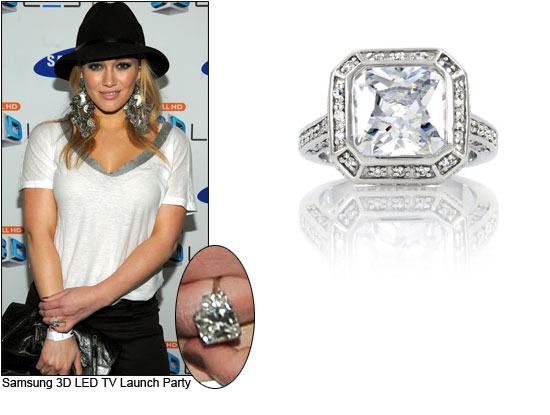 2. Gisele Bundchen
Supermodel Gisele Bundchen, wife of football New England Patriots quarterback Tom Brady, wears an understated round solitaire four-carat ring by an unknown designer, valued at around $100,000. But you can sport the same bling for a fraction of that cost – in the neighborhood of $1,000.
3. Jessica Alba
Jessica Alba's five-carat ring with a price tag of $90,000 is impressive – if not a little on the inexpensive side, for most Hollywood brides-to-be. The asscher-cut stone gleams from a distance, but if you're willing to settle for less than five carats, you can get a similar look for a few thousand dollars.
4. Paris Hilton
Don't expect good taste when Paris Hilton is involved. Her 24-carat honker of an engagement ring cost a cool $5 million and the designer still couldn't expect to put his or her name on the steroid-enhanced engagement ring. Rumor has it that Hilton found the rink too bulky and later down-sized to something a bit more sensible. But dazzling doesn't have to be ostentatious. You can get the right amount of flash in a classic princess cut engagement ring for a fraction of that $5-million price tag.
The Fascination With Bling
Countless celebrities – Beyonce Knowles, Jennifer Garner, Reese Witherspoon – have been seen sporting gorgeous rocks, but unless you've got your own security detail and a multi-million-dollar income, you're better off emulating styles you love, rather than scheming up ways to afford them. You can have a glamorous diamond ring that will last a lifetime and still be able to afford that down-payment on a new home, or college for your yet-to-be-born child. And like a lot of Hollywood starlets out there, you can work with a jeweler to design your own ring, so you've got a piece of jewelry uniquely suited to your tastes.
5. Steven Tyler / Erin Brady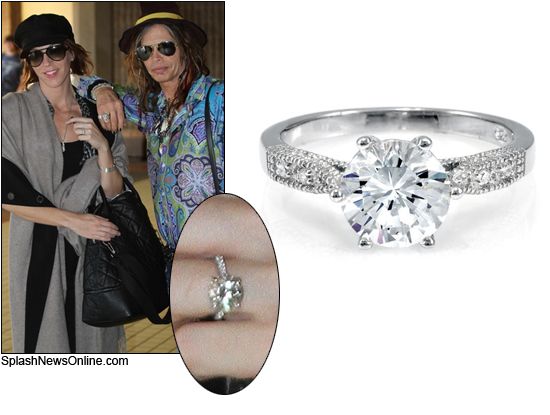 Rocker Steven Tyler proposed to girlfriend Erin Brady late last year in Hawaii after dating for five years. Steven had the 5-carat brilliant-cut diamond
engagement ring
custom made by jeweler Loree Rodkin (his personal jeweler) so the
engagement ring
is one-of-a-kind and totally unique.
6. Brittany Spears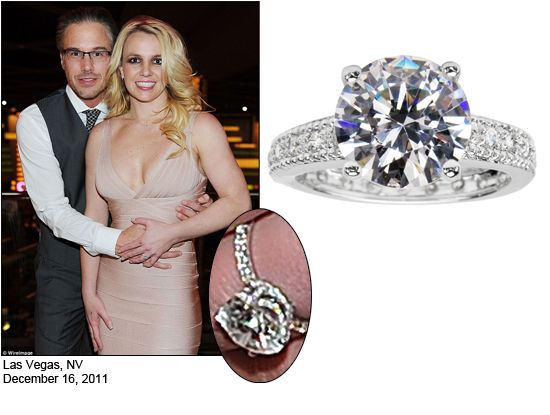 Pop princess
Brittany Spears
also got engaged late last year to her former agent Jason Trawick with a 3-carat round stone and diamond-paved band with more than 90 stones in it. 
Shop engagement rings now!
7. Khloe Kardashian
Khloe Kardashian's engagement ring
from fiance, basketball player Lamar Odom is real show stopper. While some skeptics claim her ring is a
fake diamond ring
from
Nordstrom's
, others claim the 9 carat radiant cut diamond ring cost more than $100,000.
Shop fake diamond rings now
!
8. Kim Kardashian
Perez Hilton joked that Kim Kardashian hocked her huge engagement ring quickly after her quickie wedding/divorce as Real Housewives of Atlanta star Kim Zolciak's engagement ring from NFL Player fiance Kroy Biermann does bare a resemblance to the other Kim's ring!
9. Tamera Mowry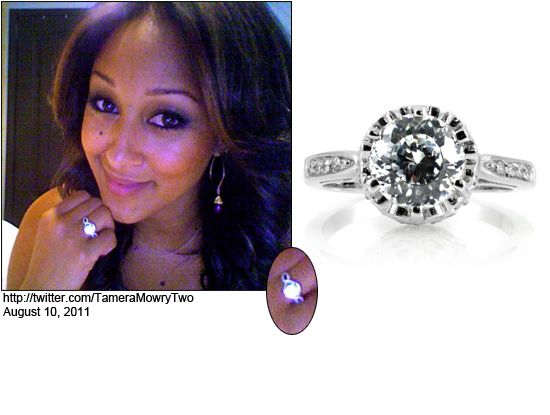 Last but not least,
Sister Sister
star
Tamera Mowry
told the audience of the
Wendy Williams Show
that her fiancé, Fox News Channel correspondent Adam Housley, picked her beautiful
engagement ring
all by himself.
Need help affording an engagement ring? Buy now, pay later!
For more celebrity inspired cheap engagement rings, visit MyTrioRings.com and/or click on each corresponding celebrity photo for more information.