Disclosure: This post may contain affiliate links, meaning we get a commission if you decide to make a purchase through our links, at no cost to you. Please read our disclosure for more info.
Last Updated on December 10, 2013 by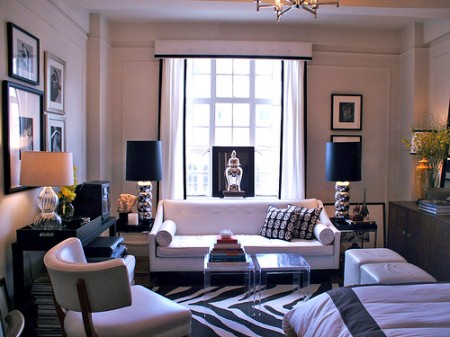 We all love watching those Home improvement television programs where money, manpower and expert advice are all in abundance. You may feel that the reality is unless you are fortunate enough to have one or more of them resources your ideal interior design will never be achieved… well that's where you are wrong.
Although having expert advice and a large budget will help make the process simpler, a stunning home interior can be accomplished with realistic amounts of finances and your own creativity.
When creating an interior design it is important that before you start you have an idealistic theme in mind to give the process a sense of direction and once decided on such the fun begins.
One of the best places to start when improving interior décor is the furnishings that fill the rooms. Tired and old furniture can really dampen the image a room conveys. Even if the furniture is in quite good condition if it doesn't fit in with the surrounding style it will stick out like a metaphorical sore thumb.
In most situations improvements will involve changing furniture which can be an expensive process; however such an expense presents validity when quality furniture acquisitions add style, longevity and personality to a room. Opt for furniture that is durable, functional and classic in design as this presents a higher chance of the piece lasting longer in regards to fashion trends and working lifespan. To ensure the furniture investment stands the test of time, maintenance is of utmost importance as a lack of maintenance will see the furniture deteriorate and in-turn lead to further replacements.
If buying new pieces of furniture is out of the question due to budgeting reasons, there are many ways to give your current furnishings a new lease of life. The process of improvement can be easier than you first think, with simple but effective techniques such as painting furniture becoming increasingly common in the home.
You can transform ordinary wood furniture into French chateau style "antiques" with a bit of paint and simple finishing techniques. This is easy, cheap and a perfect way to recycle old furniture.  All you need is a piece of wood furniture which displays carved and curved features, paint usually white in colour and sanding equipment to give the furniture the antique feel.
A slightly more difficult method of improving furniture is through the technique of re-upholstery. If you are skilled and brave enough to attempt this you can use fabrics that complement the theme of the room, which in turn will rejuvenate old arm chairs and sofas.
If all of this sounds interesting why not give it a go and if you are a bit skeptical it may be worth practicing on a bit of furniture you are already considering throwing away.
About the author: Chris Algar writes for the furniture market, who offer a fantastic range of French styled furniture including beds, wardrobes and bedside tables.