Disclosure: This post may contain affiliate links, meaning we get a commission if you decide to make a purchase through our links, at no cost to you. Please read our disclosure for more info.
Last Updated on December 21, 2021 by Steal the Style
If you are one of those women, who since you have passed that half-century mark has found yourself putting on weight or suffering from the dreaded middle-aged spread, the chances are that you would welcome some suggestions on how to appear slimmer.
Five Fashion Tips for Looking Slimmer
There are ways, with some clever dressing, where you can fool the eye into thinking that you have dropped at least a dress size. It is not as difficult as you may think.
1. Buy a Supportive, Correctly Fitting Bra
As you get older your breasts have a tendency to sag, and the simple act of lifting them higher up your torso gives the illusion of a longer (and slimmer) upper body. Invest in a good supportive bra that lifts up your bust, thereby creating a wider expanse between your bustline and stomach.
Make sure your bra actually fits: more than 80% of women actually wear the wrong size bra, according to Bravissimo.com. The most common mistake is wearing a bra that is too large in the body and too small in the cup. Plus, if you don't have a body shaper in your closet, then now is the time to think about investing in one, these not only slim in seconds but improve your posture as well.
2. Dress in the Same Color Family
Wearing separates in the same (or similar) color palette will instantly slim you down, especially if you choose darker shades (this does not necessarily mean black). Avoid being too matchy, matchy: simply co-ordinate hues that belong to the same, or almost the same, color family.
The idea is that you are creating a column of color that will slim down your silhouette. Play with texture to give your outfit an extra lift. Colors such as teal blue and fuchsia pink look especially good (and dramatic) on older women.
3. Wear Structured Fabrics
Women over 50 should go for more tailored pieces infirm, structured fabrics that offer support. These are more slimming than clingy (unforgiving) materials or flimsy fabrics that show up every lump and bump.
The same applies to swimwear too. Investing money on a structured swimsuit that offers you support, will hold you in in all the right places, lift your bust and hide figure flaws such as a large stomach.
4. Wear Print Wisely
A vertical (or diagonal) print will always give the illusion of a longer body, thereby making you look slimmer. Horizontal stripes are best avoided as these can make your body appear wider. Choosing a subtle print in a neutral shade (or in the same color palette) is sophisticated and really flatters the older woman.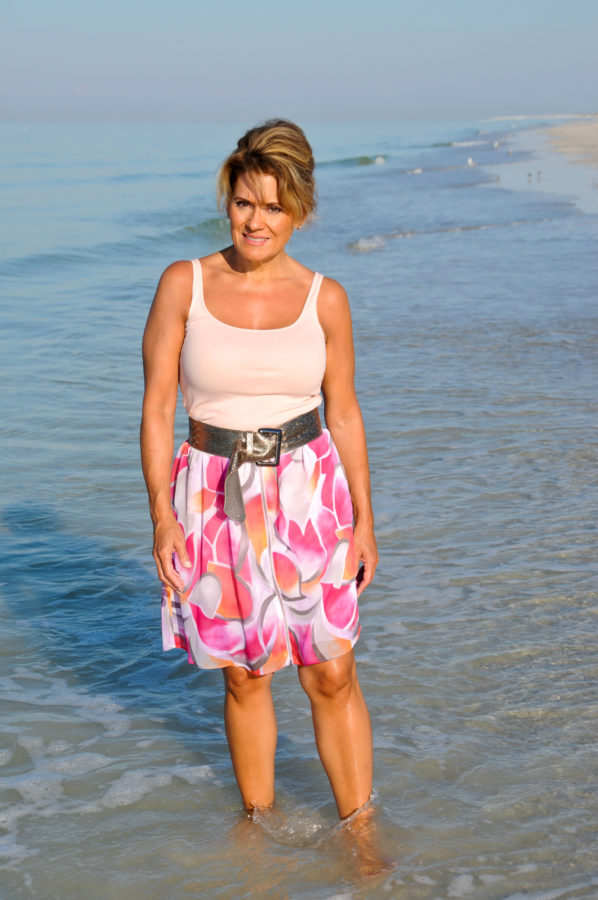 However, large rounded patterns do nothing to help you take off the pounds, although a busy print can act as a slimming optical illusion. Women with large frames should avoid tiny prints, whilst the opposite is true for those with petite figures.
5. Choose Styles with Sleeves
Many of the most fashionable dresses available in the shops are either sleeveless or have a small-cap sleeve, but as you get older, you may be less inclined to show off your arms, especially if you suffer from bingo wings. A cropped or three-quarter sleeve is very flattering and will slim down your upper body as it stops at the thinnest part of your arm, thereby also accentuating your wrist.
Finally, if all else fails my fall back option is accessories. A long scarf, an oversized necklace or a wow bangle can do wonders in distracting the eye from problem areas when you are a just having one of those 50+ "fat" days!