Disclosure: This post may contain affiliate links, meaning we get a commission if you decide to make a purchase through our links, at no cost to you. Please read our disclosure for more info.
Last Updated on July 14, 2022 by Steal the Style
Instead of leaving your scarf in your closet, make use of it. Accessorize your scarf with the items of clothing and accessories you have in your wardrobe.
Oddly enough, the scarf is now becoming an important summer fashion staple. When you hear the word "scarf," you may think of ones in heavy wools or sweater knits. Those types of scarves belong to your winter wardrobe. In the summer, you want to wear scarves in light fabrics such as cotton, silk, or modal.
These fabrics provide cooling relief on the skin while pulling your summer look together. You may have a hard time figuring out how to tie a scarf around your neck. Think outside of the box by tying it around your handbag, waist, or head. Accessorizing with a scarf is simple once you get to know a few key rules.
Handbags and Purses
Tie your scarf around a hobo bag or bucket bag. Put away those petite satchels and wristlets. A scarf, especially one that is long, would overwhelm the look of a small handbag. Accessorizing your handbag or purse with a scarf instantly updates the look of it. Another benefit is that it prevents the leather straps from darkening in the hot summer sun.
To pull this look together, use a silk scarf instead of a cloth one. Silk is the easiest fabric to tie around your purse handles. Do not be afraid to mix up your look occasionally. Use various color scarves to match your handbags or your outfits.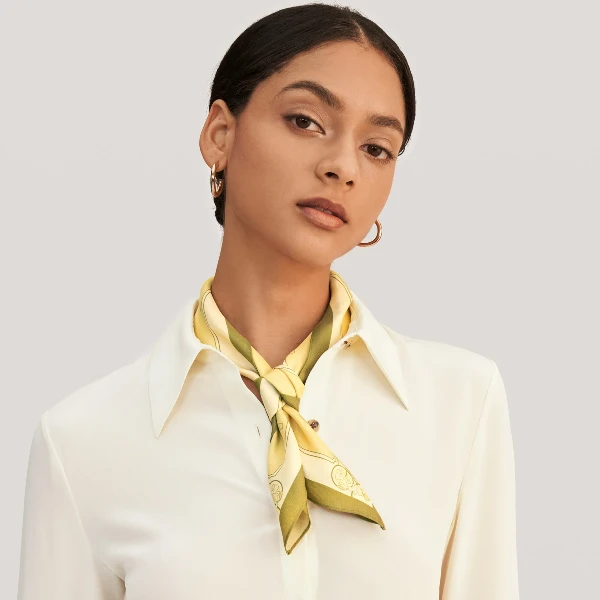 Jeans or Waist Belt
If you do not own a belt, use your scarf instead. Slide it through the belt loop of your jeans. Not only does this update your look, but also it holds up your jeans. Use a scarf on other types of bottoms that have belt loops, such as shorts and capri pants. Unlike handbags, you are not restricted to using just a silk scarf on your jeans. Use any fabric you desire, as long as it matches your outfit. Experiment with different colors before you leave the house.
To break up a monochromatic look, tie a printed silk scarf around your waist. Wrap it around the waist of your shirt instead of your pants. For instance, you may wear a black tunic and black Capri leggings. Use a red and gold scarf in a status print to spice up your outfit. You could take this look from the office to dinner. The print in the scarf matches with other accessories like gold bracelets, pearl earrings, or diamond rings.
Headband
Pull your hair back in the summer with your scarf. Flip your head over, and tie it around the back of your head like a headband. Choose to wear the scarf around the crown of your head or close to your hairline. If you prefer, unfold the scarf and allow it to cover your whole head. Wearing a scarf on your head gives you a bit of a Boho look, and protects your scalp from sunburn. You also have the option to wear your hair down or up in a ponytail.
Sarong or Cover-Up
If you hate wearing a swimsuit in the summertime, use your scarf as a sarong. This gives you a bit of modesty while lounging at the public pool or walking around the beach. In addition, it saves you money on purchasing a new beach cover-up. Tie a modal or knit scarf around your bikini or one-piece suit. Instead of tying it as a belt, wrap it around the lower part of your waist. Pull the ends to one side and allow them to cover your bottom.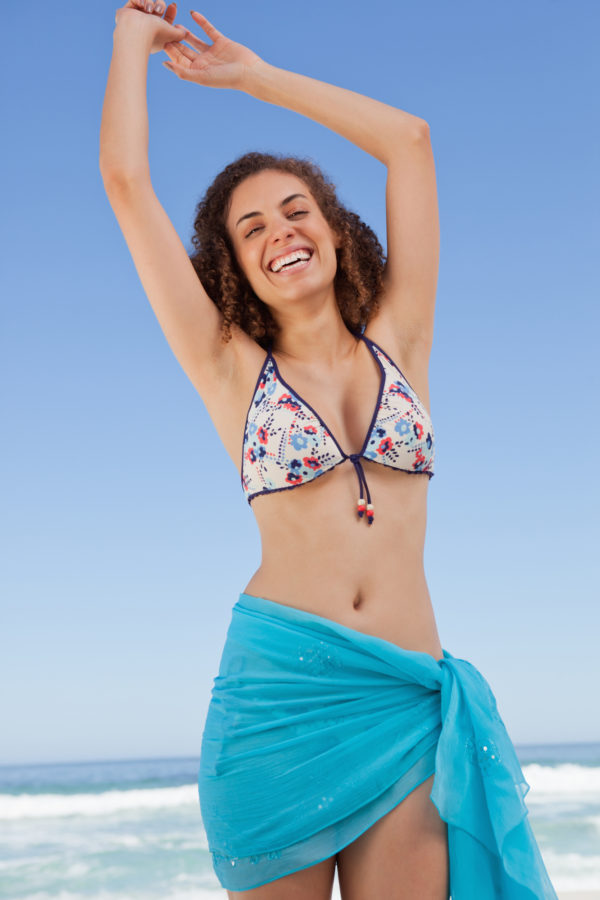 Break up the monochromatic look in your swimsuit. Wear a bold purple scarf with a white bikini. On the other hand, you may want to wear a white scarf with your turquoise bathing suit. Use prints such as a Hawaiian print and flowers to add style to a plain swimsuit.