Disclosure: This post may contain affiliate links, meaning we get a commission if you decide to make a purchase through our links, at no cost to you. Please read our disclosure for more info.
Last Updated on January 30, 2023 by Steal the Style
Women can have fat on the back, bra bulge, or bra fat, because of many reasons. It can be from a poor diet, other lifestyle factors, or genetics. Poor clothing also plays a role. It is natural to have a bit of bulge at the back. But too much of upper and lower back fat can be a problem. The best way to lose it is by eating healthy food and exercising. However, it is impossible to achieve weight loss in one particular area of the body.
Even if it works, it is likely to take a long time. Here, we will discuss how to hide your back fat so you can achieve quick results.
How to Hide Back Fat Under Clothes
Many women like to wear backless dresses. Hiding the fat is more difficult there. It is also difficult in swimwear. You will find it easier to hide back fat rolls under clothes.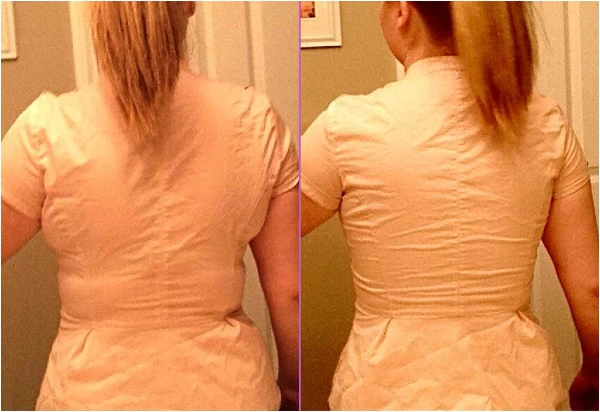 It is a versatile bra alternative that is made of a soft stretch and yet sturdy material. It conforms to your body figure and also provides reliable support. You can tailor the duct tape or body tape for different garment styles, such as asymmetrical, plunging, and strapless.
How to Hide Back Fat With Tape?
Duct tape can be an effective way of hiding the back fat. However, this body shaping tape is still not worth it because it is not comfortable. You can use rocktape to hide back fat. Here, you must ensure that one end does not extend above the dress line. Pull it downwards. Press the tape on your skin while pulling and smoothen it.
Bras That Cover Underarm and Back Fat
If you are searching to know how to hide back fat in a bra, then you should know that there are several types of bras that cover back fat. Wear a full coverage bra or a push bra. Focus on your bra size. A wrong bra size can highlight the fat on your back and also the armpit fat. And, of course, it should support the breasts efficiently. A bra with a smoothing panel has wider bands that will reduce the appearance of the fat. Select smoothing bras that are made with stretchy materials. It will smooth and shape your back.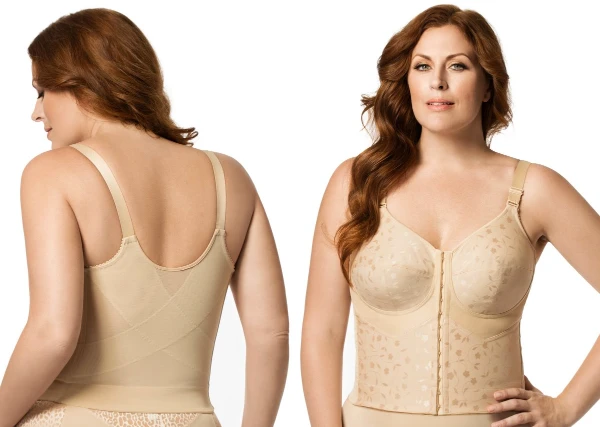 Wear a shaper tank underneath your tops. It will smooth the appearance of your back and create a sleeker silhouette. It is a good idea to wear the shaper on top of your bra as it will even out the bulges. Select posture-corrector shapewear for back fat, corsets, camisols, shaping vests, and even a longline bra.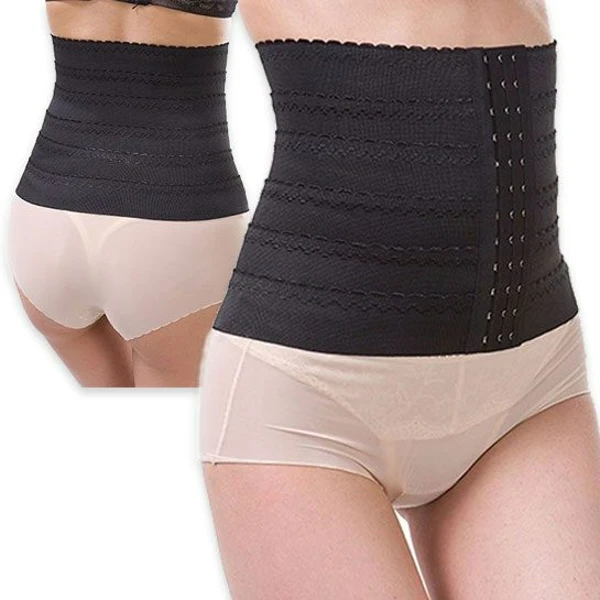 Worried about low back fat? A waist cincher or a waspie is a belt you wear around the waist. It will make your waist appear smaller physically. It is actually an illusion, but effective. The "New Look" waist cincher from Dior made them popular around 1947. It is a good way for you to hide the love handles.
How to Hide Back Fat in a Corset?
Corsets are very popular garments. They are designed to provide the perfect curvy figure. This garment, together with a waist trimming program, will help you achieve an awesome hourglass shape. A corset allows you to look trimmer and also helps you lose weight. But, a corset can sometimes cause a bulge. To ensure this doesn't happen, you must lace the corset well. Always start from the middle. Also, make sure to wear a corset liner, especially if you wear the corset as a top.
How to Hide Back Fat in Dresses
There are various ways to hide back fat in dress. You can reduce and eliminate the appearance in a backless dress, strapless dress, Women's lace up back dress, and also a wedding dress.
How to hide back fat in a backless dress – A backless or low-back dress is slinky and sexy. But it can cause the back side fat to become more visible. There are a few ways to cover it. You can wear a strapless bra to cover the sides and your backside. You can also wear a shapewear garment. The third option is to wear a dress with a higher back neckline. You can also wear an adhesive bra with your open back dress.
How to hide back fat in a strapless dress – You can select a sweetheart, empire waist or a trumpet strapless dress. The sweetheart dress is a good option when you have back fat and want to wear something with sleeves. You can also wear a scarf or shawl over the shoulders. You will have more coverage and will also be able to camouflage the bulges in the armpits. You may also wear a cardigan or jacket over the strapless dress.
How to hide back fat in a wedding dress – You can hide it by wearing a loose dress. If you cannot opt out from a tight-fitted dress, then you can wear a sweater, bolero, or a longer veil, which will cover you up to the back. You can also wear accessories like a belt with a loose-fitting dress. A long necklace or a wide belt can distract eyes, helping you hide the areas. Accessories can help you hide those back fat rolls. A tight fitting dress will show the belly fat. Of course, it is always best that you remove the fat. The quick and effective way to remove it is by this non-surgical back fat removal method. This procedure is sure to help reduce the fat deposits.
How to Hide Back Fat in Tight Clothes
Wear narrow and vertical stripes. This will help you create an illusion of a slimmer figure. Vertical stripes draw the human eyes up and down, making you appear lean and tall. Make sure that the stripes are narrowly-spaced. Avoid horizontal and wide stripes.
To hide back fat in a tight shirt, select one with a low-contrast print where there is no clear focal point. You can also pair a solid accessory with a small print to draw attention away from your fabric and the midsection.
Wearing high-waist underwear will give you more control over the belly fat. A high-waist thing that has a lace hem eliminates the panty lines. It will also smoothe out the dimples in your belly.
How to Hide Back Fat in a Swimsuit
To hide back fat in a bikini or bathing suit is by wearing a suit that gives full-back coverage. You can try body shaping suits. Wear dark shades because they have a slimming effect, particularly navy blue and black.
How to Dress to Hide Back Fat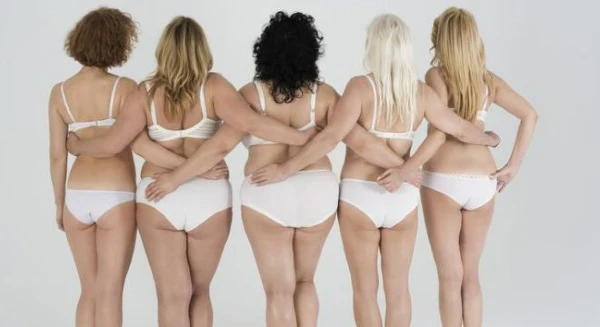 Wear shapewear – A shaping vest of the right size can eliminate the bra bulges and also provide firmness.
Full-coverage bra – Change your bra and you can hide fat rolls on back. Covering more area helps you reduce the chance of a bra bulge. The full-coverage bra fabric is also thicker, which will give better compression. Camouflage lumps with textured fabrics.
Racerbacks – Also called the T or Y-backed bra, this design covers less area, but targets the area below the arms where the maximum fat bulge is seen.
Tall or wide back bra – It is very comfortable underneath and will help all body types.
Select the right fit – Choose the right size clothes and focus on the fit. Selecting a different bra may not solve the issue always.
Wear black – Black almost always makes you appear slimmer. If you are worried about appearing too dark, then wear a back fat vest and stretchy undergarments.
Back fat bothers women the most but the issue is relevant for the men as well. Many of these tips will work for both women and men. Just follow the color and dressing rules and you will be able to appear better.
Image Sources: Elle Courbee