Disclosure: This post may contain affiliate links, meaning we get a commission if you decide to make a purchase through our links, at no cost to you. Please read our disclosure for more info.
Last Updated on April 20, 2022 by Steal the Style
Statement ring stacks are beautifully eye-catching, unique and easy to achieve, once you've got the hang of it!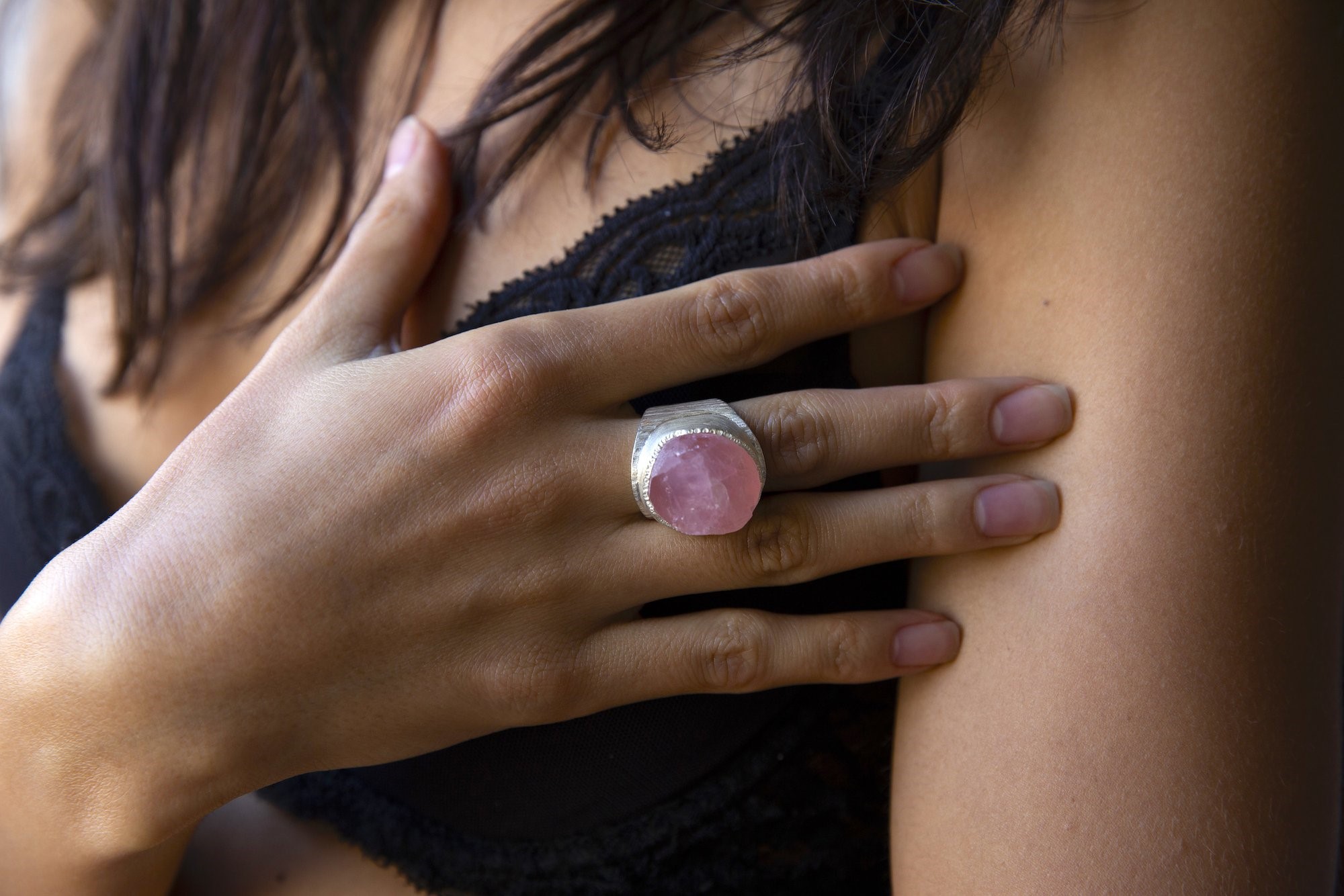 Image Source: Lassanai
Follow these handy tips and tricks to style your collection of statement rings as perfectly as possible…
Take a step back
Before you do anything else, take a step back and take stock of your curation of statement rings. Have a think about how your collection of rings flows with one another, what your overall aesthetic direction is, and what metals or materials you're seeing the most of. Pick out a few of your favorites as a starting point.
Lay the foundations first
Start simple with your styling by laying the foundations, identify any of your essential wedding bands or staples that you wear day-to-day. Start with the smaller, simpler items to set the tone of your curation and to avoid overpowering your look right away. This is also going to give you a great idea of the looks that you can create with different formations of the rings in your collection.
Create a color palette
Once you've got your essentials placed on your hands, you'll want to start placing the more statement items in your collection. A foolproof way of stacking to perfection is by following a color palette.
Curate between two to five tones to define your ring stacks and create a cohesively stylish look. The easiest way to bring some brilliant color to your stacking ensembles is with a few statement gemstone rings. These bring plenty of brightness,  beauty and color to your look.
Consider undertones
Have a think about the base metals of your ring collection to keep your stacking looking as uniform as possible. Your base metal largely determines the overall look and feel of your stacking.
Golds, rose golds and coppers will add a warm tone to your ensemble, while white gold, platinum and bronze are on the cooler side. The perfect compromise?
Sterling silver is a gorgeous balance between warm and cool, working with all colors and undertones.
Mix it up
Don't be afraid of mixing and matching your collection. Taking your time trying out different formations is key to finding a look that feels most like you. Allow yourself the space to get creative, harmonize tones and mix metals to style interesting stacks. Putting delicate styles alongside chunkier statement rings, bold gemstones against simplistic minimal bands, and layered stacks with stand alone ring styles, will lead you to unique ensembles that are anything but boring.
Factor in your outfit as a whole
Don't forget to factor in your outfit as a whole. It's so easy to get stuck on just one aspect of your styling, which can lead to a look that feels slightly off when you step back and look in the mirror. Factor in your day-to-day style and the look you're wanting to channel to create a ring stack that blends seamlessly with your entire ensemble.
Collect responsibly 
Lastly, ensure that you're adding to your ring collection in the most responsible and mindful manner possible. Shop from small, boutique designers who are transparent in their production process, sourcing locations and craftsmanship methods to find the kindest, highest quality rings that you can. Shopping for mindfully made, responsible jewelry also guarantees higher quality and durability, meaning you can keep styling, wearing and treasuring your ring stacks for many years to come.