Disclosure: This post may contain affiliate links, meaning we get a commission if you decide to make a purchase through our links, at no cost to you. Please read our disclosure for more info.
Last Updated on November 15, 2023 by Steal the Style
Are you thinking about getting some cosmetic work done to improve your look? In the US, there are 17.5 million cosmetic procedures performed each year, and these numbers continue to increase.
Clearly, you're not alone in wanting to change your appearance. For those who want to alter their appearance only slightly, a non-invasive cosmetic procedure is best. Still, there are many different types of non-invasive cosmetic procedures to choose from.
Check out this guide to learn about the top non-invasive cosmetic procedures.
1. Microblading
If you're sick of styling, coloring, and shaping your brows, then microblading might be for you. Microblading is a non-invasive treatment for your eyebrows. It's a semi-permanent tattoo that leaves you with natural, full-looking, yet perfectly-shaped brows.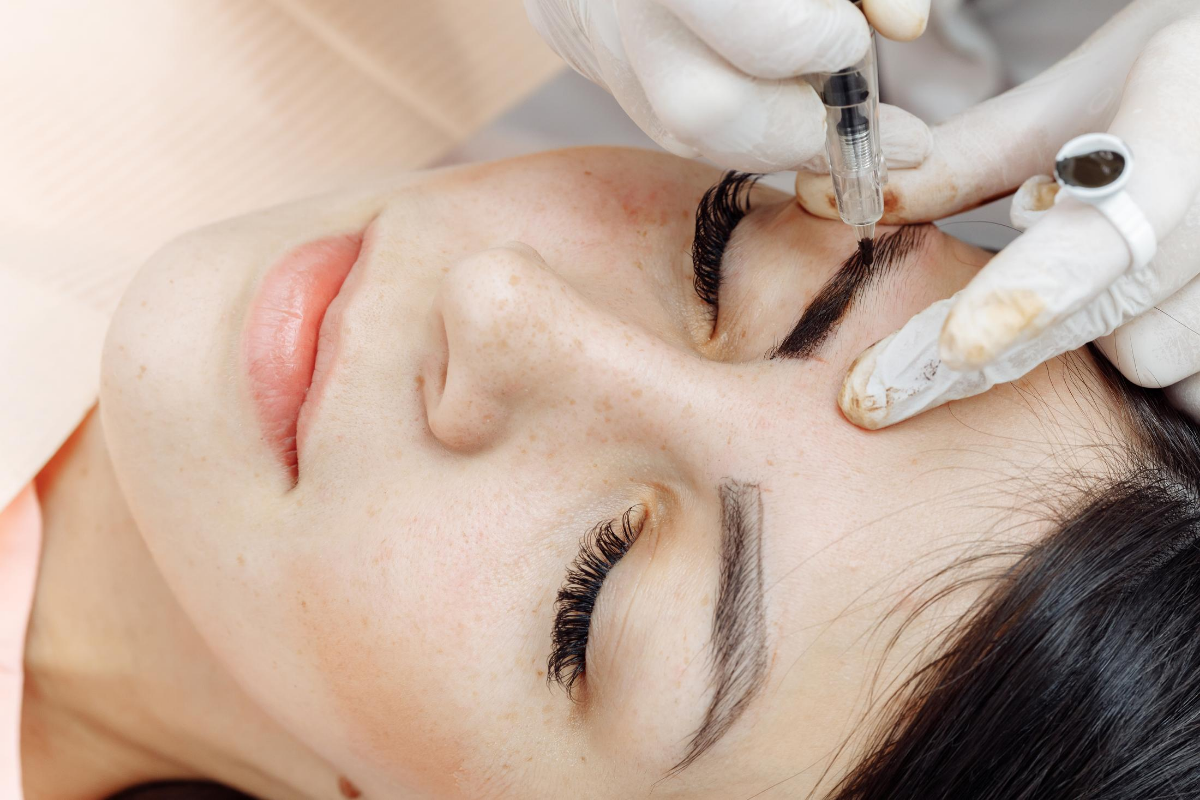 To create the look of natural hair strokes, your esthetician will use a fine needle. While microblading costs between $300 and $1000, results can last for up to three years. When you consider all of the time and money you'll save on buying and applying brow makeup, this procedure is well worth the investment.
Microblading is a two-part process, with the first appointment lasting about 2.5 hours. Then, you'll need to come back in 6 to 8 weeks once the majority of your skin has healed for a touchup on the color and density.
During the procedure, you may experience a little bit of pain, however, a numbing cream will be applied beforehand. After the procedure, you can expect some swelling and redness, but it's nothing too severe.
However, the healing process can take up to a month in total. The biggest thing you'll have to deal with is flaking and scabbing. Just make sure to not pick at scabs or flaky areas, as this can lead to premature pigment loss.
2. Chemical Peels 
If you're looking to improve the smoothness and texture of your skin, a chemical peel may be for you. During this procedure, a chemical solution will be applied to your skin to exfoliate it and retexturize it.
The outermost layers of your skin are removed to reveal healthier, younger-looking skin beneath. Chemical peels can help:
Reduce fine lines and wrinkles
Improve the appearance of acne and acne scars
Fade discoloration
Minimize pores
Balance texture
Smooth and skin
There are three main types of chemical peels to choose from: superficial, medium, and deep. Superficial peels only penetrate the outermost layer of your skin and use mild acids to gently exfoliate your skin.
Medium peels use glycolic or trichloroacetic to penetrate the outer and middle layers of skin. This type of chemical peel is more effective at removing damaged skin cells.
Deep peels, on the other hand, penetrate the middle layer of skin to remove damaged skin cells. If you undergo a deep peel, you will be sedated for the procedure. For superficial and medium peels, no sedatives will be used.
3. Non-Surgical Fat Removal
Many people think that to remove fat from your body, you need to go under the knife. However, this is not the case. Non-surgical fat removal procedures, such as SculpSure, Coolsculpting, and Kybella are also available.
These procedures are great for those who don't want to undergo surgery but want to see quick results. Many people undergo non-surgical fat removal in conjunction with breast jobs for a total body makeover.
However, it's important to keep in mind that these non-surgical procedures are only for those who want to remove stubborn pockets of fact. If you're obese or severely overweight, then liposuction or another surgical procedure may be a better option for you.
4. Microneedling
While having a bunch of needles stuck in your face may sound incredibly painful, it's not all that bad, and it can leave your skin looking amazing.
Microneedling involves inserting tiny needles into your skin to stimulate collagen production. This new collagen can leave your skin looking smoother, firmer, and more toned. Microneedling can help reduce the appearance of scars, wrinkles, and enlarged pores.
It's a minimally invasive procedure that doesn't require any downtime. The typical appointment lasts for one hour, and after your appointment, you'll be able to drive right home. In the few days following your microneedling procedure, you'll experience some redness and irritation, but it isn't anything too severe.
While there are at-home "microneedling" rollers, these aren't nearly as effective as in-office treatments. If you're serious about improving your skin, you'll typically need between 3 and 7 microneedling treatments to see the best results.
5. Laser Hair Removal 
Did you know that the average woman spends $15.87 per month on shaving products? While this may not seem like a lot of money, over the course of a lifetime, this adds up to over $10,000.
If you're looking to save time and money on shaving, we suggest trying laser hair removal. Laser hair removal is a permanent hair removal solution that allows you to throw away your razors, shaving creams, and waxing strips.
This procedure involves pulsing laser light into your hair follicles to shed existing hair and inhibit the growth of future hair. You can get laser hair removal done on nearly every part of the body, from your legs to your underarms, to your bikini area.
Non-Invasive Cosmetic Procedures: Which Will You Try?
Now that you know about these non-invasive cosmetic procedures, it's time to decide which one is right for you. The great thing about these procedures is that they all require very little downtime, so you don't have to worry about taking a week off of work or anything like that.
Be sure to check back in with our blog for more cosmetic-related tips and tricks.