Disclosure: This post may contain affiliate links, meaning we get a commission if you decide to make a purchase through our links, at no cost to you. Please read our disclosure for more info.
Last Updated on May 12, 2022 by Steal the Style
When designing a logo, there are a few different routes you can take. You can go with a classic design, something more creative, or even something humorous. But when it comes to t-shirt logos, you want to make sure that your logo really pops and stands out from the rest. T-shirt logos are a great way to show off your brand and style. They can also be a lot of fun to design.
If you want your logo to stand out, there are a few things you can do: use bright colors, make it unique, add text, use graphics, and choose the right font. This blog post will discuss each of these five tips in more detail.
1. Use Bright Colors
Bright colors are more eye-catching and will help your logo stand out against a sea of black and white shirts. Neon and pastel colors are always popular choices for t-shirt logos. Another way to make your logo pop is to use contrasting colors. For example, if your shirt is black, try using a white or light-colored logo. Or, if your shirt is white, use a dark-colored logo.
This will help your logo stand out and be more visible. So, whether you're buying wholesale t-shirts for a corporate event or your business, consider using bright colors to make your logo stand out. Also, ensure the logo colors match your business brand colors for a more cohesive look.
2. Use Positive Typography
Negative typography can be trendy, but it's often difficult to read. Stick with positive typography for an easily legible logo. Positive messages are also more likely to resonate with customers. Here are some tips for positive typography:
Choose a font that's easy to read
Make the message clear and concise
Avoid using all caps
If you want to be really bold, try using bright typography colors or neon shades. Another way to make sure your logo stands out is to use unique fonts. Stick with clean, simple fonts. Do not use more than two different fonts in your logo, and make sure the font you use for your company name is different than the font you use for your slogan or tagline.
3. Be Creative With Shapes
Try incorporating creative shapes into your logo design instead of using standard shapes like circles and squares. This will make your logo more eye-catching and memorable. Examples of creative shapes you can use are triangles, stars, hearts, lightning bolts and clouds, etc. Remember, the sky's the limit when it comes to shapes. Get creative and have fun with it.
There are plenty of ideas to transform your blank t-shirts into stylish garments that will make you stand out in a crowd. Remember that logo designs don't have to be complicated or detailed to be effective. In fact, sometimes, the simplest designs are the most memorable.
4. Use Symbols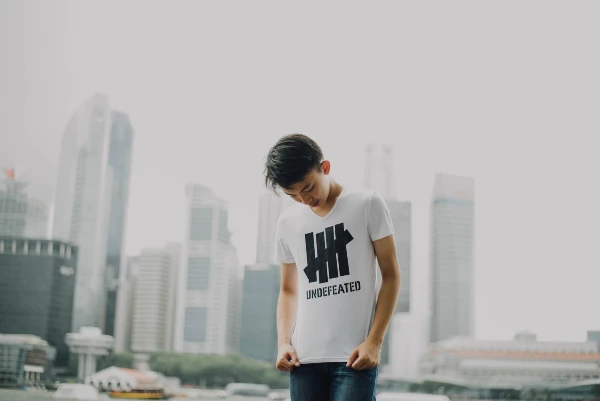 A well-placed symbol can say a lot about your brand. Choose a symbol that is representative of your company's values. For example, if you are an environmentally friendly company, you might want to use a tree or leaves in your logo. If you are a company that is all about family, you might use a heart or home in your logo. Get creative with your symbols and think about what will best represent your brand.
Of course, the quality of t-shirts matters too. Be sure to choose a shirt that is made of good quality fabric so that your printed symbols, shapes, or typography will look its best. Bella canvas t-shirts, Gildan G500 t-shirts, and Next Level t-shirts are some of the top-rated t-shirt brands for business printing.
5. Make Your T-Shirt Logo Unique
Whether you're a small business, a charity, a school, or an organization, one of the most important ways to get your name out there is through t-shirt logos. But with so many companies and organizations vying for attention, you need to make sure your t-shirt logo stands out from the rest. With our simple tips, you can take your t-shirt logo design to the next level and ensure that your brand is noticed.