Disclosure: This post may contain affiliate links, meaning we get a commission if you decide to make a purchase through our links, at no cost to you. Please read our disclosure for more info.
Last Updated on February 21, 2023 by Steal the Style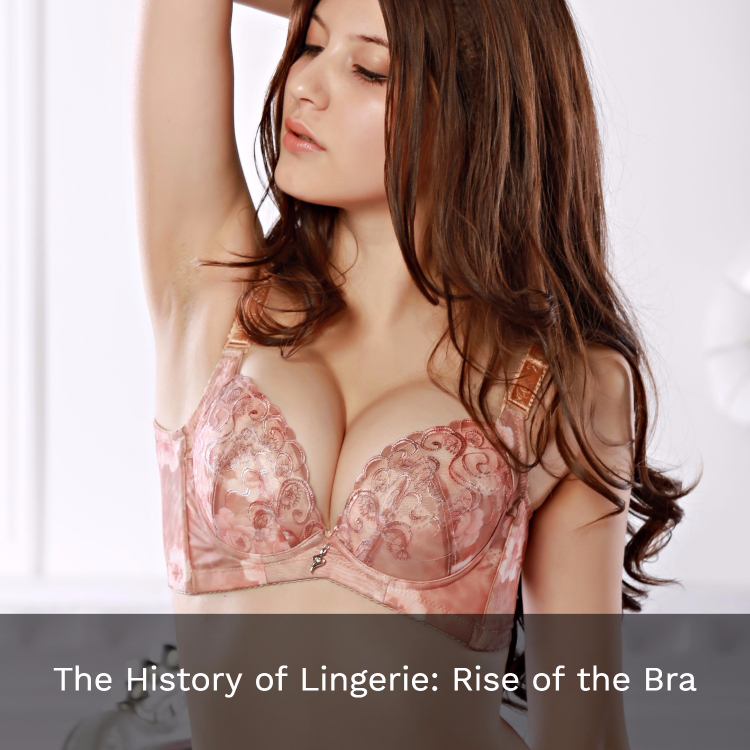 The history of lingerie dates back to before there was even such a word for it, at around 3,000 BC in Egypt and Babylonia. Figurines in terra cotta have been unearthed, depicting women wearing little more than loincloths. In ancient Crete, archaeologists discovered another female figurine, dating to 2,000 BC, wearing a bodice that pushed her bare breasts upward and out in a provocative way. This may well mark the beginning of the sexy, revealing lingerie we know today.
Corsets and Laces and Boning, Oh My!
Beginning in the 1500s, corsets became a necessary fashion component, straightening the spine and enhancing the bust by both flattening and raising it up. Corsets were also useful in hiding unseemly belly bulges. To perform all these tasks, corsets had to be lined with boning, or pieces of whalebone, to help add structure and rigidity to them. Putting a corset on was a two-person job that entailed much gasping and occasional fainting as the wearer was laced tightly into the contraption.
By the late 18th century, women threw off the restricting traditional corset as a more rounded shape came into favor. This led the way to a soft corset that providing just the right amount of lift without squeezing the life out of the poor fashionistas trying to pour themselves into the garments.
Unfortunately, this freedom from the squeeze was relatively short-lived, and rigid, constricting corsets came back into their power in the 1840s, keeping a tight hold on women until the Great Depression of the early 20th century.
The Bra Springs Forth
Mary Phelps Jacob is credited with inventing the brassiere after tiring of the struggle to dance while corseted. Her patented design involved two handkerchiefs sewn together in the front and tied with ribbons. Warner Brothers purchased the patent in 1915 and began creating its own designs.
The Roaring Twenties saw the bra increasing in popularity as a way to flatten the chest to create a more boyish look. By the 1930s, softer silhouettes were on the rise again and the bra was able to play an important role in helping to create a rounder, bustier look.
Warner Brothers created cup sizes in 1935, producing the standard A, B, C and D sizes. Other sizes were introduced much later. Another big change to lingerie occurred in the '30s: the invention of Lastex. This revolutionary material created by Dunlop Rubber allowed elastic fiber to be woven within a fabric, making it flexible and more accommodating for different sizes.
During World War II, shortages hit the lingerie industry as they did everywhere else, and women were forced to make their own undergarments at home from whatever scraps they could find. Once the war was over, German lingerie designers targeting teenagers began creating sexier lingerie, causing a boom in the industry as girls scrambled to wrap up in the latest fashions and styles.
Popularity for lingerie really exploded in the 1950s as Hollywood stars began modeling the latest designs, from Lana Turner's cone-shaped bras to the wire supported design made by Howard Hughes, the famed aeronautical engineer. The appeal of an hourglass figure returned, again embracing restrictive garments and returning women to their attempts to constrict their wayward bodies into fashionable shape.
Away With You, Bra!
Partly in response to these new restrictive styles, and partly due to the women's liberation movements, bras saw a massive decline in popularity during the '60s, with bra burning becoming iconic of the liberation movement. Women rejected bras so fiercely that many manufacturers went out of business during these revolts.
Not Just Support, Enhancement!
In the 1970s and '80s, the popular underwire support bra came into its own, and is still a mainstay in many underwear drawers today. The extra lift provided by underwire makes it a necessary part of many outfits. The 1970s also gave rise (or is that lift?) to the Wonderbra, a revolutionary bra that provided just the right amount of lift and thrust, giving women a bra that was both provocative and practical. Like the underwire bra, Wonderbra is a staple for many women even today.
As technology, fashion and preferences evolve, more and more types of lingerie are available. Today, women can choose from ultra practical, full-coverage bras to skimpy, lacy pieces meant to draw attention but do little else. The luxury of choice is one of the main benefits to come from the age-old revolution of lingerie.