Disclosure: This post may contain affiliate links, meaning we get a commission if you decide to make a purchase through our links, at no cost to you. Please read our disclosure for more info.
Last Updated on April 20, 2022 by Steal the Style
"With this ring, I thee wed" are the most beautiful words ever spoken. These words bring a man and woman together in a bond of eternity. This is done by slipping a ring on the brides and grooms fingers during a marriage ceremony. The engagement ring plays a most important role in bringing two hearts together in love for a lifetime.
Is is no wonder that engagement rings are chosen with extreme care, because they are for a lifetime (hopefully).
 Engagement Rings
Men's engagement rings are usually made in plain metal, and women's engagement rings made with precious stones, like diamonds and other gemstones.
These days even men may wear rings set with precious stones. There are gold engagement rings, white gold engagement rings, platinum engagement rings, and many more.
Engagement rings come in different styles, like plain ones and engraved ones. Engagement rings should match the personality of the bride and of the groom. There are matching engagement ring sets available for the couple, that are made with the same metal and set with the same precious stones.
That makes it all the more exciting actually. Imagine both of you wearing similarly styled rings.
Ring Symbolism
The engagement ring is a symbolism for love that has no end and goes in circles (aka the circle of love). Did you know that in certain communities, it is considered bad luck to buy the wedding rings along with the engagement rings?
The engagement ring is worn on the ring finger. The hand on which it is worn depends on the tradition of each country. In the Western World, it is worn on the left hand, and in some other countries, it is worn on the right hand. The reason why it is worn on the ring finger is because in ancient times, the ring finger was considered to be the love finger.
Ring Traditions
There is a custom in Europe to engrave the spouses name and wedding date inside the engagement ring. Depending on the culture, it is either the ring bearer, who is usually a small kid bringing the rings on a pillow, or the best man that is in charge of the engagement rings, and he presents them at the time they are needed.
If you are making arrangements for your wedding day and buying engagement rings, it would be nice to keep in mind the traditions and meanings of the engagement rings.
Although many people are opting not to follow a traditional wedding, it makes it more fun to include some of these traditions and make it a memorable day for you, with memories flashing in front of your eyes for years to come, whenever you look at your engagement rings. Let your engagement ring tell a tale of love.
Buying An Engagement Ring 
Buying an engagement ring is a pretty nerve racking moment for any man. Chances are, this is probably the most expensive gift you've ever purchased, and you'll probably want to make sure you get it right.
With so many different tales floating round of how much money you should be spending, how you should go about proposing, how many diamonds the ring should have; it's no wonder some men get racked with nerves!
However, if you are researching engagement rings fear not because we've put together some useful tips to guide you through the process!
Budget
Deciding how much you want to spend on an engagement ring should not be about how much everyone else says you should spend.
If you listen to some of the rumors you'll have no money left with which to get married. Chances are that won't go down  well. What you should be doing is working out how much YOU want to spend. How much can you really afford to spend?
This really is the first hurdle, and once you've got that out of the way you can start your secret planning!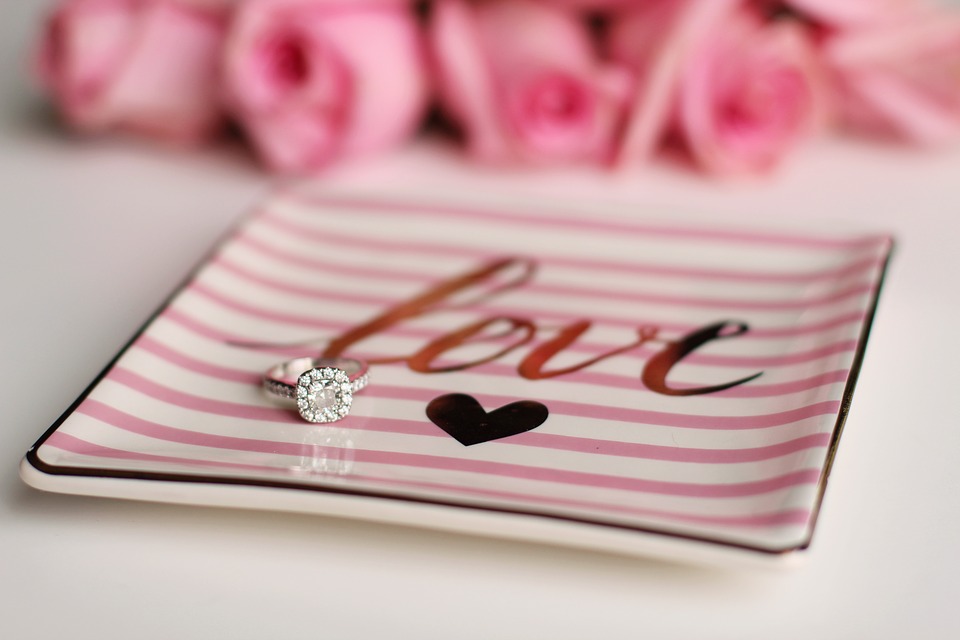 Materials
Now you know how much you want to spend, you can start to think about the materials you would like your ring to feature.
It's worth noting that some materials will be more hardwearing than others, so if you can afford it, it's well worth making sure your ring is made from platinum or white gold as these tend to be a lot stronger than silver.
When it comes to diamonds, you'll find that the prices vary quite a lot. Contrary to popular belief this isn't just about the size of the thing.
It's also got a lot to do with the cut and the 'brilliance'. A really good piece of advice would be to do a little bit of homework on diamonds before you go out shopping, so you at least understand the basics.
Window Shopping
As this is likely to be quite an expensive purchase, it's vital that you don't rush into things. Try to spend some time looking around to get a 'feel' for what's available on your budget.
Don't be pressured into buying anything, instead treat it like a research trip. Like we mentioned above, prices can vary greatly from shop to shop, so it's vital that you get an understanding of why that might be the case. Armed with that information, you should be able to get the best ring possible.
The Ring Size
This is one of the things that scares people the most, and with good reason. Getting the wrong ring size can put all your well laid plans to waste.
Ok, so she's not going to say no if you buy the wrong size but it would be nice to get it right eh?! You're going to have to be a little bit sneaky here if you want to get it right first time, but it is possible.
The best tip we can give you is to try and pinch one of your partner's rings that fits the ring finger and take it with you to the shop for sizing. That way you can be confident (ish) in getting the right size.
The Proposal
That bits up to you!