Disclosure: This post may contain affiliate links, meaning we get a commission if you decide to make a purchase through our links, at no cost to you. Please read our disclosure for more info.
Last Updated on June 18, 2022 by Steal the Style
When it comes to making a bold statement, some prefer clothes, some shoes and accessories and some just say it with jewels. With jewelry no longer a sole affair in gold and silver, it is good to know the latest trends, so that you can always make a statement with your pieces. Given below are the top five hottest trends to spot in jewelry this season.
1. Blue Is In
This year, you should pick jewels that are blue in colour. Turquoise will rule the chart, but you can also pick aqua and topaz. Blue comes in so many shades that you can easily find the shade that goes well with your complexion. Blue sapphires look amazing with silver, white gold and platinum. Head out! Get yourself the jewelry in the colour of the season, of every design, and make. Models are flaunting around blue sapphire in silver everywhere this season. You can check out the latest designs in rainbow sapphire earrings for yourself at the given link.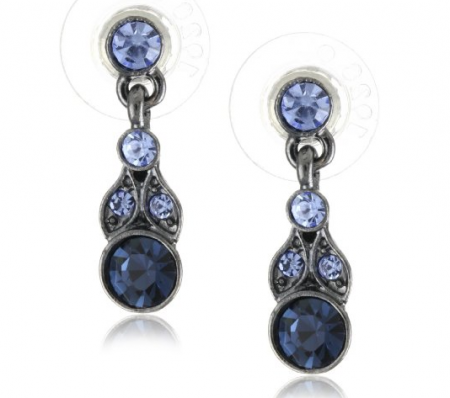 2. Flaunt The Crosses
Crosses are making a comeback with all designers flaunting them on the runaway. You can see crosses in all shapes, size and makes. Wear small crosses made from stainless steel to chunky gold crosses. From silver to diamond to copper and nails, you can find designer crosses in interesting shapes this season.
3. Flower Power
The hottest trend this season, when it comes to fashion, is floral print and flowers are ruling the jewelry section as well. Floral jewelry is one of the hottest trends this season. Flaunt jewelry pieces inspired by flowers. Wear earrings, neckpieces, bangles, rings, brooch, all inspired by flowers. You can choose from designs that resemble a single flower, a small bud to an elaborate floral design. Designers are creating them from diamonds and even real recycled flowers. When you are wearing a chunky flower-inspired piece of jewelry, remember not to wear all pieces of floral jewelry together.
4. Chunky Jewelry
The year 2012 saw a trend in flaunting big, chunky, colourful jewelry and resin jewelry was the top pick. These are bold and come in loud bright colours that can completely brighten your mono-tone dress and spark up your look. You can wear resin earrings-hoops, hooks and tops and even rings and bracelets.
5. Hair Jewelry
The favourite trend this year was the use of a lot of hair accessories, from hair bands and clips to hair jewelry. You could initially see these large brooches and tiaras in the runway, but now you can easily spot them on the streets with women flaunting chunky head bands and clips. These have a large elaborate floral design on them. With the growing popularity of this trend, you will now find these hair clips and barrettes made from jewels and stones. If you wear a chunky head band with a flower attached on one side, you will be spotting two trends together.
These hot trends will add a new dimension and charm to your outfit and look. With this knowledge, go out, buy these jewelry pieces and make yourself fashionable.