Disclosure: This post may contain affiliate links, meaning we get a commission if you decide to make a purchase through our links, at no cost to you. Please read our disclosure for more info.
Last Updated on May 20, 2023 by Steal the Style
The Iconic Moon and Star Necklace from Sex and the City 2
Who can forget the iconic scene in Sex and the City 2 when Sarah Jessica Parker's character, Carrie Bradshaw, opens a gift from her husband, Mr. Big? Inside is a stunning moon and star necklace that has since become an iconic piece of jewelry in fashion history. Let's take a look at this beautiful piece of jewelry and revisit its place in popular culture.

The Design of the Necklace
The necklace itself is made up of 14k gold with pavé-set diamonds for both the moon and star pendants. It was designed by jewelry designer Loree Rodkin, whose clients have included Madonna, Elton John, Pamela Anderson, Jack Nicholson, Angelina Jolie, and more. The necklace also has an adjustable clasp so it can be worn as either a choker or longer necklace.
The Significance of the Necklace on Sex and the City 2
In Sex and the City 2, Carrie wears this necklace throughout most of her journey to Abu Dhabi with her friends Samantha (Kim Cattrall), Charlotte (Kristin Davis), Miranda (Cynthia Nixon). It serves as a reminder of how much she loves Mr. Big (Chris Noth)and their life together back in New York City. It's also symbolic because it's not just any kind of jewelry—it's a symbol of love and commitment between two people who are deeply connected to each other despite being far apart.
The moon and star necklace was first featured in Sex and the City 2 but has become an iconic piece for fans everywhere who remember that special moment between Carrie Bradshaw and Mr. Big. The design is timeless yet modern; elegant yet versatile; subtle yet eye-catching—just like Carrie herself! Whether you're shopping for yourself or someone special, this gorgeous accessory will add style to any outfit while carrying with it all the sentimentality that comes with wearing something so meaningful.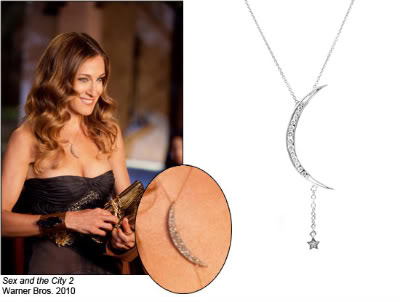 What Is the Meaning of Crescent Moon and Star Necklace?
The crescent moon and star necklace carries different meanings across cultures and beliefs. It's often seen as a symbol of growth, new beginnings, and the passage of time. The crescent moon represents femininity and the star signifies guidance and light. The Moon symbol represents early man's worship of the skies, and is said to honor the male Moon God Sin of ancient Sumeria. It can be worn as a fashionable accessory or as a personal expression of spirituality and cultural traditions. The beauty of this necklace lies in its versatility and the individual interpretation it holds. Embrace its charm and let it reflect your unique style and beliefs! 
The moon necklace that Carrie Bradshaw (played by Sarah Jessica Parker)  wore in the Sex and the City 2 movie was originally purchased in Turkey by celebrity stylist Patricia Field. Steal Carrie's Moon Necklace Style with Emitations' Carrie's Moon & Star Necklace: Inspired by Sex and the City 2.
This moon and star necklace is inspired by Carrie's moon and star charm necklace in Sex and the City 2!
Thin 1.5 inch long moon shape is made from rhodium plated sterling silver.
Graduated round cut faux diamond CZs are channel set within the crescent moon outline.
Pendant hangs from a hidden bale on an 18 inch fine sterling silver chain.
A tiny chain at the bottom of the moon adds a surprise bit of sparkle…
The final touch is a teeny tiny silver star, which is studded by a single round cut faux diamond!