Disclosure: This post may contain affiliate links, meaning we get a commission if you decide to make a purchase through our links, at no cost to you. Please read our disclosure for more info.
Last Updated on August 26, 2023 by Steal the Style
Going from work to drinks requires some day-to-night planning. Depending on your workplace fashion leniency, you might want to change clothes before a night out with friends. Day-time and night-time outfits differ in style, fashion, and appearance. You might not comfortably wear work clothes during your night out.
But wouldn't it be nice to have a well-curated day-to-night wardrobe that makes you look sharp, confident, and ready to make a lasting impression? Figuring out your style can be challenging, even for a highly fashionable guy. Creating this outfit requires even more effort, time, and money.
However, having the right wardrobe pieces will help set the tone for a wonderful night out, whether going to a fancy restaurant, a vibrant bar, or a classy event. Let's discuss the six must-have wardrobe pieces every fashion-conscious man should own for a stylish night out.
1. Crisp White Dress Shirt: A Timeless Foundation
No wardrobe is complete without a classic crisp white dress shirt. This versatile piece serves as the foundation for numerous stylish looks. It bridges the gap between formal and casual, making it perfect for various night-out settings.
Choose a well-fitted shirt that complements your body type and pairs seamlessly with different bottoms. It doesn't matter whether it's tailored trousers, biker slim-fit jeans, or even dress shorts on warmer nights. The versatility of a white dress shirt ensures you're always prepared for an impromptu dinner or a sophisticated gathering.
2. Tailored Blazer: Elevate Your Elegance
When it's time to elevate your style, a tailored blazer is your right choice. Opt for a blazer in a timeless colour like navy, charcoal, or black. This colour fits well for most occasions whether during the day or night.
Pair the blazer with dark jeans and a casual shirt for a dapper smart-casual look or a white dress shirt for a more formal affair. The tailored blazer transitions your look from casual to polished, making it crucial for a night out.
Dark suits are considered appropriate for evenings, but sometimes you can be flexible depending on the occasion. If you're going to a dinner or show, you can adjust your suit for complexion and dress to impress. Try frappuccino-coloured, coffee-coloured, or latte-coloured, suits for a change.
3. Dark Jeans: Versatile and Stylish
Dark jeans are a wardrobe essential that offers both versatility and style. The deep wash of these jeans exudes a sense of formality, making them suitable for a night out. Look for a well-fitted pair that flatters your physique and can easily be dressed up or down.
Combine them with a crisp white dress shirt and a blazer for a refined appearance. You can pair them with a stylish T-shirt for a casual look. The adaptability of Biker slim-fit jeans ensures you're prepared for various nighttime events. They're also perfect for day jobs without strict business casual dressing regulations.
4. Versatile Shoes: Step up Your Footwear Game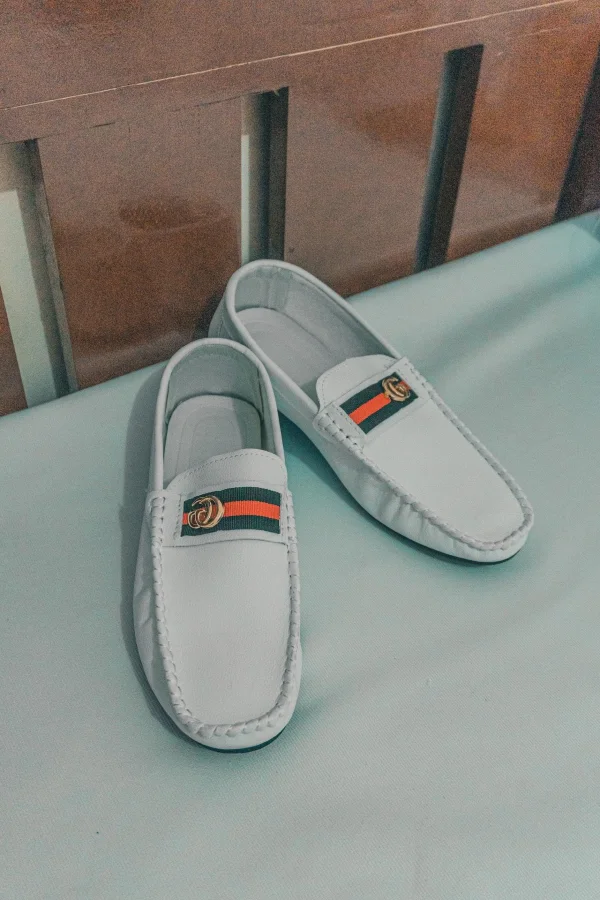 Your choice of footwear will significantly impact your overall aesthetic. Choose shoes that allow you to walk fast and dance smoothly. Versatile shoes, such as leather loafers, derbies, or chukka boots, are a must-have for any stylish man.
These options seamlessly transition between dress codes. They can complement khaki suits or a pair of jeans. The right pair of shoes complement your outfit and showcase your attention to detail and fashion sensibilities.
5. Statement Watch: A Timeless Conversation Starter
A statement watch is more than just a timekeeping device: it reflects your style and attention to detail. Choose a watch that resonates with your taste, whether it's a sleek minimalist design, a classic leather strap, or a bold chronograph.
The right watch serves as a conversation starter and adds an element of refinement to your overall look. Don't underestimate the impact of this accessory – it can be the finishing touch that completes your night-out ensemble.
6. Subtle Accessories: Elevate With Details
The devil is in the details, and subtle accessories can elevate your outfit to the next level. You can wear accessories like hats, gold cufflinks, and other jewellery. Opt for a high-quality leather belt that complements your shoe choice.
Consider adding a pocket square or a tie for the occasion that demands a more formal approach. However, remember the golden rule: less is more. Rather than overdressing, choose accessories to enhance your overall aesthetic without overwhelming your look.
Conclusion
What if you could find a daytime clothing style that works well during a night out? Getting your wardrobe organized is the starting point. It lets you see everything you own at a glance. Once that's sorted, putting together outfits becomes easier, saving you precious time.
Your style and the nature of the event or venue will also influence your choices. Experiment with different combinations to find the perfect ensemble for your night out. Remember, the key is selecting pieces you feel confident and comfortable wearing.