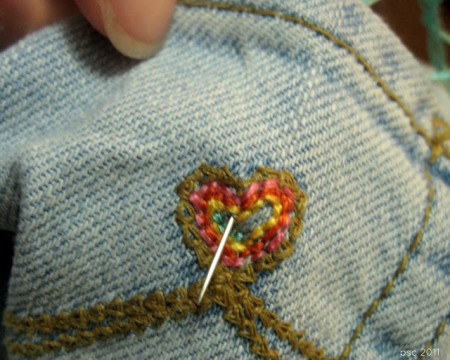 Breathe in the fresh fall air and ready your closets for the coming cold months! If you do make purchases for your fall wardrobe, focus on getting items that are pine green, cobalt blue or chocolate brown to accessorize with. For those of you as cheap as I am, invigorate your existing clothes and accessories in the following 3 ways.
Separate the stuff you like from the stuff you don't.
If you have any pieces of clothing that are not wearable (like stains, holes or too small) see if you can picture any of the fabric as potential patch material. This will come in handy when you have a pair of jeans that you love with all your heart, but the holes are getting out of control. I like finished edge patches the best in cool shapes like hearts or triangles.
To make your own patches you need interfacing, thread, pins, scissors, an iron, and sewing machine (or needle to hand sew). Here is a tutorial I like on different creative and easy ways to patch a hole.
Make a shirt into a skirt.
If you have a loose, tired yet loveable shirt lying somewhere in that possible-thrift-store-donation section of your closet, or maybe even your boyfriend's closet, you can easily turn it into a new edgy skirt. You will need scissors, pins, an iron, a sewing machine (or hand sewing supplies again) and elastic ribbon.
Choose a shirt that falls at or above your knees. I have a lot of "comfy pajama shirts", so I made a couple of them into skirts and used some as patches. Sentimentality only should go so far, and this way people can see your favorite shirts in new ways!

Make the neck opening into the waist of the skirt. Rip out the seam slightly on each shoulder, but not too much!

The next step is to transform the short sleeves into the pockets. Make sure the shirt is inside out, and sew up the hole that your arm goes through.

Use the elastic ribbon for a draw string. You will need to enough to go around your waist plus twenty inches. Fold over the waist line about an inch, iron and pin it so it is easier to sew (all with the skirt inside out). Finish the drawstring by using a safety pin to thread the elastic ribbon through the finished waist.
Voila! A practically free new piece to add to your wardrobe!
Add a cool splash of color onto a dress with fabric paint and ribbon.
This is a great way to wear your clothes in new ways, especially if you think they are boring. Wrapping a ribbon around the smallest part of the waist will make an old dress seem new. You can stich it on either side or tie a bow in the back.
Not bold enough for you? Take your solid colored clothes and fling fall colors like green, purple, blue, or even yellow paint at them. Do this one side at a time, making sure each side has time to dry completely. I like to pin garments onto an easel, but you can also set them over cardboard on the ground. Use fabric paint so that it stays put and go wild. Another idea is to put the paint in a spritz bottle for a more diffused look. However you apply the paint, you need to let it dry overnight. Turn the dress inside out once it dries, and use an iron to seal the paint.