Disclosure: This post may contain affiliate links, meaning we get a commission if you decide to make a purchase through our links, at no cost to you. Please read our disclosure for more info.
Last Updated on May 6, 2018 by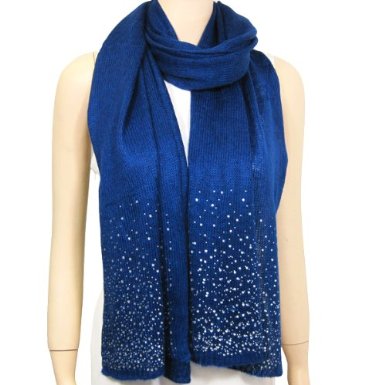 Whether you enhance an outfit with a sparkly scarf or add a bold red lip color on your pout, there are small touches we can all do that will make a big impact on our looks. Listed below are some fun ways you can add a touch sparkle and pizzazz to your look.
Embellished Hair Accessories 
Add a touch of elegance to your look by accentuating your hairstyle with a barrette, comb or hair band that is embellished with flowers or rhinestones. An upswept hairstyle secured with rhinestone combs is a charming way to add a little sparkle to your look.
Statement Jewelry 
Changing your jewelry pieces will turn any understated style into a glamorous look that will get you noticed. A lot of women wear simple stud earrings and an understated necklace for their day look. Take a walk on the wild side by replacing your stud earrings with rhinestone hoops. Add a chunky necklace with rhinestone embellishments for added pizzazz.
[amazon_link asins='B01M1ID35B,B0787668ZK' template='CopyOf-ProductGrid' store='stealthestylewp-20′ marketplace='US' link_id='a5f05019-5185-11e8-ac58-9b21cbec602a']
Bold Colored Makeup 
Step outside of your comfort zone and get ready to turn heads. Put a bold red lipstick on your pout and all eyes will be on you. Make your pout even sexier by adding a clear gloss over your red lipstick. To further glamorize your look, paint your nails red. Go one step further, and choose a red glitter nail polish or another bold nail polish trend color to add extra pizazz to your look.
Rhinestone Scarf 
If want to take your outfit from day to night, add a silk rhinestone scarf in a vibrant color and you're ready for a night on the town. Wrap the rhinestone scarf around your neck to add warmth to your face and elegance to your outfit. Use your rhinestone scarf as a belt to give any outfit an upscale look.
Purse 
Switch your understated purse with one that is heavily adorned with sequins and hardware to add a touch of pizzazz to any day or night look. If you want to add a touch of glamour to a purse you already own, attach a rhinestone pin to the front for a classic look that will always be in style.
[amazon_link asins='B01FYC7XL2,B01D88YIW6′ template='CopyOf-ProductGrid' store='stealthestylewp-20′ marketplace='US' link_id='b55162c0-5185-11e8-9206-c968c77be233′]
Incorporate one or bits and pieces of these ideas to add a touch of glamour and sparkle to your look. Whether you want to enhance your looks for a special occasion or holiday party, these subtle changes will surely get you noticed and take your looks to the next level.