Disclosure: This post may contain affiliate links, meaning we get a commission if you decide to make a purchase through our links, at no cost to you. Please read our disclosure for more info.
Last Updated on March 16, 2022 by Steal the Style
There are many diehard fans of bar stools who enjoy nothing better than an evening spent propping up their local bar, but others prefer to have their feet firmly on the ground, even when seated, and much prefer to relax in a comfortable chair.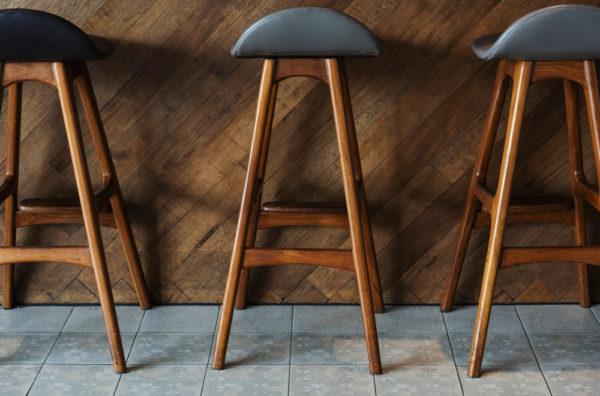 If you're thinking about refurnishing your premises, it's essential to consider your customers' tastes and how the seating arrangement may impact turnover.
As well as making best use of available space, you should also think about the style you want your bar or restaurant to have as well as how you want customers to interact.
Chairs and stools for a range of purposes.
These two types of seats are different, not only in appearance, but also in terms of functionality and the message they convey to customers in a restaurant as well as guests in a domestic setting.
Let's start chairs. A dinner with friends eaten at the living room table relaxing seated on good chairs is quite different from one consumed sitting on kitchen stools leaning on a peninsula where cooking ingredients are also prepared.
In the home, it's not that one setting is any better than the other, because both situations can be equally pleasant. The difference lies in the relationship between the guests, the interaction between those who prepare and those who eat, the greater freedom that stools offer, or perhaps the perception of formality that a carefully-laid table may convey.
Now we'll consider how to place furniture in a public setting. First off, it's essential not to think of chairs and stools as mere structures to sit on, but more as design objects capable of attracting a certain type of audience.
A long pub counter with a row of solidly-constructed wooden stools running along it conveys an entirely different atmosphere from a counter in a trendy bar lined with metal stools and an elegant structure, which perhaps are also brightly coloured.
Even the clientele will be different in the two settings, but the important thing is that the type of furniture is consistent with the purpose you want to achieve. 
For example: in a restaurant, it's rare that stools outnumber chairs and tables, because the aim of the restaurateur is different from the manager of an establishment serving aperitifs, cocktails and beers.
Of course, the types of chairs must also complement the style of the environment.
Modern bar chairs … or classic?
The choice of a stool, a chair or other seating in your locale can profoundly change its character.
In an old-style pub, just by replacing classically-styled chairs with ones having a more sophisticated design you can immediately give a more upmarket atmosphere. Your customers too will notice these chairs and expect a certain type of service, perhaps a little more refined than they would expect in an older-styled pub.
Currently we are experiencing the opposite process, whereby trendy restaurants and bars choose to insert vintage-looking furniture to create a cosier atmosphere.
Chairs and stools imbued with history are often purchased, carefully restored and placed in refined establishments.
Even domestic furniture has seen a shift back to the past with retro-styled kitchens and living rooms. Chairs and stools acquired from second-hand dealers and given a modern look by painting them with unusual colours are increasingly common in the homes of interior design lovers.
To get a clearer idea about the seats for the Ho.Re.Ca. sector and bar stools, visit the Albaplus solutions.