Disclosure: This post may contain affiliate links, meaning we get a commission if you decide to make a purchase through our links, at no cost to you. Please read our disclosure for more info.
Last Updated on August 7, 2013 by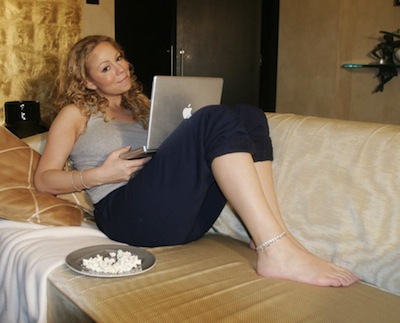 My grandmother once told me that when she was a young woman she had a sizeable shoe collection that she estimated at around 75 pairs. While that may not sound particularly extravagant in this day and age, it was considered quite opulent in the late forties, when most women had two pairs if they were lucky (one for everyday usage and one for special occasions). And my grandma was a minister's daughter in her small town! Of course, she passed her love of shoes on to my mother and then on to me, so that I now proudly claim more shoes than I have closet space to house them. But the shoe closets of most women (myself included) don't hold a candle to the incredible collections of footwear that some celebrities feature in their homes. Here are just a few such celebrity warehouses that are worthy of every shoe-lover's envy.
Christina Aguilera. From the photos I've seen of this songstress's shoe closet, it appears to be bigger than my living room. With the detail to décor (leopard-print rug, taffeta drapes, a crystal chandelier, and floor-to-ceiling shelves that come with a rolling, library-style ladder) it's clear that this celebrity takes her shoes very seriously. And she certainly has enough selection to ensure that she never has to wear the same pair twice on the red carpet or to a taping of The Voice. Frankly, I can't decide if I'm more enviable of her shoe collection or the closet she uses to house them.
Mariah Carey. Mimi has got such a large shoe collection that entire shelving units in her "closet" appear to be color coded. I put closet in quotations because it's more like a high-end department store than a room in someone's home. And the new American Idol judge was quoted as saying, in regards to her massive shoe closet, "I have about 1,000 pairs of shoes. But lots are in storage." I can't decide if I want to laugh, cry, or eat ice cream straight from the carton right now.
Jessica Alba. This gorgeous actress is never seen in public without some truly tremendous kicks to complement her fantastic wardrobe, and when you get a gander at her shoe closet it's easy to see why. Her shelves are stuffed to the gills with a fabulous assortment of pumps, sandals, and boots for every occasion. The only thing she really needs is a bigger space for her shoes.
Coco Austin. Mrs. Ice-T has been known to complain about the size of the home she shares with her rapper husband, and apparently her desire for a larger shoe closet (or as she calls it, her "woman cave") figures into the equation. With shoes stacked to the rafters in what could be considered a relatively small shoe closet by celebrity standards (it's a walk-in, but with only one wall devoted to shoe racks and shelving it barely supports her collection), she clearly needs more space devoted to footwear.
Imelda Marcos. This Filipino political figure may be most commonly associated with her polarizing deceased husband, former President Ferdinand Marcos, who was known for both advancing the country (with economic reform) and holding it back (through corruption and human rights violations). Of course, she may be equally well known for her penchant for amassing clothing, jewelry, and most of all, shoes. It is estimated that when she fled the Philippines after her husband's regime was toppled, she left behind somewhere in the range of 1,500-3,000 pairs of shoes, which she housed in a virtual shoe museum (in photos it looks like a fancy shoe store). This lady apparently never met a pair of pumps, flats, or wellies she didn't like.