Disclosure: This post may contain affiliate links, meaning we get a commission if you decide to make a purchase through our links, at no cost to you. Please read our disclosure for more info.
Last Updated on June 18, 2022 by Steal the Style
It's January and the new year has finally commenced. It's that time of year where we all promise to learn from our mistakes of the previous year and set ourselves life and personal goals to motivate us through another year…However, how many of us can actually say that we stick to these goals?
Usually, we promise to break the rollercoaster relationship we have with a sweet little something called cake and join the gym to get our beach bods ready, however, how about this year we switch things up and set ourselves a goal that is actually achievable whilst making us feel great about ourselves? If you're wondering what I am badgering on about because there is no such goal that can be set, then I will prove you wrong and pretty much change your lives right now.
So, for the year of 2016 I am personally setting you all a goal this year that I know you'll love achieving every day of the year. This amazing New Year's resolution is… *drum roll* that you give back to the environment by upping your recycling by buying vintage designer clothing.
Not everyone is on board with the idea of purchasing second hand designer clothing (which seems obscure to me). Whilst looking incredible in significantly reduced and affordable designer clothes, you are also doing heaps of good for the environment:
Going With Preloved Clothing Is Another Way of Recycling
If you see yourself as a keen recycler then buying vintage designer clothing is another way that you can save the planet and look even better doing it. You recycle boxes, paper, plastic and even food in a bid to reduce the amount of damage we are causing to the environment, so why not turn the tables round and actually purchase something that has already been recycled?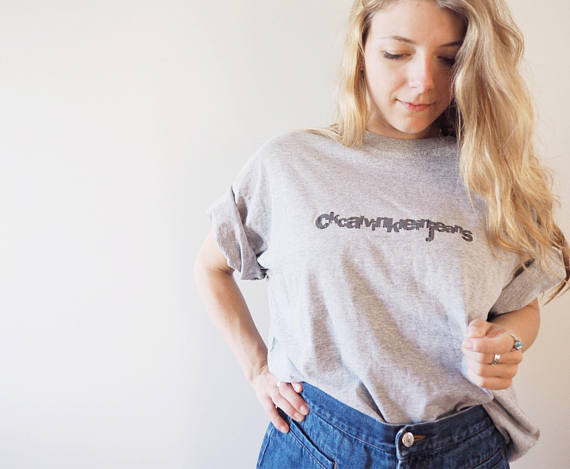 Just think of it this way, by buying a Calvin Klein t-shirt that was originally purchased by someone else, you are recycling in a win win situation where you have a piece of vintage designer clothing purchased at a fraction of the retail price, and there is one less thing going to waste in the world.
Buying Vintage Designer Clothing Uses Less Resources
When clothes are made, they are mass produced which requires a huge amount of fuel and energy to create and ship around the world to retailers and then yourselves. With preloved clothing, there's no requirement to re-create any clothes; hence cutting out this whole energy consuming production process.
You Are Helping the Vintage Clothing Economy
Following the recession, many shops and huge chains were forced to close due to bankruptcy and many people ended up jobless. By buying vintage designer clothing and second hand or preloved clothing, you're doing something great for the economy by adding money to a market that is struggling and thus, helping companies survive, keeping people in work and possibly creating jobs.
You can find Vintage Designer Clothing for the best price on Ebay.