Disclosure: This post may contain affiliate links, meaning we get a commission if you decide to make a purchase through our links, at no cost to you. Please read our disclosure for more info.
Last Updated on March 13, 2022 by Steal the Style
The planning for your much-awaited D-day requires a lot of thinking, preparation, and implementation with the help of professionals. Be it in terms of trousseau preparations, catering, booking of venue, wedding photography, or something else, there are plenty of things that have to be planned way in advance for creating the best memories of your wedding day.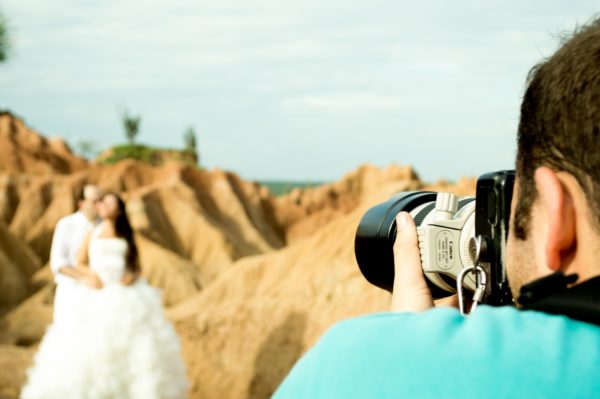 As you go about the act of selecting the best wedding planners and specialists to guide you forward, you need to take care of your budget as well. Here, we will help you in understanding the importance of wedding photography and why you should be thinking beyond amateurs to perform the act.
Read on to know more about the benefits of commissioning professional wedding photographers to freeze the finer moments of your wedding celebrations.
Need for Professional Wedding Photography
There are several couples who leave just a small percentage of the wedding budget for photography. Then, there are many others who are okay leaving the task to a friend who has a good eye for people, expression, and the other appealing factors of a wedding.
These couples fail to put much importance on how the photographs for their wedding are to be clicked and by whom. Result? At the end of the day, they may have plentiful random pictures of guests, the venue, and other memorable moments that are appropriate for one-time viewing only. This is not what you'd want, right?
The Importance of Wedding Photography
You may have thought about the best flowers, the most exquisite reception cuisine and menu, the dress, your guests, and everything else that goes into making successful wedding day celebrations, however, they all have one thread in common. At any wedding, the focus is always on the couple. They form the core of the event and all the activities are centered around them.
Jon and Georgina of Something Blue Photography say that getting a top tier wedding photographer is one of the best things you can do to capture and remember your big day. You need an ace wedding photographer to click precious moments and give you a wedding album that you'll cherish forever.
These days. It is common for the to-be-wedded couple to plan their big day together. From florists to caterers, bridal boutiques, stationery designers, decorators, musicians, fleet organizers, wedding planners, and photographers, the bridal couple leaves no leaf unturned to get the best services within their budget.    Why should you both be any different?
What Makes for Commendable Wedding Photographs?
Wedding photographs have to be of very high-quality and should boast of a professional touch to draw 'wows.' The precious moments of your very special day have to be immortalized in time in the best possible way so that you can keep reliving them for years in a row. A good way to guarantee high-resolution, crisp, clear, and frame-worthy pictures is by getting in touch with wedding photographers. They have all the right equipment and techniques in place to make each picture a masterpiece at affordable costs. Therefore, hiring experienced wedding photographers is important because they know how to tell a story, which is your story and not just any other story. They can capture that story in a beautiful manner so that it can be shown over and over again to your family and friends and passed on in time.
What's in Store When you Pay?
When you invest in the various aspects of wedding planning, in effect, you're ensuring seamless moments that are to be treasured forever. Now, once they unfold, these moments have to be captured with the right emotions and expressions to be lifelike. Photographers who are well-trained with the nuances of clicking wedding pictures will capture moments that you never knew existed. They'll zoom in on the emotions of your loved ones while you're busy performing wedding rites or meeting your guests. Most importantly, by investing in their work, you'll get your story in the form of images, a powerpoint presentation, or secured in a digital/ conventional album of your choice.
When you're in the process of allocating budget for wedding photography, don't forget what you'll be getting in return. From getting ready in your wedding attire to smiling fleetingly at the bridesmaid and the lingering emotions on the face of your dad, you can expect to get them all. The exotic flowers, your carefully chosen venue, the moment when your partner is giving you an admiring glance, and your nervousness as you step onto the dance floor – all these, and many more moments can be yours to enjoy and relive when you decide to pay for wedding photography by professionally managed agencies or individuals.
Points to Consider While Hiring Wedding Photographers
Find Your Preferential Style
Finding the photographer who'll understand your exact requirements can be a cumbersome task. You may want to go through the portfolios, published pictures, client testimonials, and the provided references for the wedding photographers selected by you to make your choice. Take time in deciding upon the best person to perform the job as you will not get another chance to have your special moments clicked. The idea is to first understand your style and then explain it to the photographer to get full value for your investments.
Give the Budget a Second Thought
It's recommended that you save a little here and there to add to the budget allocated for wedding photography. For instance, will you lose out much by having a 4-tier cake instead of a 5-tiered one? The only thing that'll remain once the D-day is over are the photographs. So, don't compromise on them in order to get what you deserve.
Last Word
It is common to find the best wedding photographers being booked in advance. They are in high demand and may not be available to take up your assignment on the provided dates. To avoid disappointment, it's well-advised that you find the photographer of your choice as early as possible and book him or her in a good time.