Disclosure: This post may contain affiliate links, meaning we get a commission if you decide to make a purchase through our links, at no cost to you. Please read our disclosure for more info.
Last Updated on April 4, 2022 by Steal the Style
Every spring the runways bring us the hottest new styles for our closets and our faces. Makeup often makes as big a splash as fashion, and this spring is no exception.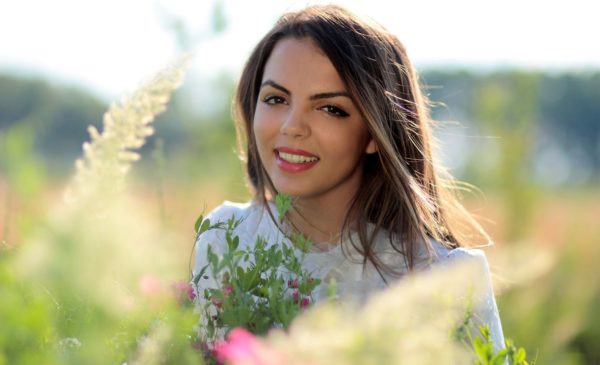 The runways were full of makeup inspired by a mix of vintage, retro and futuristic, featuring everything from classic red lips to space-age glittery eyes. 
This spring for the rest of us velvety lips, rosy cheeks, rich blue eye shadow, and dewy skin are trending. These fresh looks are all about enhancing your natural, fabulous beauty and showing who you are as a unique individual.
Satin Pout
This spring, velvety matte lips are trending on the runway. This chic and classic lipstick style can polish off your look in a subtle way that can't be achieved with a high-gloss pout. Matte lips offer a softness that complements other facial features rather than overwhelming them.
From neutral to vivid, bold color, the matte pout is a statement-making new trend that is sure to make a sophisticated impact. One tip for pulling off a matte look? Be sure to exfoliate the lips and then apply moisturizer, as this will ensure that the lips stay hydrated all day, making your perfect pout last longer.
Rosy Cheeks
Flushed cheeks are flirtatious, sexy, and fabulous. This spring, rosy cheeks, instead of a sharp contour, are making a mark. This look is perfect for weddings and other romantic occasions. Some salons offers bridal makeup packages that are perfect for the bride and her party. Make your special day even more perfect with a sweet makeup look.
Vivid Blue Eyes
Vibrant blue hues will definitely make your eyes pop this spring. Hot colors this 2016 season are turquoise and cobalt. Giving your eyes a fun dash of color is a great way to accentuate your eyes. Want to venture into the blue? You can choose a more demure look with sultry, smoky blue shadow, or go bold with vivid neon blue winged liner. 
Dewy Skin
Gleaming skin radiates youth and beauty, it's a great way to enhance your look! This is not about heavy, glittery bronzer though. Get your glow on with subtle gold shimmer, which is flattering on most skin tones. Dust it on lightly for a subtle illumination.
Apply shimmer to the bridge of the nose, the tops of the cheekbones, just below the hairline, the cupid's bow of the lips, and the top of the chin. This is one of the best ways to enhance your natural facial features without looking too dramatic. To get a glow on your body, apply to the chest, arms, and cleavage.
This spring is all about enhancing your own natural, individual beauty by choosing makeup that accentuates your best qualities. Choose from these hot and trending looks: creamy lips, rosy cheeks, blue eye shadow, or dewy skin and you will be sure to dazzle with your inner beauty this spring.
Red lips
This iconic staple is back and stronger than ever, with  twist being a coral or tangerine undertone that makes the look pop in a totally new way. There's just something about sumptuously red lips that almost drips sex, but Charlize Theron is able to tame this trend into the height of sophistication by pairing the bold look with simple, pulled back hair and minimal (if any) jewelry.
Cat eyes
It looks like that flirty flick of liner is making a big comeback, and Emma Stone is a huge fan. She sported a modern take on the classic cat eye at the Oscars and went for a bolder look at the Critic's Choice awards.
Full brows
Say goodbye to tiny, pencil-thin brows. Spring is all about power brows, and no one sports the look more beautifully than JLo. This trend is a godsend to us fuller-browed girls and lets us finally give the tweezers a break. Can I get an Amen?
Sun-kissed cheeks
We're not waiting for the dog-days of summer to show off a sporty, sun-kissed glow. Bright cheeks that look flushed and even a little sunburned were the rage on the runways. But if you think this look is only for casual events, check out how glamorous Eva Longoria makes this trend look.
White metallics
This bold statement highlights eyes and cheekbones, but can also be used in a creamy form to give skin a subtle light that seems to glow from within. In her usual bold fashion, there was nothing subtle about JLo's application of this trend at the Golden Globes.
Pops of bright color
From playful purples to sunny orange, a splash of bright color is one of the hottest trends this spring. And the stars just can't seem to get enough of it. Check out how Mila Kunis, Ashanti and Fergie have all gotten on the juicy color bandwagon.
Doll lashes
Luscious lashes are definitely in style and spring's doll-like take on the trend takes it to another level. Nobody is more suited to this look or takes it to bigger extremes than adorable, retro-styled funny girl Zooey Deschanel.
Glittery eyes
Glitter was taken to new heights on the runways with futuristic use of gold leaf and geometric designs. Although this trend might be to daring for us mere mortals, former Hogwarts witch extraordinaire Emma Watson has what it takes to pull off the extreme glitz.
Baby-fresh skin
Glowing skin that looks brand new and unmarked by sun or time is the complexion everyone's after this spring. While it might take most of us a time machine and plenty of hydrating moisturizer to try to emulate such youthful radiance, Rooney Mara seems to have the look in the bag. Lucky girl!
Can't afford makeup? Buy makeup now and make payments!