Disclosure: This post may contain affiliate links, meaning we get a commission if you decide to make a purchase through our links, at no cost to you. Please read our disclosure for more info.
Last Updated on October 4, 2017 by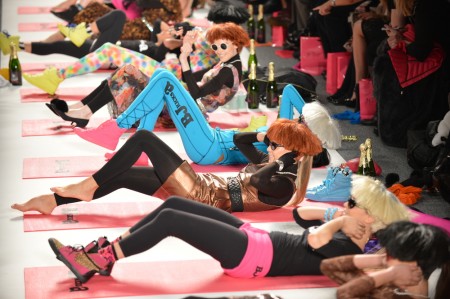 If you've ever shopped at a women's fitness store, you know choices are limited. Most workout gear is limited to black, grey, white, and more black. Although black is supposedly the most slimming color on a woman, it gets boring fast. When you workout several times a week, a girl wants something a little more colorful and sexy than boring black sweatpants. Luckily, a few designers have caught onto the cute and functional train, and it's easier than ever to find cute workout gear.
Some of this workout gear is so cute; in fact, you may find yourself wanting to wear it other places beside the gym (just don't tell your boyfriend you're wearing your workout clothes to dinner- he'll never know the difference).
Lululemon
Many credit Lululemon as the originator of the sexy and fun workout outfits. Lululemon is the coveted brand of many exercising women. Lululemon offers the best of both technology-based workout gear- with features like moisture-wicking and friction-reducing cloth- with attractive colors and styles. At Lululemon, you'll find workout gear that is almost dainty in appearance. Their current line features pastel colors, multiple straps, flirty skirts, and flowing tanks that are functional and girly.
[amazon_link asins='B01EX6FOZ2,B01HII9YDK' template='CopyOf-ProductGrid' store='stealthestylewp-20′ marketplace='US' link_id='b9fb6578-d08f-11e6-a46d-99ffbfc03afd']
Forever 21
You probably don't think of the budget retailer when you consider workout gear, but many of the fitness options at Forever 21 are quite attractive. The company features workout gear for a younger demographic, so bold neon colors are at the base of the collection. Forever 21 features traditional workout gear in unusual colors. You'll find colorful sports bras, fun workout pants, and flowing tanks that go beyond basic black. Stock sells out quick at Forever 21, and styles they have today may not be there tomorrow. Check back often for new stock.
Shop 100+ Stores Like Forever 21
Adidas by Stella McCartney
Adidas is hardly known for its stylish workout clothes, but with the recent line from Stella McCartney, that has changed. The Stella line is full of adorable workout gear that is as functional as it is cute. Features of the Stella line include unusual silhouettes, such as draped tops, ruching, drawstrings, and cutouts. The colors and materials are different as well. Peppering the Stella collection are bright tones of yellow, lilac, lime green, red, aqua, and coral. Fun prints, including florals and animal, are present as well.
[amazon_link asins='B01DTHPNAW,B01GKR6JKG' template='CopyOf-ProductGrid' store='stealthestylewp-20′ marketplace='US' link_id='15d0282f-d090-11e6-96d8-1321821f614b']
Zobha
Zobha is a retailer that started as a yoga clothing retailer. They quickly expanded and now offer fitness gear for all kinds of exercise. Zobha fitness gear focuses on combining technology with style. Their products have features like moisture-wicking cloth, compression support, and non-friction clothing. Their style is unique and full of unusual styles, including one-armed clothing, multiple straps, racer-back designs, and more. Colors lean toward bold, with bright blues, corals, pinks, and yellows as the featured colors on many products.
[amazon_link asins='B0185RL3KK,B00WDVQA58′ template='CopyOf-ProductGrid' store='stealthestylewp-20′ marketplace='US' link_id='34032c32-d090-11e6-9d48-f59db3fc25be']
These brands show the world that women want more than basic black fitness clothing. Ladies no longer want to hide in baggy sweatpants and large shirts while at the gym. Cute workout clothes inspire women to look their best while at the gym and while out and about in everyday life.
[prosperInsert q="workout gear" gtm="merchant" l="6″ v="grid" ft="fetchProducts" vst="Buy Now" imgt="original" ni="true"][/prosperInsert]