With the royal wedding just around the corner on April 29, the entire world is getting anxious for the festivities. From invitations, to flowers, to guessing who will design Kate Middleton's gown, thousands are hanging on to every detail.
A lucky and elite 1,900 guests received coveted invitations to the event, which will  take place at Westminster Abbey. Rumors are flying as to who received invitations, but you can bet important royalty, diplomats, relatives, and celebrities like the Beckhams will be in attendance. Furthermore, an extremely lucky group of 100 Britains will be invited through a "Golden Ticket" raffle — Willy Wonka style! Rumor has it that these Golden Tickets will be left on front door mats.
Those not fortunate enough to be invited, or receive a Golden Ticket, can participate in the "wedding of the century" through collecting wedding memorabilia. Commemorative coins, dolls, plates, pillows, and mugs are just a few of the William and Kate pieces available. Collectors are jumping at the chance to get a recent doll of Kate Middleton that recreates her engagement announcement look — the gorgeous, blue wrap dress that matches the color of her 18-carat sapphire and diamond ring. Imagine having to lug that around on your finger every day!

Kate Middleton Doll by The Franklin Mint

Kate Middleton's Engagement Ring (Photo Source).
Through it all, Kate remains as stylish as ever. Always classy and elegant, the princess-to-be is proving to be a fashion queen. One of my favorite Kate Middleton looks shows her ready for spring in a lovely mint green dress, a gorgeous camel-colored bag, and a pair of retro, oversized shades as seen below (Photo Source).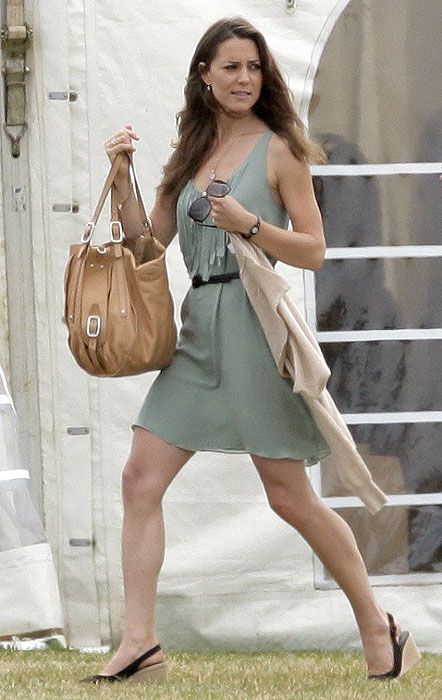 Want to feel like a princess like Kate Middleton? Put on your prettiest spring frock, wear your satchel handbag and your best oversized retro sunglasses.