Disclosure: This post may contain affiliate links, meaning we get a commission if you decide to make a purchase through our links, at no cost to you. Please read our disclosure for more info.
Last Updated on July 8, 2019 by
What if 2019 could become your most beautiful year yet?
Everyone wants to look pretty and stylish, and adding style is easier than you think. You just have to learn from some these hot new beauty trends.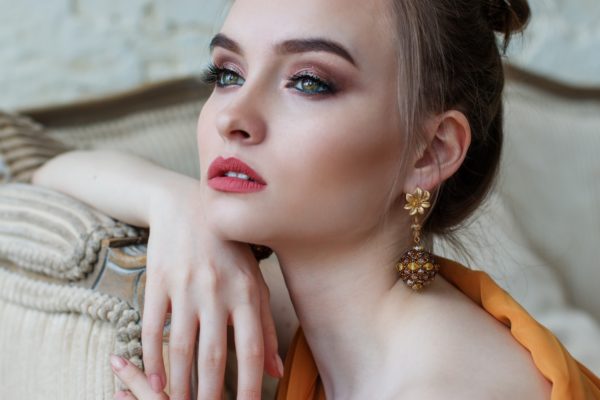 Ready to get even more glam? Keep reading to learn how!
Looking Bright
We think nothing brightens up a room like a pretty pair of eyes. One hot trend now is to brighten the eyes themselves!
Girls are going big and bold when it comes to eyeshadow. Just find shades of bright coloration and go to town; bonus points if it compliments your dress!
To get this look "just right," you need to find the balance. Too many different colors and you might look like a clown instead of a queen!
However, if you stick with a single hue and then coordinate your outfits and makeup, you will achieve a killer look straight from the runway.
Glowing Up
Most people think of "beauty trends" as being split between fashion and makeup. But one fun trend now is that makeup is fashion.
Thanks to various brands like Fenty Beauty, it's easier than ever to change the tone and overall look of your entire skin. And this year, the hot trend is to give your body a glow that guarantees you stand out across the room.
"Glowing" skin goes well with trends like bright eyeshadow. It also goes well with the use of things like facial stones (more on this later).
Pearl It Up
The beauty theme of 2019 may as well be "go big or go home." And that extends to your nails just as it does to the rest of your body!
For example, a hot trend is adding accents to your fake nails that are impossible to miss. Our favorite example is pearl accents applied to pink nails.
These colors mix and match to make your hands absolutely sparkle. You can even vary the size and amount of pearl accents to create a more natural look for this nature-inspired trend.
Bronze Age
If you didn't get the memo, 2019 is also the age of retro. In fact, your parents and grandparents might find some of the latest beauty moves very familiar!
For example, bronzer is making a big comeback. This helps to give everyone the kind of "golden" look that was popular back in the groovy 70's.
There is a new twist to an old trend, though: many runway models now place the bronzer along their cheekbones to make their faces look even more like a stunning statue.
Frankly, we love this beauty power move for highlighting an area of our faces that we too often ignore.
Naturally Lippy
We've talked about going big on things like eyeshadow and nails. However, beauty is about balance, and it's good to rock a more natural look in some areas.
That's one of the reasons that nude lips are making such a comeback. Giving this part of your face a more natural look helps your more colorful makeup and fashion really jump out at everyone around you.
Of course, you can still give "nature" a helping hand. You can use nude lip gloss to make your natural color stand out, and this gives you the kind of "flushed lips" look that will leave others around you "flushed" as well.
Getting Shiny
This year is all about embracing your inner beauty artist. And after you do that, it's time to realize that your own body is the ultimate canvas.
This is why studs have become so popular, but with another "big" twist. Instead of having a modest stud here or there, many women are sporting a face full of shiny gear.
If that sounds weird, keep in mind that the secret is to arrange studs naturally as if they were freckles. The end result looks simultaneously natural and otherworldly.
And did we mention it's a great conversation starter?
Brushed Up Brows
It's wild to see how social media has affected the beauty world. For example, Instagram helped to create the modern mania for tweezed and painfully-groomed brows.
However, many Insta users sought to redefine beauty with their honest #nofilter pics. And that's where the trend of brushed up brows emerged.
Instead of being teased and tweezed, the trend is to brush your brows up. This helps simulate a more natural look while still framing your eyes in the most attractive way.
And even if this trend wasn't so hot, we love any excuse to put the tweezers down!
Lash Stash
You may have noticed something interesting about these 2019 beauty trends. Here it is: many of them involve fusing a natural look with an unnatural look to create something truly unique.
And the eyelashes have become part of this beauty trend as well. Fake lashes are more popular than ever, but the trick is to help them naturally blend in with your face.
As an example, you can curl the lashes to make them look more natural, and you can use fiber lashes to help them blend in. Finally, you can use liquid liner to blur the lines of where the fake lashes end and your skin begins!
Grunge Rock
If it smells a bit like teen spirit around here, that's because grunge is making a comeback. Thankfully, this is more about grunge hair than grunge fashion (sorry, 90's fans).
Many people are growing their hair out very long. And to help manage their look, leave-in conditioner applied from the middle on down creates hair that looks artfully messy and stylish.
Of course, those with curly hair can't really rock this look. Fortunately, this curly hair guide has some even hotter summer beauty trends for our curly comrades!
Beauty Trends: The Bottom Line
Now you know everything you need to start embracing 2019's beauty trends. But do you know where you can find all the supplies you need in one place?
We don't just bring you fashion and makeup tips: we help bring beauty products and literature right to your door. To see how we can help you steal the latest styles, visit our shop today.