Disclosure: This post may contain affiliate links, meaning we get a commission if you decide to make a purchase through our links, at no cost to you. Please read our disclosure for more info.
Last Updated on May 19, 2019 by
Bold makeup colors can be a lot of fun to play around with, but sometimes they can be a little overwhelming. You don't have to paint your eyelids green to make a beauty statement. There are plenty of subtle ways you can use bold colors and still get the attention you want. The best part about this is that you can make yourself presentable in professional settings without taking the edge out of your look.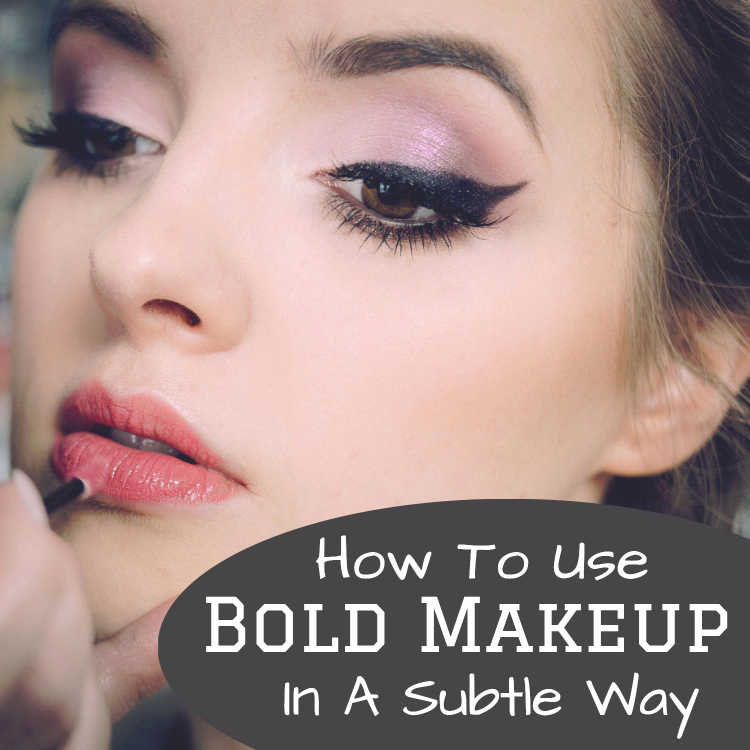 Here are some tips to help you use bold makeup in a subtle way.
Eye Liner
Rather than using bright eye shadow, you may just want to use that color for your liner. You can make your eyelids relatively neutral and then leave a pop of color for the edges. I do this when I want to bring out a color that isn't flattering in large doses, like blue or green. In fact, I will sometimes use a neutral color on one lid and then use the bright color on the other (top and bottom, not left and right). You can play around with this to see if the subtlety works for you.
You can find Eye Liner for the best price on Amazon.
Colored Mascara
Did you know that they make mascara in colors other than black? While black is by far the most popular choice, it's far from the only one around. You could get blue, brown, green, orange, or any other color you want. I like to use blue mascara on top of black because it adds the tiniest hint of blue by my eyes. People usually think it's eye liner until they realize what's going on. Look for some funky colors to try on your lashes and see what happens.
[amazon_link asins='B06XC78FGF,B005XHEEZM' template='CopyOf-ProductGrid' store='stealthestylewp-20′ marketplace='US' link_id='34fe7384-1f13-11e7-9b7a-492fbb607207′]
Smoky Eyes
Smoky eye makeup may be bold, but that doesn't mean it has to be overpowering. In many cases, you can use dark colors in light application to get a minimalistic version of the look you want. For instance, instead of making your eyes dark purple, you could apply a single layer of plum to them to draw attention where you want it. Top everything off with a little liner and some mascara, and you're good to go.
[amazon_link asins='B00ZD97G7S,B00LE9B280′ template='CopyOf-ProductGrid' store='stealthestylewp-20′ marketplace='US' link_id='63c5dad7-1f13-11e7-b323-a9876056d18c']
If you keep your skin clean, you don't have to wear as much makeup as you used to, and you don't have to go to beauty school to get the right look. Focus on applying the right makeup to the right parts of the face so you don't go overboard. This may take a little practice, but eventually, you'll get the hang of it.