Disclosure: This post may contain affiliate links, meaning we get a commission if you decide to make a purchase through our links, at no cost to you. Please read our disclosure for more info.
Last Updated on February 4, 2023 by Steal the Style
How to Decorate a Romantic and Luxurious Bedroom
It is high time you stopped thinking of your bedroom as a place to crash for the night but as an oasis of comfort and calm where you can relax peacefully, encourage, build and cultivate the act of intimacy and romance.
Treating your bedroom like a storeroom and leaving it cluttered doesn't stop you from finding love or falling in love. But, falling in love is one thing! Sparking a thrilling romantic experience that can strengthen your relationship with your partner is another.
Love at times can be so magical that we can't say why or how we fell in love with our partner, but romance, on the other hand, is approachable and not so abstract.
Our bedroom is the focal point of our romantic flairs, and we should be able to create an ambiance of attraction that makes our legs tremble and our hearts pounding and yearning for love, affection, and intimacy.
Decorating and turning your bedroom into a romantic getaway doesn't have to be overwhelming or include adding an excess of ruffles or pink; neither do you need to break a bank to take your romance game to a new level.
Here are a few but effective items to help you turn your bedroom into a haven where the fire of love, intimacy, and romance can be ignited effortlessly.
1. Candles
Fixing the lighting in your bedroom by eliminating harsh overhead lights and adding a few candles with alluring scents is an excellent way to create a warm, subtle, inviting, and sensual atmosphere that allows for a perfect romance.
From calming colors, fuzzy and warm glow to the mesmerizing and sensuous fragrance, candles are a wonderful source of light to consider when decorating a romantic and luxurious bedroom.
Tips to Help You Chose the Perfect Candle Color That Fits
1. Red Candles
Red candles ultimately represent love, sexual attraction, and vigor and will work like a charm in setting the mood right.
2. Pink Candles
Add a lovely scented pink candles to your bedroom and your cuddling moments are about to get more profound than just holding your partner in your arms. Pink candles represent attraction, affection, honor, and winning at love.
3. White Candles
White candles are a symbol of freshness, calmness, and purity. Lighting white candles alongside other candles could be a great way to enhance the evening's romantic atmosphere.
2. Mirrors
If possible, replace the television in your bedroom with a beautiful and elegant mirror. This should eliminate distractions and help you focus on the reality of initiating an unforgettable romantic experience.
Adding a mirror to your bedroom will not only help you enjoy a timeless glamor but will strategically bounce light evenly around the room, elevating the impact of the soft and warm lighting of your candles and lamps.
3. Lamps
Candles are an excellent way to set the romantic atmosphere in the right direction, but you are not limited to candles alone. Lamps, when used the right way, can add a more intimate statement to your bedroom.
It is crucial to understand that the idea of adding lamps to your bedroom is to make the lighting soft and comfortable, not harsh and bright. Therefore, you'll want to add beige, tan, or off-white shades on those lamps.
Lamps can be hung on the walls behind the bed or strategically on the shelves to create a focal point around you and your partner while the other part of the room stays out.
4. Couches
Adding a beautiful couch around the room or somewhere at the base of your bed can create more space for fun and more room for some romantic adventure.
Couches can be a very fantastic way to build up the romance phase, as it is perfect for cuddling and saying some sweet and complimentary words to your partner.
You don't want to add couches that are too big or oversized but a perfectly sized chaise lounge is all you need for closeness and intimacy.
5. Bedding
Your bed is the ultimate point of attraction where all the magic happens, and therefore should look as appealing and inviting as possible.
You do not want to go for bed sheets that tug, catch, or pull on your skin. Instead, it would be best to think of bedsheets with a smooth and pleasing sensation on the skin, like silk sheets or high thread count cotton sheets.
Silk is naturally absorbent and breathable and can eliminate heat from body contact while snuggling with your partner under the cover, and is generally comfortable to sleep on.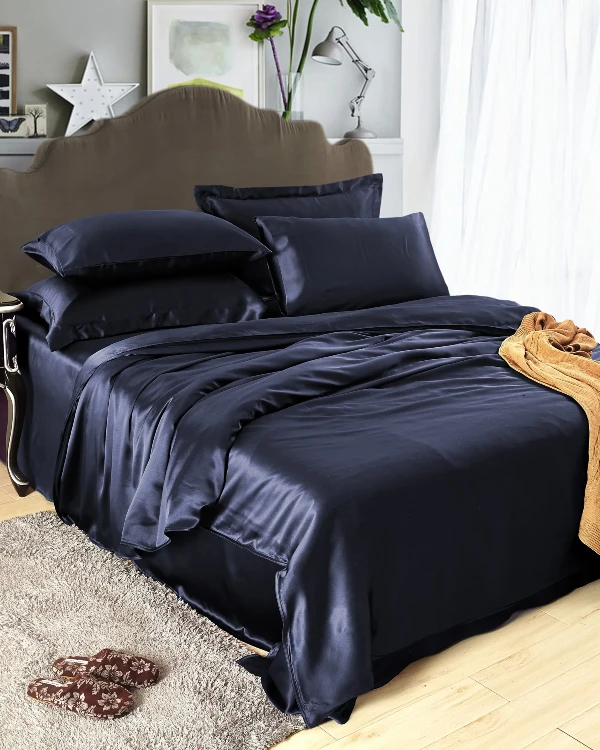 Your bed needs to be decluttered, your bedsheet well laundered, and calming linen sprays added to create a relaxing sensation.
Also, adding fluffed up or accent pillows can make a bed more visually comfortable and inviting. Some people prefer them minimal while others like them in large numbers. You can always experiment to know what works best for you in creating the romantic look you're going for in your bedroom.