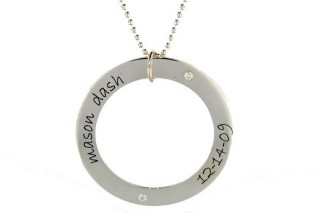 What do Halle Berry, Kourtney Kardashian, and Tori Spelling have in common? Their Posh Mommy necklaces of course!  These customized necklaces have been featured in People, In Touch, and In Style Magazines. They were given away on Ellen's Mother's Day episode last year and this year they were featured on The Talk's Mother's Day special.
Posh Mommy necklaces come in a variety of shapes. They can include birthstones and special posh engraving on both sides. Popular engraving on the front includes a child's name and popular backstamps include nicknames or birthdates.  Available in gold or silver, these customized necklaces are a perfect pair with jeans and a t-shirt or can be dressed up for a special occasion.
Even celebrity men have jumped on the Posh Mommy bandwagon! There's a line for Posh Daddys that offers customized dog tags. Celebrities such as Carson Daly, Brad Pitt, and Mario Lopez are all said to own them.
Posh Mommy necklaces offer a line for kids as well. There's the Little Dude Dog tag for the boys and girls have several options to choose from. There are loops, hearts, and discs that are just right for little girls. Posh Mommy is sold at a variety of jewelry stores and can be purchased online as well.