Disclosure: This post may contain affiliate links, meaning we get a commission if you decide to make a purchase through our links, at no cost to you. Please read our disclosure for more info.
Last Updated on February 15, 2019 by
Do you want skin as clear and bright as the celebrities Beyonce Knowles, Victoria Beckham, and Kim Kardashian?
According to the "dermatologists to the stars", we should be exfoliating every day if we want to look our best.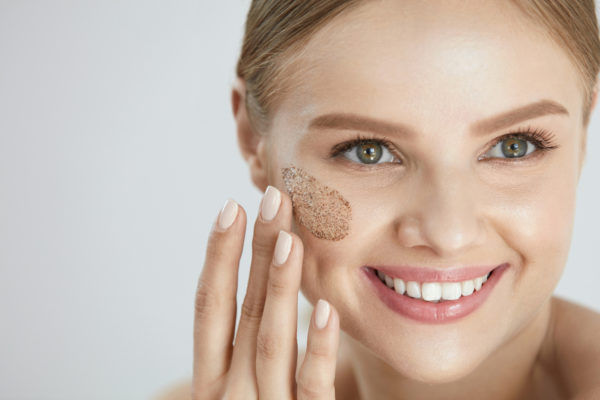 The message from the world's skin experts is loud and clear. If you want youthful and clear skin, you need put in the time and effort to exfoliate your skin regularly!
We hear this all the time. And yet, many people are still wondering – how to exfoliate the right way?
In this article, we'll introduce you to the best way to exfoliate your body from head to toe. Let's enjoy beautiful skin together!
What Is Exfoliation?
As time goes by, your skin repairs and replaces itself all the time. But, the dead skin doesn't always fall away from your body. Instead, it rests on your body for ages leaving your skin looking dull and old.
That's why you need to remove these skin cells yourself through exfoliation to reveal the fresh layer of skin lying underneath.
This is achieved through the use of an exfoliant, which can be either a chemical or physical exfoliant. The difference is this:
Physical Exfoliate: a skin care tool, such as a brush or sponge or an exfoliating body wash or gel with microbeads.
Chemical Exfoliate: the use of either BHAs (beta hydroxy acids) and AHAs (alpha hydroxy acids) or enzymes to remove skin cells.
It depends on personal preference whether to use one or both of the above methods for skin exfoliation.
What Are the Benefits of Skin Exfoliation?
There are numerous benefits to skin exfoliation. Here are a few of the most important reasons why you should exfoliate:
Reveal Fresh Layer of Skin: After removing of the dead skin, your new layer of skin leaves you looking brighter and fresher.
Improve the Effectiveness of Skincare Products: If your skin is covered in dead skin cells, then your skin care products are not able to penetrate through to benefit your skin.
Relief from Skin Problems: Reduce breakouts of acne-prone skin and help to heal acne scars.
Anti-aging Skin: Aging causes our skin to lose the ability to shed dead skin cells by itself.
You can enjoy the benefits of healthier and youthful skin with exfoliation methods.
How to Exfoliate Skin?
If you want to exfoliate your skin the right way, then you need to know how to exfoliate different parts of your body. Here we go:
The Best Way to Exfoliate Face
Remember, your face is a sensitive and delicate area of your body. Therefore, you shouldn't exfoliate your face more than three times per week.
Moreover, if you suffer from skin conditions, such as acne or rosacea, contact your dermatologist for advice before exfoliating.
Let's begin with the method for a physical exfoliant:
Step 1 – Wash your face with a cleanser.
Step 2 – Apply face scrub to your face and massage in a circular motion while avoiding contact with your eye and mouth for up to one minute.
Step 3 – Remove scrub with warm water before drying gently with a towel.
Step 4 – Apply a face mask or cream (optional).
If you're choosing the use a chemical exfoliant, you should read the instructions before applying. However, some basic instructions are as follows:
Step 1 – Wash your face with a cleanser.
Step 2 – Apply chemical exfoliant to your face gently.
Step 3 – Allow for the exfoliant to absorb into your skin.
Step 4 – Apply a face mask or cream (optional)
You should notice positive results to your skin after an initial couple of weeks of your facial skincare routine.
The Best Way to Exfoliate Body
The rest of your body skin is usually stronger and more resilient than your facial skin. And therefore, you can apply a different method of exfoliation here.
For example, you even simply take a warm shower and apply a sponge to your skin to remove dead skin cells. If you want to really enjoy the benefits of exfoliation, then you need to be willing to transform showers into a mini spa session.
Physical Exfoliate: Gently massage the scrub in circular motions around your body before washing off.
Chemical Exfoliate: Swap your body wash for body wash with glycolic acid concentrate to improve the removal of dead skin cells.
For many people, the exfoliation skincare routine stops here. However, if you want to do exfoliation the right way, you need to continue to the feet.
The Best Way to Exfoliate Feet
The sole of your feet is usually where the toughest and roughest parts of your skin develop. Therefore, the exfoliation process is slightly different again.
Physical Exfoliate: Scrub and file the outer layer of your soles until the skin becomes smooth.
Chemical Exfoliate: Place your feet in a mixture of glycolic, malic and lactic acids to soak for up to one hour, which follows the shedding of skin.
By exfoliating the skin on the bottom of your feet you can soften your skin while removing the risk of cracking.
Do You Want More Skincare Advice?
Have you got exfoliating products hiding in your bathroom cabinet? Or, do you need to buy physical or chemical exfoliates?
Lots of people have the products, but not the know-how about how to exfoliate skin. But, now you know how to exfoliate your skin by yourself from face to foot.
Do you want to discover more about skin care products and advice? Check out our blog for reviews and tips about skincare and cosmetics.