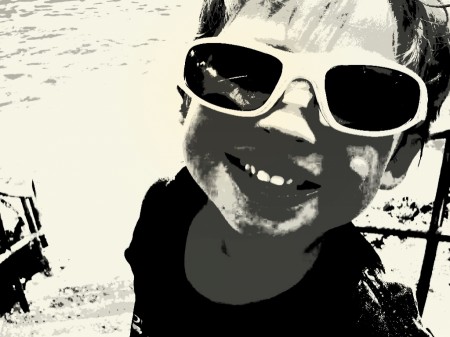 Most people who follow the tabloids, or celebrity news in general, are well aware that many celebrity parents tote their kids around like their favorite little accessories. They may opt to dress their children in styles or labels similar to their adult tastes, whether they're hauling them around town on shopping excursions or giving them a tour of the red carpet. Who knows? Some of them may even have their own stylists! In any case, you might already know some of the most stylish kids in Hollywood, with well-appointed tots like Suri Cruise, Jayden and Willow Smith, the Jolie-Pitt clan, Harper Beckham, Skyler Berman (no surprise there, he's stylist Rachel Zoe's son), and even Blue Ivy (who is stylin' and profilin' even at the tender age of 11 months) topping the list. But what makes these kids more fashionable than your average Apple or Moses? It's all about the wacky wardrobes their parents put together. And here are just a few hallmarks of their pint-sized styles.
Adult clothes. There's almost nothing cuter than seeing a kid in an outfit that would normally be worn by an adult, and plenty of celebs have the time and money to tackle this sometimes dubious undertaking. Rachel Zoe, for example, has been known to dress her little tyke a loose and loungy suit complete with a fedora. He also wears fancy knit scarves, teeny, tiny grandpa sweaters, and even Burberry shorts to the beach. This is one celebrity kid that will likely always be fashion forward thanks to his mom.
Designer labels. Celebrities tend to get plenty of free swag from designers as it is, but when they start showing off their baby bumps the "presents" roll in by the truckload. Blu Ivy Carter, for example, is said to have received all kinds of designer gifts (many of which were generously donated to charity simply because of the abundance of items delivered). The idea, of course, is to have celebs outfit their kids in these tiny designer duds and take them out in public. Best advertising ever thanks to the stalkerazzi.
Hats, heels, and other accessories. Regular babies get bonnets. The average celebrity baby might get a beanie. But the fashion elite amongst celebrity kids can often be seen topped with similar hats to what mommy and daddy wear (fedoras, newsie caps, etc.). And their footwear might seem equally adult. At just a couple of years old, Suri was already wearing heels (albeit low ones) on excursions with mom Katie. And don't forget about the Ray Bans and Aviators they're often seen wearing.
Red-carpet ready attire. It's not uncommon for parents to dress their kids up for special occasions, but celebrity parents sometimes take it to the next level. And the height of fashion for stylish celebrity kids is clothing that looks like it walked right off the red carpet, only in miniature.
Matching outfits. If you thought it was quaint when brothers and sisters wore matching outfits, just wait until you see Beyoncé and her baby wearing the same thing. The two are often seen out and about sporting matching outfits, which is enough to make bystanders spit up a little. But what can you say about the strange inclinations of the rich and famous? If they want to wear kids clothing or vice versa then their status as celebrities pretty much lets them get away with it.